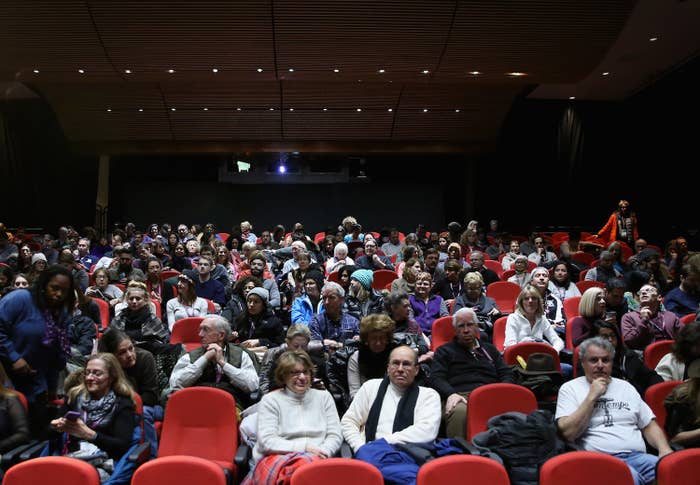 After years of reports about the slow, inevitable death of the moviegoing experience, Hollywood is in the midst of a sudden reversal of fortune unlike anything it's experienced in nearly two decades — and it could be due, at least in part, to President Trump.
On Friday night, the palatial movie theater in The Grove, an outdoor Los Angeles mall, was teeming with a diverse mix of middle school, high school, and college students, families with small children, groups of twenty- and thirtysomething friends, and couples out on a date night.
"We're here to see Beauty and the Beast because she loves Beauty and the Beast," one middle-aged, smartly dressed man told BuzzFeed News, gesturing to the equally stylish date on his arm.
Asked about the last time they had made it to a movie theater, the woman shrugged. "It's been a couple of years for me."
Nearby, another twentysomething woman was also seeing Beauty and the Beast — "because I'm a child," she said with a laugh. She, too, couldn't quite recall the last time she'd seen a movie. "Six months ago?" she said, scrunching her face. "I know it's been a while. I just need something that I know will entertain me."
They are far from alone. According to Box Office Mojo, domestic grosses and overall ticket sales are both up 5.5% from last year, and they've reached their highest level at this point in the year since 2004. Even more impressively, audiences have flocked to the widest array of hit movies in recent memory.
Basically, in the last two decades, there have never been this many people seeing this many hit movies this early in the year.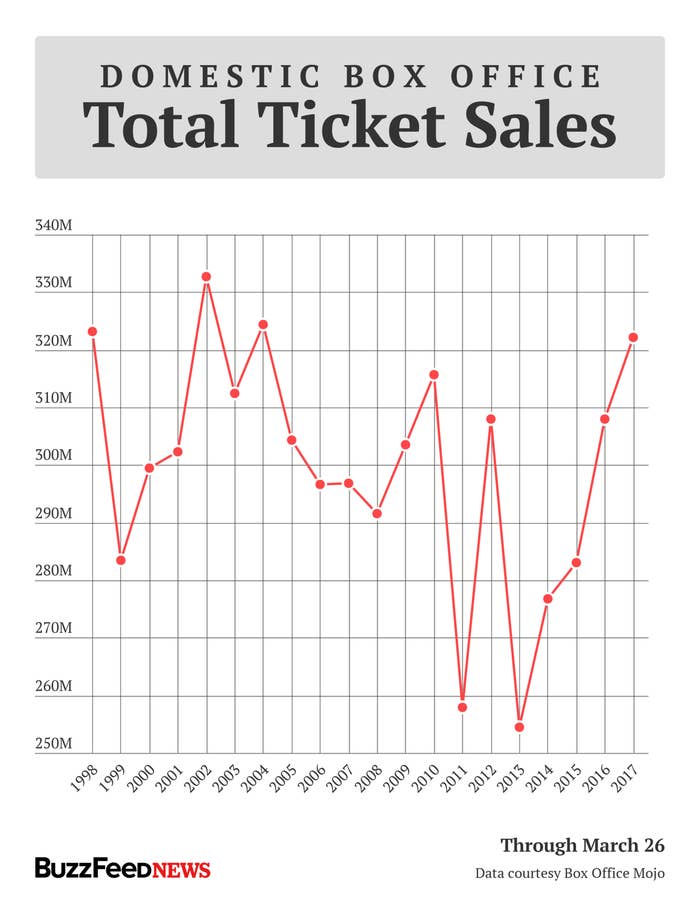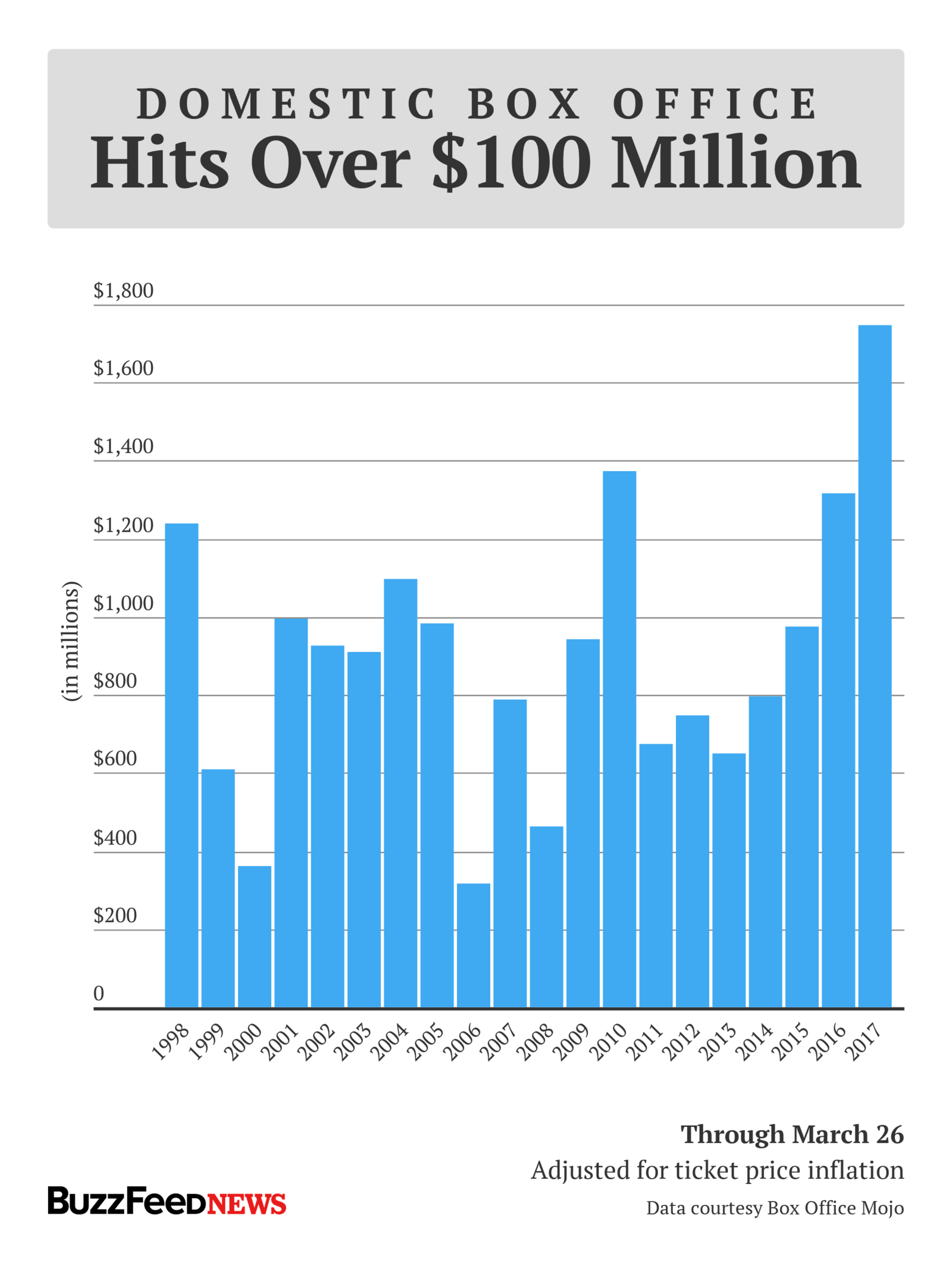 Eight feature films have each earned well over $100 million after opening in wide release since Jan. 1, making up an unusually eclectic mix: a lavish musical (Beauty and the Beast), a violent superhero coda (Logan), a madcap animated feature (The Lego Batman Movie), an acclaimed human drama (Hidden Figures), an incisive social thriller (Get Out), a twisty horror film (Split), an effects-driven monster movie (Kong: Skull Island), and a flamboyantly erotic romance (Fifty Shades Darker). Add in top-grossing 2016 holdovers Rogue One: A Star Wars Story, La La Land, and Sing, and these 11 hit movies make up by far the highest number of features to surpass the $100 million threshold by this point in the year in at least 20 years. Overall, they account for nearly $1.75 billion in domestic box office grosses already.
"We're getting people into the theater who haven't been for a while," said Patrick Corcoran, chief communications officer at the National Association of Theatre Owners. "People start becoming more aware of what's in the theaters, and they go more often. Moviegoing begets moviegoing."
Something, however, has to get audiences to make the trip to a movie theater in the first place, especially as home entertainment options, from pay cable to Nintendo Switch to Netflix, only continue to entice and proliferate. But in 2017, that motivation is, perhaps, easy to understand: evading the dire political headlines generated on a constant basis.
"Honestly, I go [because] it's my escape. With all the political drama and news — I like to escape from reality."
"Honestly, I go [because] it's my escape," said Ben Comer of Kernersville, North Carolina. He added that since the election, he has been heading to movie theaters more often. "With all the political drama and news — I like to escape from reality."
"It's a nice break from the news," echoed Eugene, Oregon, resident Kent Peterson, who prefers independent art house movies to blockbuster fare. "Also, it's a good way to meet up with friends and talk about something other than politics."
Audiences have turned to feature films in times of high anxiety before. Domestic movie attendance also spiked in early 2002, following the Sept. 11 attacks and the subsequent sky-is-falling news crawls and terror watch updates. But that was at a time when Hollywood studios still believed the first months of the year couldn't generate blockbuster-size box office returns, so they treated the winter months as a dumping ground for their less-than-stellar movies. (The biggest hits in the onset of 2002 were indeed holdovers from the 2001 holiday season: The Lord of the Rings: The Fellowship of the Ring and A Beautiful Mind.)
This year's top-grossing movies, by contrast, all opened wide in 2017. Their success continues the long-gestating trend of the summer movie "season" creeping into the first months of the year, thanks to megahit films like Deadpool in 2016, American Sniper (which opened wide in 2015), the first Hunger Games in 2012, and 300 in 2006.
Unlike those films, however, several of 2017's hits have eschewed titanic effects budgets (Get Out), superheroic action sequences (Split), and conventional wisdom casting (Hidden Figures), and still managed to capture the national imagination and earn major profits for their studios.
Beauty and the Beast, meanwhile, certainly spared no expense on its dozens of CG characters and lavish sets, and the project also capitalized on the widespread affection for the 1991 animated original. But it was made for a vastly underserved audience: 72% of the Disney musical's domestic opening weekend audience was female, en route to a staggering $174.8 million gross — surpassing the debuts of The Dark Knight Rises in 2012 and Batman v Superman: Dawn of Justice last year.
"It's a mistake to think of the moviegoing audience as one audience," said Corcoran. "It's a lot of different audiences that combine and recombine in a lot of different ways."
Through both savvy planning and dumb luck, Hollywood studios happened to marshal an assortment of cinematic options at the precise moment a vast number of people were primed for a communal experience that requires stepping away from real-world concerns. "We want a range of movies in the marketplace appealing to a lot of different people," said Corcoran. "One, you don't want to signal to people, 'What you're interested in is not available here.' And two, you never know when something that may be on the surface aimed at a fairly small segment of the market is going to break out."
The question now is, can Hollywood sustain its newfound engagement with domestic audiences through the rest of the year?
"I don't think there are too many upcoming releases that I'm really excited to see," Kristen Bennett of Houston explained, citing Beauty and the Beast, La La Land, and Hidden Figures among the best she's seen this year so far. "It seems like there's a lot of action and thrillers, but I'm more of a rom-com and comedy kinda girl."
"I wish they would make less sequels or remakes," said Katy Jones, of Des Moines. While she is excited for Guardians of the Galaxy Vol. 2, she expressed exasperation that the summer will bring the fifth Pirates of the Caribbean and Transformers movies. "I would love to see more straight-up comedies instead of being pounded with action movies all summer."
Fortunately for Bennett and Jones, this summer will feature several comedies, many headlined by women, including Rough Night (with Scarlett Johansson and Kate McKinnon), The House (with Amy Poehler), Girls Trip (with Jada Pinkett Smith, Queen Latifah, and Regina Hall), and Snatched (with Amy Schumer and Goldie Hawn).
Whether those films, as well as the requisite pound-you-over-the-head summer action spectaculars — like the sixth Alien movie, the ninth Planet of the Apes movie, and the 14th Mummy movie — can continue to provide audiences with the necessary escape remains to be seen.