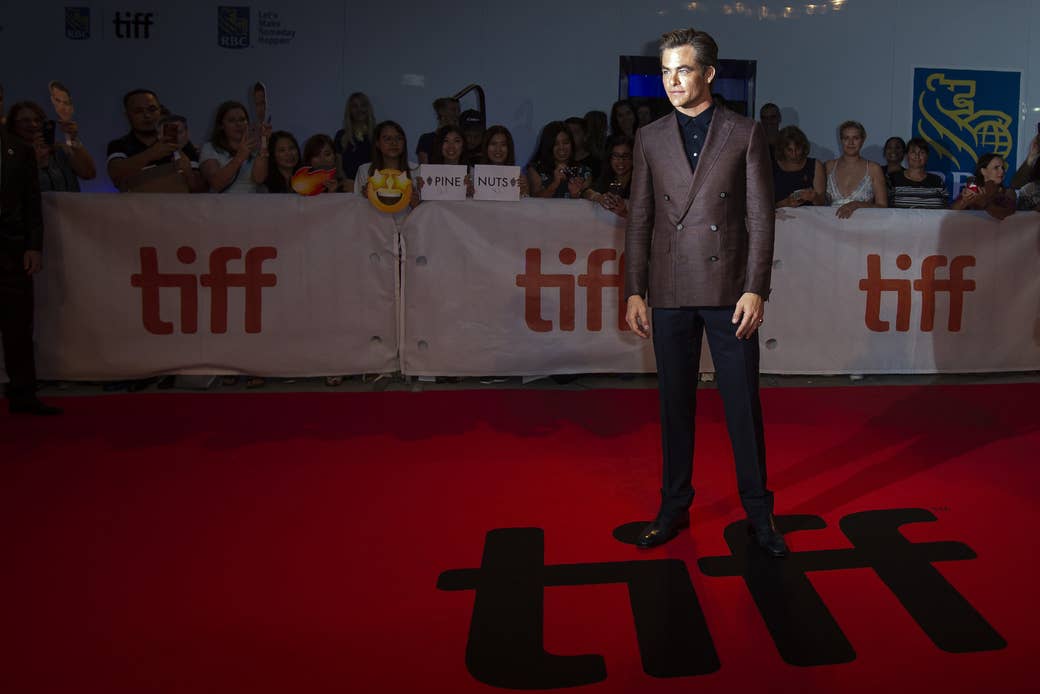 TORONTO — Just seconds into the gala premiere of Outlaw King, the opening night film of the Toronto International Film Festival, the audience began to murmur in excitement — over, of all things, the logo for the company that had made the movie: Netflix.
The streaming giant has been debuting its movies at major film festivals for several years now, trying, with persistent difficulty, to make the same impact within the world of feature narrative filmmaking that it has in just about every other form of popular visual entertainment. Until this month, Netflix has used the same brisk "dun dun" logo that plays before all its streaming content as its opening logo at film festivals. The effect has been abrupt and clumsy, as if the company preferred that festival audiences packed into large and lavish movie theaters were draped over their couches at home instead.
But starting earlier this month at the Venice Film Festival, Netflix quietly introduced a new opening logo, designed exclusively for when its films play in movie theaters. A thin, bright, red line pierces the middle of a black screen, followed by a vivid rainbow of other lines that ultimately coalesce into the Netflix "N" — the word "Netflix" never even appears. Aside from appearing much more cinematic, the new logo is a pointed sign that, in order to be a dominant a player in the world of movies, Netflix has realized it has to start behaving less like a once-in-a-generation disruptive force, and more like an old-school movie company.
That is even more apparent in the slate of narrative features Netflix unveiled during the fall festival season. After struggling for years to get its movies buzzing either as viral sensations or major Oscar contenders, Netflix finally made serious progress with the former by resurrecting the romantic comedy with movies like To All the Boys I've Loved Before, Set It Up, and The Kissing Booth. The company hopes to continue its momentum into awards season with a series of ambitious movies from acclaimed filmmakers. What is most striking, however, is how Netflix's biggest, most awards-y movies at TIFF this year also evoke beloved movie genres that have long since been abandoned by Hollywood in the era of the blockbuster franchise. And yet each of these films also faces the same 21st-century challenges that have bedeviled Netflix's movies from the start.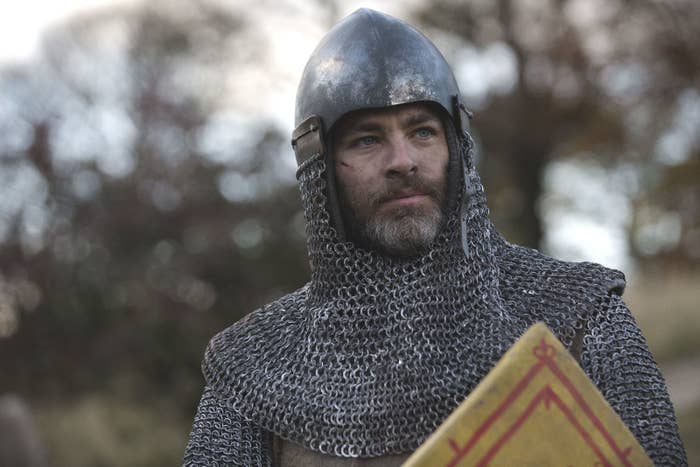 The historical epic Outlaw King, for example, chronicles the brutal struggle of medieval Scottish royal Robert the Bruce (Chris Pine) to unite his country and repel English rule — a rebellion first ignited by William Wallace, the hero of the 1995 Best Picture winner Braveheart. Wallace makes a brief appearance in Outlaw King too, albeit far more feral in appearance than Mel Gibson's dreamboat take on the legendary rebel. Since sweeping period movies about 14th-century Scottish heroes remain quite rare, director David Mackenzie worked hard to make sure Outlaw King stood apart from Braveheart: The camerawork is gritty and chaotic, the mud and gore are plentiful, the politics are more fraught, and the costumes and production design look (rare for a historical epic) brand new, as if the castles had been built decades earlier, instead of nearly a millennia ago.
If you've heard anything about Outlaw King, however, it's about the scene in which Chris Pine emerges from an estuary completely, full-frontally naked. It makes enough sense in the context of the story — Robert is at his lowest point and decides to stop evading capture and confront his enemy head-on. Though it's quite rare for a star of Pine's stature to bare all, it's the kind of moment that in a movie theater would cause a momentary stir (as it did at the film's premiere at TIFF) before the movie launched into its climactic, bloody battle.
But while Outlaw King will play in a small handful of theaters, the vast majority of people will watch it in their homes after it debuts Nov. 9, with a pause button sitting mere inches away — or a GIF-making app, for that matter. That is, if they make it that far into the movie. At 132 minutes, Outlaw King suffers from the same midstory bloat that plagues so many of the company's TV series, meandering through too many narrative dead ends as Robert's quest gets bogged down in a string of needless, messy skirmishes. Viewers may find themselves impatiently fast-forwarding just to get to Pine's money shot — but at least they'll be getting something they've never quite seen before.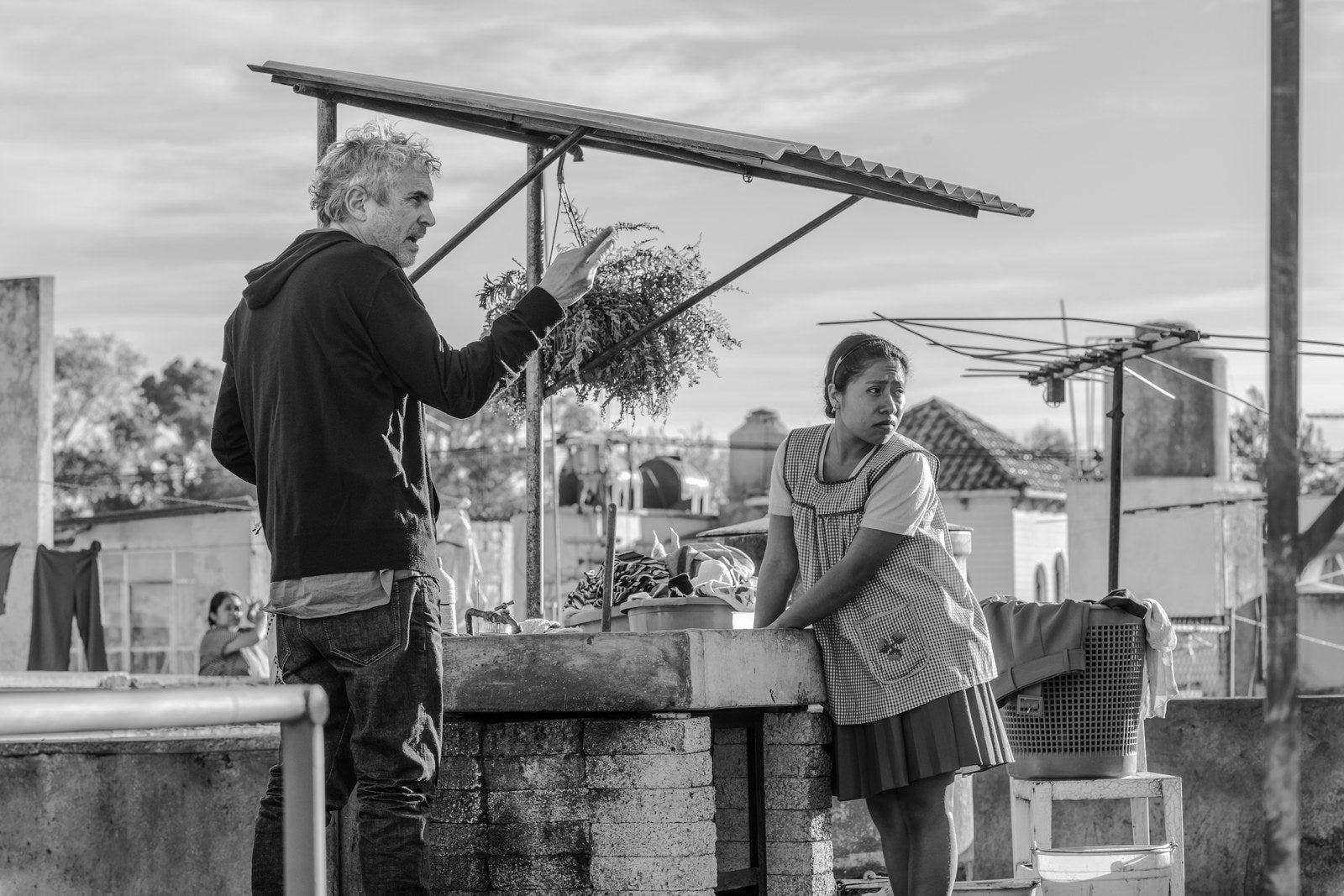 There's an even, er, lengthier full-frontal scene in Roma, Alfonso Cuarón's first film since winning the Oscar for Best Director for 2013's Gravity, and Netflix's best shot by far at landing its first nomination for Best Picture. (The film already won the top prize at the Venice Film Festival.) Roma follows a single middle-class family in Mexico City through roughly 12 months spanning 1970 and 1971, but its real subject is Cleo (Yalitza Aparicio), the family's housekeeper and nanny. In one early scene, Cleo is wooed by a young, quite naked martial arts enthusiast who uses a hotel curtain rod to earnestly show off his, uh, skills to her. Again, the nudity does serve a larger storytelling purpose, underscoring Cuarón's desire for Roma to capture as much authentic, lived-in humanity as possible. He succeeds, to an astonishing degree.
Cuarón shot Roma in black and white in a series of impeccably designed, deliberately paced medium-to-wide shots. The film vividly invokes the neorealist cinema of the mid–20th century, but with the full arsenal of 21st-century filmmaking techniques at his disposal, Cuarón is able to bring a staggering scope to his film. There are extraordinary sequences that follow Cleo as she navigates the careening bustle of Mexico City in the early 1970s, the frame teeming with detail that suggest hundreds of different stories that surround Cleo's singular tale.
Movies this big generally need an equally large audience to recoup their costs. But between the black-and-white cinematography, the methodical pacing, the characters speaking Spanish and Mixtec with English subtitles, and the cast of unknown actors led by Aparicio — a nonprofessional in her first-ever role — there is scarcely any room in the current theatrical landscape for a movie like Roma to become a box office blockbuster.
So call it the Netflix paradox: Roma's potential audience explodes exponentially on the streaming platform, and yet Cuarón's expansive and transportive filmmaking is built explicitly to be seen on a movie screen. Which may be why Netflix is flirting with breaking its cardinal rule and releasing Roma in theaters exclusively for a short period before offering it on its streaming service.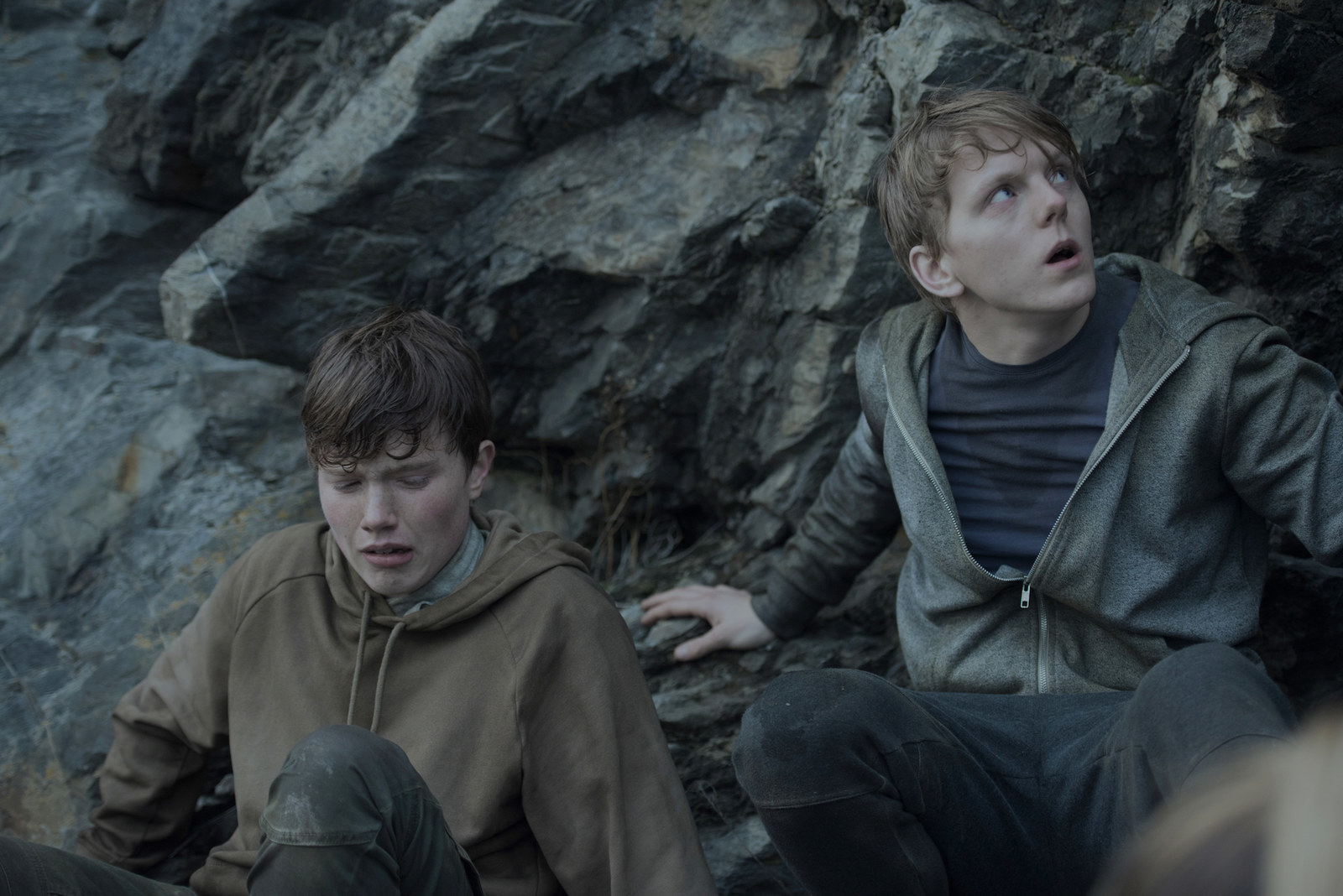 Unlike Roma, which was backed financially by production company Participant Media, Paul Greengrass's 22 July was financed entirely by Netflix, and it's possibly the platonic ideal of a film that would not exist without Netflix's support. Much like his 2006 film United 93, Greengrass chronicles in sober, excruciating detail the 2011 attack in Norway by right-wing extremist Anders Behring Breivik (Anders Danielsen Lie), who bombed a government building in Oslo and then attacked a remote island campground for teenage leaders with a high-powered rifle. All told, he killed 77 people.
If the film were just about that attack, it might have been too ghastly to watch — the scenes of children scrambling to hide as Breivik hunts them are indeed almost too overwhelming to fully take in. But Greengrass's real interest is in tracking how this one man acting on his violent, nativist ideology caused so much radiating pain and trauma in the days, weeks, and years following the events of that awful day. He focuses largely on a single family who had two sons on the island, one who escaped unharmed physically, the other, Viljar (Jonas Strand Gravli), who nearly dies on the island's rocky shoreline with multiple gunshot wounds. One of those shots was through his head, leaving him blind in one eye and with bullet fragments stuck inside his skull that could kill him at any moment — an apt metaphor for the poisonous guilt and fury that torments him and his family, as he struggles to recover.
The movie could not be more relevant to our current, fearsome political moment and the resurgence of right-wing extremism in the West. Greengrass's script takes pains to unpack not only Breivik's ethnic nationalism but the monstrous, banal narcissism behind it. American viewers also may find themselves watching Norwegian prime minister Jens Stoltenberg (Ola G. Furuseth) — who plunges headfirst into investigating how his government failed on that day — with a wistful sigh at the sight of a politician putting his own self-interest aside for the greater good.
That is, again, if they make it that far. Even more than Roma, 22 July is a perfect example of the Netflix paradox in action. With a Scandinavian cast and Greengrass's unflinching approach to a dread-inducing story, it's hard to imagine many Americans actively leaving their homes, going to a movie theater, and buying a ticket to see it when it debuts Oct. 10. And yet, watching this movie in a theater guarantees you can't pause it and think, Maybe I'll finish this later — and then never do.
But 22 July exists because Netflix decided it was worth investing the money to have it in the world, a decision none of the major studios would have made today. If Netflix keeps backing the kinds of films that haven't seen the inside of a movie theater in years — if not decades — it may well yet start beating Hollywood at its own game. ●