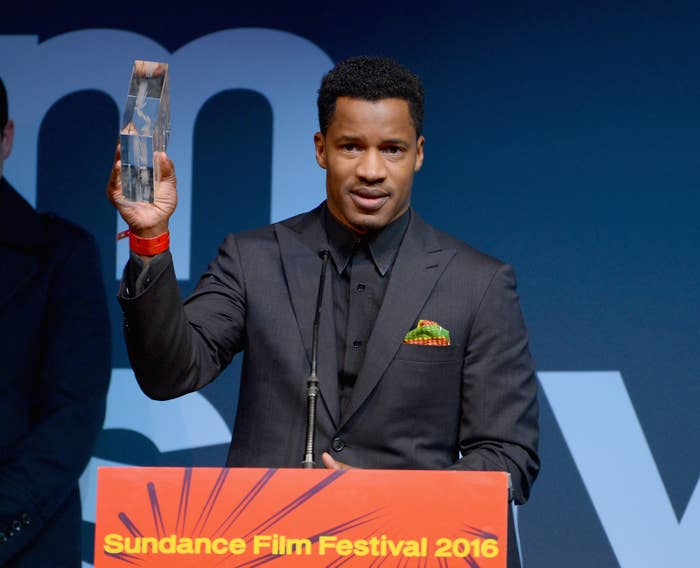 In the furious bidding war that immediately followed the premiere of The Birth of a Nation at the 2016 Sundance Film Festival in January, it is likely that no one thought to investigate the background of the acclaimed film's director and star Nate Parker, sources have told BuzzFeed News.
The reemergence of a 1999 rape charge against Parker and the film's co-writer Jean Celestin from their days at Penn State University — initiated by an interview Parker gave to Deadline on Aug. 12 — have resulted in a flurry of news stories about the case, which may damage audiences' perception of the film months before it opens in theaters. Fox Searchlight acquired the movie for $17.5 million at Sundance, a record-breaking deal for the festival, and yet its executives reportedly did not know about the allegations against Parker and Celestin until after the deal was completed.

At Sundance, films from unknown and untested filmmakers routinely become overnight sensations. According to multiple sources, it would be unusual for distribution companies hoping to acquire the hottest film at the fest to consider the personal past of up-and-comers like first-time director Parker.
"They showed the movie in the afternoon and at night everyone was in the guy's condo trying to get the movie," an executive with knowledge of the bidding for The Birth of a Nation told BuzzFeed News on Wednesday. Netflix, Paramount, Sony, Entertainment Studios, and the Weinstein Company all reportedly vied to pick up The Birth of a Nation after its Jan. 25 bow. According to the source, stepping away from a heated acquisition negotiation in order to investigate Parker's background would not have been at the top of anyone's mind. "I can't even imagine that someone would have thought about doing something like that," said the exec.
Reps for Fox Searchlight declined to comment for this story beyond the statement released on Friday: "Fox Searchlight is aware of the incident that occurred while Nate Parker was at Penn State. We also know that he was found innocent and cleared of all charges. We stand behind Nate and are proud to help bring this important and powerful story to the screen."

A second source at an independent film company said that he also did not know about the rape allegations leveled against Parker prior to The Birth of a Nation's Sundance premiere, but he was aware of "negative light" surrounding the actor "through some of his comments about the gay community," which he referred to a "red flag." It wouldn't necessarily have mattered even if executives had known about the allegations, the source said, especially considering that Parker was found not guilty.
"When you've got 12 hours from the [opening] of that film to get that movie, and there's a bunch of other people trying to get their movie and are willing to throw in things that are going to make their offers more attractive — whether that's more money, an increased commitment to a release, an awards campaign — it's certainly possible that people will be, like, 'Well, I don't care what you've done in the past, we'll release it,'" the source said.
"It's incumbent upon all of us in the industry to do more detailed checking."
That attitude, however, may be changing. "If we're involved in a high stakes negotiation involving tens of millions of dollars and I was aware of [Parker's] past, it would affect me," said a top executive from a rival independent film company. Unlike Fox Searchlight — which is owned by 21st Century Fox — most independent film companies are not under the umbrella of a multi-national corporation and cannot absorb the financial failure of a film purchased for as much as Searchlight spent to acquire The Birth of a Nation. "If you misstep on a big bet like that, it can be devastating," the exec continued.
While Fox Searchlight is reportedly still moving forward with its promotional campaign for the film, the allegations against Parker and Celestin have almost certainly made some kind of impact on the film's commercial potential when it opens nationwide on Oct. 7. That impact could sway film companies to vet the filmmakers and actors in indie movies more closely prior to spending millions to buy them.
"It's incumbent upon all of us in the industry to do more detailed checking," said the top exec. "It's not like we're going to be conducting FBI background checks at 3 in the morning while we're bidding against somebody for a movie. But the stakes are very high, and the dangers are real, and this is really serious stuff."
Another executive, however, wasn't so sure that the fallout from Parker and Celestin's past could change bidding practices in the future, saying, "Ask me on Oct. 8."
UPDATE
This story has been updated to reflect Fox Searchlight's response to a request to comment.