Every February, the Academy of Motion Picture Arts and Sciences gathers the year's Oscar nominees for one of the most cherished Academy Award traditions, the nominee luncheon, where the gathered actors, directors, screenwriters, and film artisans get to mingle together without the pressure of a televised ceremony.
And every year, the producers of that ceremony come up with new ways to admonish nominees to keep their 45-second acceptance speeches pithy and exciting.
This year's luncheon, however, featured an especially pointed suggestion, from comedian Patton Oswalt. "Maybe think twice before thanking your agents and managers," Oswalt told the hundreds of assembled nominees, guests, and invited press in the ballroom of the Beverly Hilton.
"I don't know if you've paid attention to what's been going on this last year in Hollywood…" he continued, to waves of knowing laughter and applause. "I'm just saying, just cover for yourself! Just a little cover! You don't want to explain to your grandkids why you thanked someone that Dateline just did a four-part series on, all right?"
It was yet another reminder that this year's Oscars come at a time of massive upheaval in the entertainment industry — a fact that Academy president John Bailey also pointedly acknowledged at the outset of the luncheon.
"I may be a 75-year-old white male," Bailey said, "but I am every bit as gratified as the youngest of you here that the fossilized bedrock of many of Hollywood's worst abuses are being jackhammered into oblivion." The room erupted into applause.
Bailey also noted that the Academy itself is in the middle of "reinvent[ing]" in the wake of the #OscarsSoWhite scandals, and is working to bring the venerable Hollywood organization into an "era of greater awareness and responsibility in balancing gender, race, ethnicity and religion."
The presence at the luncheon of Best Director and Best Original Screenplay nominees Jordan Peele and Greta Gerwig, Best Actor nominee Daniel Kaluuya, Best Supporting Actress and Best Original Song nominee Mary J. Blige, Best Original Screenplay nominees Emily V. Gordon and Kumail Nanjiani, Best Adapted Screenplay nominee Dee Rees, and Best Cinematography nominee Rachel Morrison — all first-timers — certainly seemed to underscore the Academy's renewed commitment to honoring a diverse array of filmmakers.
Those nominees and others also received a special shout-out from actor Laura Dern, a member of the Academy's Board of Governors, who read the names of each nominee before they took to a set of risers for the annual class photo.
"Good afternoon, radicals, subversives, and wild ones!" Dern began. "Let me just say personally, thank you for getting us through this last year, with every one of your films somehow reflecting the wealth of emotions that we're all going through. I'm so, so grateful."
This forthright acknowledgement of the turbulent era Hollywood finds itself in was in stark contrast to the total silence on these issues at the Academy's last high-profile event, the Governors Awards. Held on Nov. 11, it was the first major film industry function following the revelations of sexual assault allegations against Oscar luminaries like Harvey Weinstein and Kevin Spacey. Since then, the industry has made some public strides to begin addressing the systemic abuses those revelations brought into relief, including the Time's Up initiative, launched by hundreds of women in entertainment, and the Academy's introduction of a new code of conduct for its members.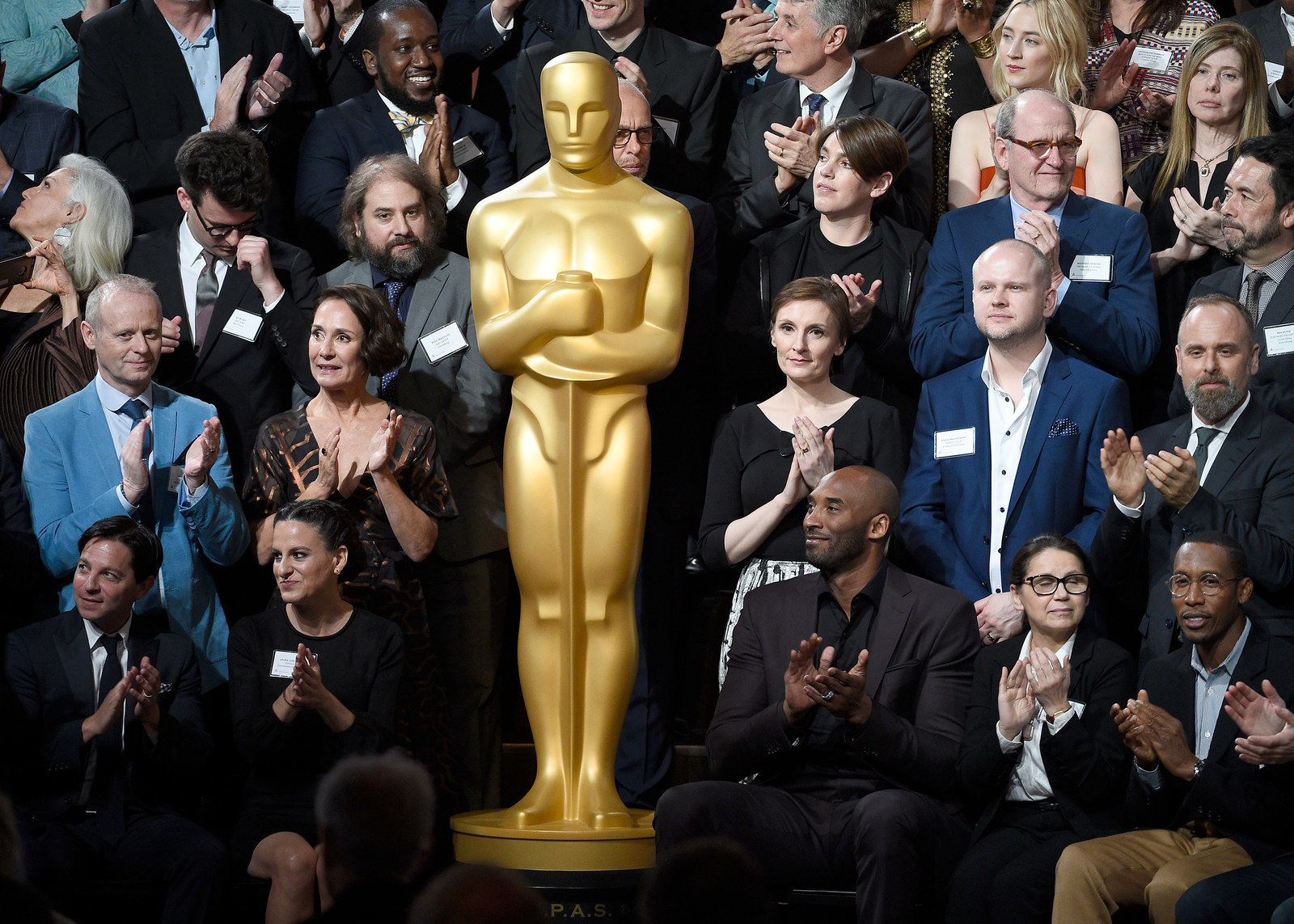 But as if to underline how perniciously difficult these issues remain for the industry, toward the end of the nominee luncheon, Dern paused to read the name of former LA Lakers star Kobe Bryant— an Oscar nominee for the animated short film Dear Basketball, based on the letter Bryant wrote announcing his retirement from basketball. With a big smile, Dern noted that she had grown up in LA, where Bryant played for 20 years in the NBA.
But Bryant's nomination drew some immediate criticism, given the charges for sexual assault and false imprisonment of a 19-year-old woman he faced in 2003. (Those charges were dropped when the woman said she would not testify.) When Bryant walked to the risers, however, Academy officials placed him quite literally front and center among the gathered nominees.