The Hunger Games: Mockingjay – Part 2 opened with an estimated $101 million in North America this weekend, and $146 million internationally.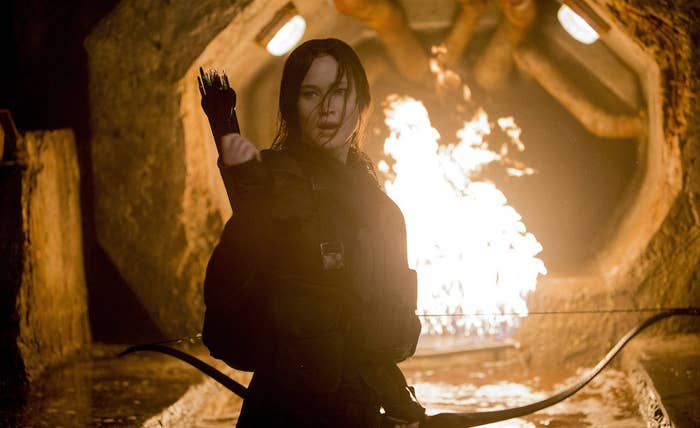 Mockingjay – Part 2 was the top-earning film in the U.S., the U.K. (with $17.1 million), China (with $16.4 million), Germany (with $14.4 million), Mexico (with $8.7 million), France (with $7.1 million), Australia (with $6.8 million), Brazil (with $6.8 million), and Russia (with $6.7 million).
But as the concluding film in the Hunger Games franchise, Mockingjay – Part 2 brought in the lowest domestic opening weekend at the box office for the four-film series.
Worldwide, Mockingjay – Part 2 performed a bit better, exceeding the $138.2 million international debut for 2013's Catching Fire, but coming under that of 2014's Mockingjay – Part 1, the franchise record, with $152 million.
Still, Mockingjay – Part 2's debut is certainly a disappointment. Both 2012's The Hunger Games and 2013's Catching Fire each opened with more than $150 million domestically, en route to box office totals of more than $400 million in North America. Mockingjay – Part 1, however, pulled in $109 million less worldwide than Catching Fire, and Mockingjay – Part 2 looks to continue that downward trend.
But when looking at movie franchises with definitive conclusions (as opposed to open ended ones like James Bond or the Marvel Cinematic Universe), it's clear that most film franchises tend to diminish in popularity over the course of their runs.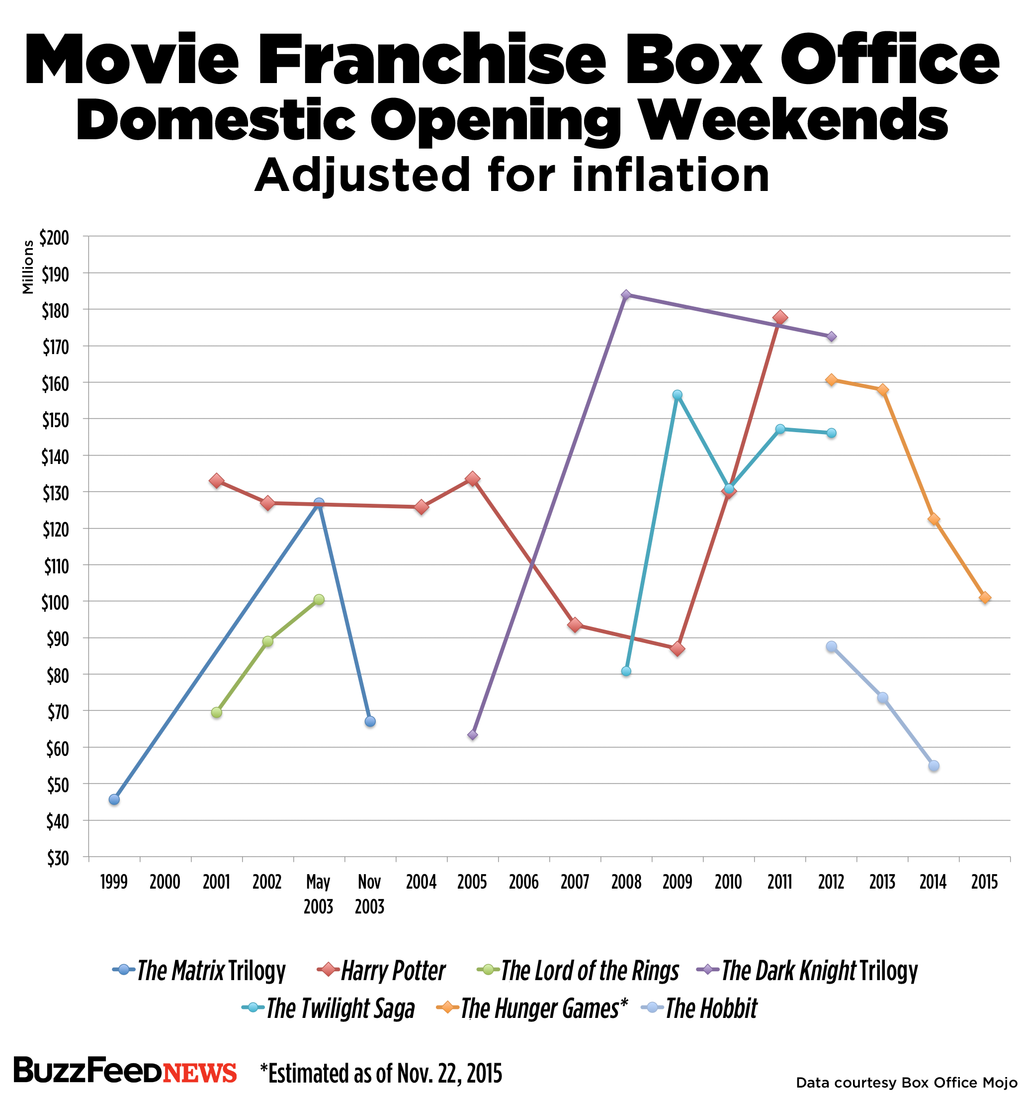 When adjusting for ticket price inflation, 2003's The Matrix Revolutions, 2012's The Dark Knight Rises, 2012's The Twilight Saga: Breaking Dawn – Part 2, and 2014's The Hobbit: The Battle of the Five Armies all opened lower, sometimes well lower, than the top grossing films in their respective franchises.
Only 2003's The Lord of the Rings: The Return of the King, and 2011's Harry Potter and the Deathly Hallows – Part 2 turned in franchise record debuts — and in both cases, each film built to a rousing conclusion in which the central villain established at the outset of the franchise was soundly defeated by the movies' heroes.
Notably, none of the other franchises in the above chart, including The Hunger Games movies, ended with quite the same sense of clear triumph. Mockingjay – Part 2, in fact, drew to an often grim and downbeat conclusion.
And when looking at total domestic grosses, the only franchise to end with franchise best box office is The Lord of the Rings trilogy.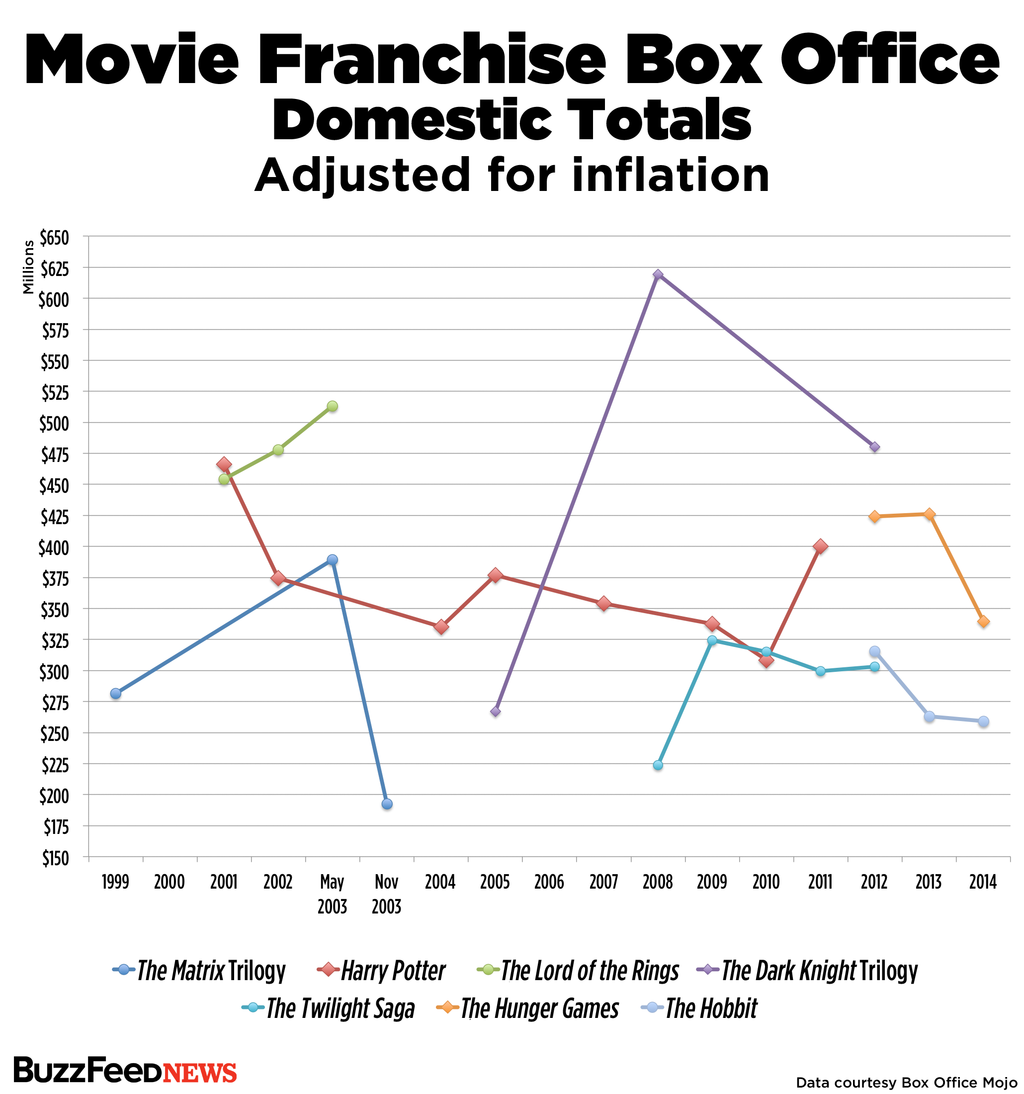 So while Mockingjay – Part 2's box office drop off is particularly steep, it is entirely in keeping with the trajectory of most finite movie franchises. And while the decision to split the franchise into two films has been met with no small amount of skepticism and cynicism, it will certainly net Lionsgate more overall box office grosses than a single Mockingjay movie would have pulled in.
Here are the estimated top 10 box office figures for Friday to Sunday, courtesy of Box Office Mojo:
1. The Hunger Games: Mockingjay – Part 2* — $101 million
2. Spectre — $14.6 million
3. The Peanuts Movie — $12.8 million
4. The Night Before* — $10.1 million
5. The Secret in their Eyes* — $6.6 million
6. Love the Coopers — $3.9 million
7. The Martian — $3.7 million
8. Spotlight — $3.6 million
9. The 33 — $2.2 million
10. Bridge of Spies — $1.9 million
*Opening weekend