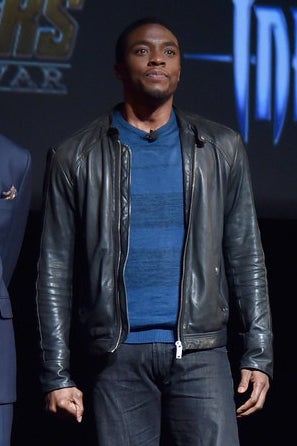 LOS ANGELES — In a splashy media and fan event on Tuesday, Marvel Studios announced several new films to its expanding slate of comic book movies. Studio chief Kevin Feige announced the studio's first black superhero movie, Black Panther, opening Nov. 3, 2017 — and that the title character will be played by Chadwick Boseman (42, Get On Up). In a press conference following the event, Feige also clarified that the character, also know as T'Challa, would be "a big part" of the third Captain America film, Captain America: Civil War — which will also feature Robert Downey Jr., who appeared on stage with Chris Evans and Boseman during the event to a huge ovation from the assembled fans.
Marvel will also debut its first female superhero movie, Captain Marvel, on July 6, 2018 — although the studio made no mention of which actor will play the role, which Feige clarified is Carol Danvers (as several people have worn the mantle of Captain Marvel in the comic books). And Marvel Studios will debut the sci-fi fantasy saga Inhumans on Nov. 2, 2018.
Before bringing Evans, Downey, and Boseman on stage, Feige teased the Civil War plot by screening a scene from Age of Ultron in which Steve Rogers and Tony Stark debate the meaning of security and secrets while chopping wood. It ends with Rogers ripping apart a log of wood with his bare hands, staring down Stark, and saying, "Every time someone tries to win a war before it starts, innocent people die — every time."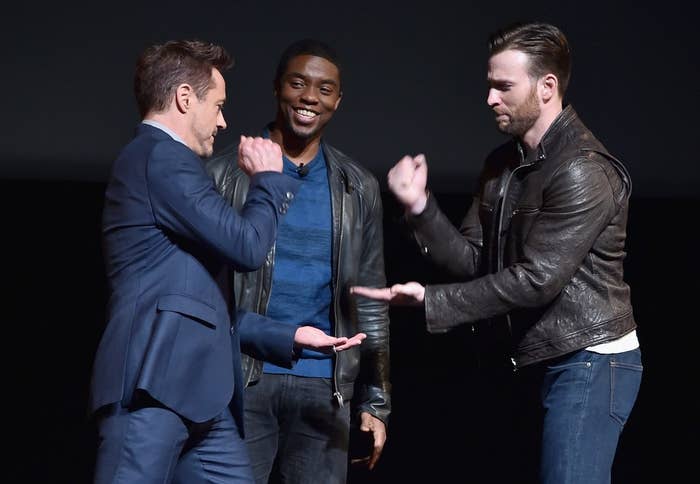 Feige also announced a two-part conclusion to the Avengers saga, subtitled Infinity War, which is slated for release on May 4, 2018, and May 3, 2019. He also confirmed the studio's worst-kept secret, that Doctor Strange will launch the newest round of Marvel Studios characters on Nov. 4, 2016 — although he did not mention if Benedict Cumberbatch has landed the role as reported on Monday. "If it were confirmed, we would have introduced him today," Feige said in the post-event press conference.
Finally, Marvel announced that the third Thor film, Thor: Ragnarok, will open July 28, 2017. During the main event, Feige indicated that "Ragnarok" will indeed reference "the end of all things" as it has in the Thor comics series and Norse mythology. It will reshape the Marvel Cinematic Universe in the same way Captain America: The Winter Soldier did with the dissolution of S.H.I.E.L.D. The film also takes the release date for Guardians and the Galaxy 2, which Marvel Studios confirmed at San Diego Comic Con in July. That film — the sequel to the biggest U.S. release of 2014 so far — was bumped up to May 5, 2017.
Other than directors who had been previously attached to upcoming Marvel Studios titles — Joe and Anthony Russo for Captain America: Civil War, Scott Derrickson for Doctor Strange, and James Gunn for Guardians of the Galaxy 2 — Feige made no mention of any filmmakers or screenwriters for any of the newly announced films. He indicated in the press conference that those announcements would come at some point in the future, though he also declined to say when. In the press conference, he said he had hoped to announce the Phase Three slate during Comic-Con, but "things were not set" — especially, it seemed, for Captain America: Civil War.
When asked about whether Hulk (Mark Ruffalo) or Black Widow (Scarlett Johansson) would receive their own stand-alone films, Feige chose his words carefully. "I wouldn't say Hulk is absent from the timeline," he said, noting that Mark Ruffalo was set for all of the Avengers movies through Infinity War Part II.
And Black Widow? "Black Widow couldn't be more important as an Avenger herself," Feige said. "And like Hulk, the Avengers films will be the films where they play a primary role. Her part in Avengers: Age of Ultron is very, very big, and further develops and further enhances her character. The plans we have for her throughout the rest of the Avengers saga is very, very big — and linchpin, in fact, to those films." Notably, Feige said they chose not to do a Black Widow prequel so they could continue "the forward momentum" of the ongoing cinematic universe.
The announcement comes roughly two weeks after Warner Bros. presented its slate of nine films from the DC Comics universe through 2020 that will follow the 2016 release of Batman v Superman: Dawn of Justice. In that announcement — done via press release after a shareholders presentation — Warner Bros. confirmed that its first female superhero film, Wonder Woman, will open in 2017, and its first black superhero, Cyborg, will open in 2020. That series' unifying franchise, Justice League, will also be split into two parts, to open in 2017 and 2019. Which means both the second parts of Justice League and Infinity War will open in the same year.
The Marvel Studios slate through 2019 is:
May 1, 2015: Avengers: Age of Ultron
July 17, 2015: Ant-Man
May 6, 2016: Captain America: Civil War
Nov. 4, 2016: Doctor Strange
May 5, 2017: Guardians of the Galaxy 2
July 28, 2017: Thor: Ragnarok
Nov. 3, 2017: Black Panther
May 4, 2018: Avengers: Infinity War – Part I
July 6, 2018: Captain Marvel
Nov. 2, 2018: Inhumans
May 3, 2019: Avengers: Infinity War – Part II