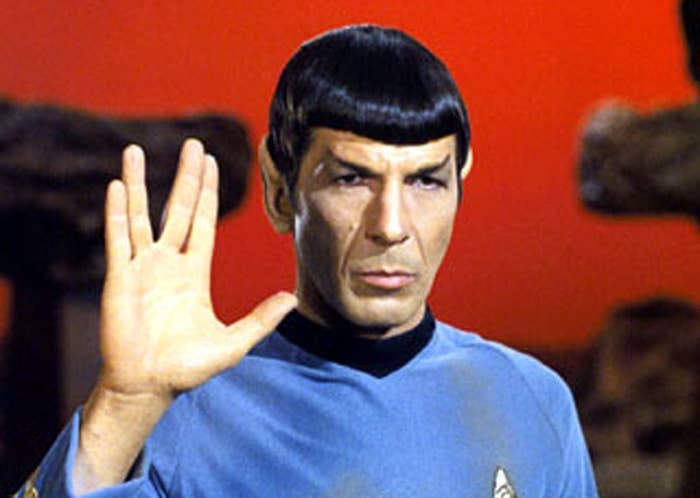 Leonard Nimoy, famous for his role as Mr. Spock in Star Trek, died Friday in Los Angeles from end-stage chronic obstructive pulmonary disease, his wife told the New York Times. He was 83.
Born in Boston, Nimoy had been acting for his entire life, moving to Los Angeles when he was 18. He landed his first (tiny) film roles in 1951, and worked relatively steadily in film and television throughout the 1950s and '60s — save for an 18-month stint serving in the Army in Georgia.
And then he was cast as Spock in Gene Roddenberry's initial pilot for Star Trek. Titled "The Cage," the NBC network brass felt the show was far too cerebral, and Roddenberry was forced to revamp the show and shoot another, more action-oriented pilot. Only Spock remained from the original cast, and although the original Star Trek TV series lasted only three seasons, Nimoy's life was never the same.
Arguably more than any other actor involved with Star Trek, even his co-star William Shatner, Nimoy became the most deeply identified with the steadfast sci-fi franchise, thanks to both his indelible performance as the logic-driven, half-Vulcan, half-human science officer, and the many iconic tropes of the character, including his pointed ears, slanted eyebrows, and unique Vulcan salute.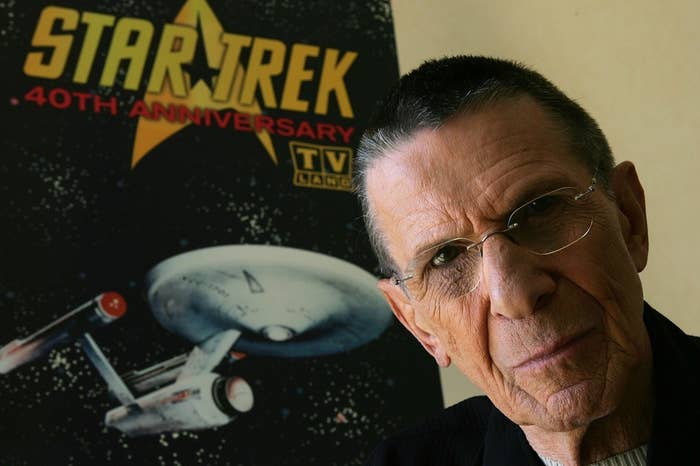 As Spock began to dominate Nimoy's career, his relationship with the character became a complicated one. In 1977, he wrote an autobiography bluntly titled I Am Not Spock. Eighteen years later — and after six Star Trek movies and a memorable guest star appearance on a two-part episode of Star Trek: The Next Generation — Nimoy published a second autobiography, titled I Am Spock.
Nimoy also stepped behind the camera, directing the third and fourth Star Trek films, The Search for Spock and The Voyage Home, as well as the 1987 comedy Three Men and a Baby. He often did voiceover work, both as a narrator (for the History channel's Ancient Mysteries), as an actor (including the 1986 animated film Transformers: The Movie, the 2001 Disney animated film Atlantis: The Lost Empire, and the 2011 live-action film Transformers: Dark of the Moon), and as himself (in two memorable episodes of The Simpsons).
But Spock remained a constant presence in Nimoy's life. When J.J. Abrams rebooted the Star Trek film series in 2009 with a new cast — and new timeline — the filmmaker convinced Nimoy to step back into the enduring role as the long-lived half-Vulcan, opposite Zachary Quinto as the character's younger counterpart. It is fitting that Nimoy's final on-screen role was as Spock, in 2013's Star Trek Into Darkness. At the film's premiere in Los Angeles, Nimoy's brief cameo was greeted with a thunderous ovation.
He is survived by his wife, Susan Bay Nimoy, brother Melvin, children Adam and Julie, stepson Aaron Bay Schuck, six grandchildren, and one great-grandchild.
This was Nimoy's last tweet: