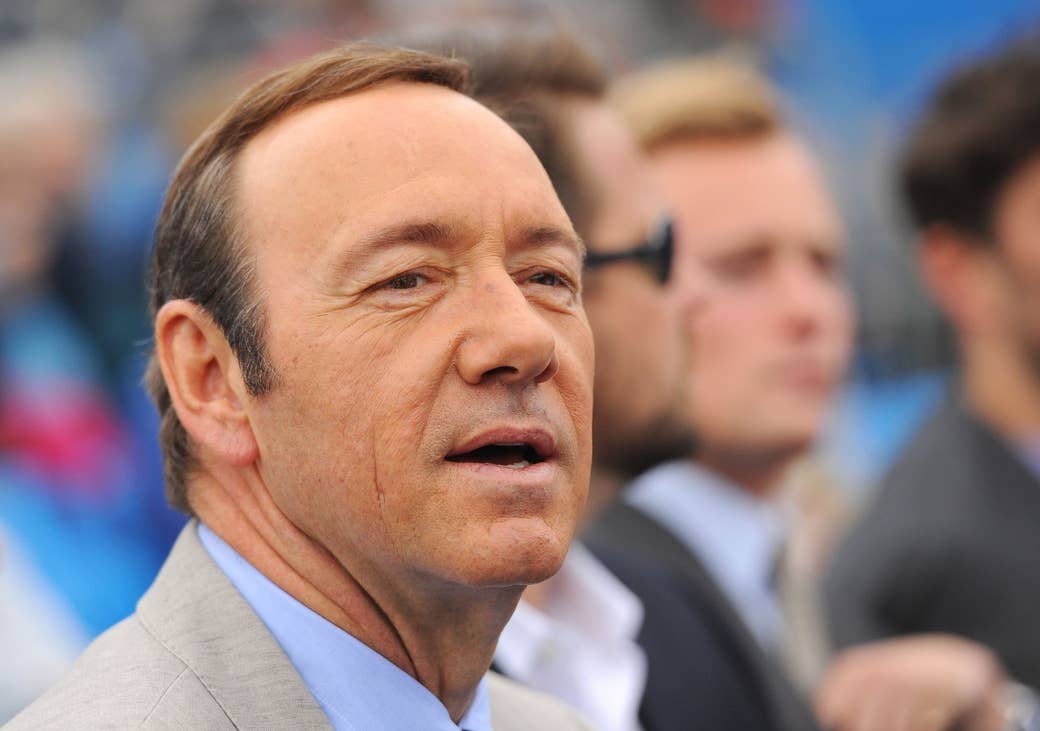 In the five days since Anthony Rapp came forward on Oct. 29 with the first public sexual misconduct allegations against Kevin Spacey, more allegations have surfaced spanning four decades and two continents.
Now, three more men — including one who was a minor at the time — have told BuzzFeed News that they met Spacey in professional settings but soon became targets of inappropriate sexual conduct. Their stories and others' reveal a pattern of behavior that goes back decades, suggesting a reckless disregard for personal and professional boundaries. They also share a core characteristic with the stories of men who are alleged to have sexually harassed and assaulted women, like Harvey Weinstein, Brett Ratner, James Toback, Bill O'Reilly, Roger Ailes, and Bill Cosby — namely, a gross and persistent abuse of power.
Whether as simply an older, admired actor taking advantage of a much younger one, or a star with significant clout on a set or elsewhere, Spacey is alleged to have consistently used his sexuality in a way that was unwanted and unwarranted, and often unrelenting. In Spacey's case, these stories also demonstrate the complex effect the closet can have for men of any sexual orientation when talking about sexual misconduct by another man.
Spacey appears to have discovered how to weaponize the closet, shielding his own behavior from scrutiny under the guise of merely protecting his privacy.
Spacey appears to have discovered how to weaponize the closet.
To wit: On Monday, Mexican actor Roberto Cavazos said that Spacey made "unpleasant" sexual advances on him and others at London's Old Vic theater, where Spacey was artistic director from 2004 to 2015. On Tuesday, filmmaker Tony Montana told Radar that Spacey had groped him when they were at a bar in Los Angeles in 2003. On Wednesday, a man going by the pseudonym "John" said that when he was 17 years old, he woke up with Spacey lying on top of him in his underwear. On Thursday, eight current and former employees of House of Cards told CNN that Spacey would repeatedly sexually harass male crew members. Also on Thursday, an unnamed artist told New York magazine that Spacey pursued him for a sexual relationship that he said ended in attempted rape; like Rapp, the man was 14 years old when the relationship began. And Friday BuzzFeed reported that British police are investigating Spacey about an alleged sexual assault in 2008.
Spacey's attorney did not respond to detailed requests for comment on the new allegations. On Wednesday night, Spacey's publicist revealed that Spacey "is taking the time necessary to seek evaluation and treatment." The publicist and his agency, CAA, have since "parted ways" with the actor.
When Justin Dawes was 16 years old in 1988, he said, Spacey, then 29, invited him and a male friend over to watch Roman Polanski's Chinatown. Instead, Dawes told BuzzFeed News, Spacey gave him a cocktail and played pornography.
At the time, Dawes was a high school junior with an interest in acting. He was a volunteer usher at the Long Wharf Theatre in New Haven, Connecticut, where his friend was also working as an assistant house manager. Dawes first met Spacey, then a relatively unknown theater actor, after a performance of the play National Anthems. Spacey invited Dawes and his friend over to watch the film.
When Dawes and his friend arrived at Spacey's home — a "bare" apartment the actor had rented for the run of the play — they found no one else. Dawes told BuzzFeed News that Spacey then made them cocktails and was playing gay pornography on the television in his living room. (A high school friend said Dawes told him about the incident, including the pornography, later that year. Two other friends of Dawes' told BuzzFeed News they recalled Dawes telling them about an awkward encounter with Spacey, but did not recall specific details. The friend who was present could not be reached for comment.)
The 16-year-old felt like he "should've realized" that Spacey wanted him to come over for reasons related to sex. "Like maybe this was kind of a coded thing or something that I agreed to."
"We all had a drink, and we were kind of like, 'Oh, no one else is coming?' And he's like, 'Oh, no one else decided to come,' and he never mentioned that this porn was playing. It was really awkward," Dawes told BuzzFeed News, describing the alleged encounter as "cringey" but "benign" compared to Rapp's experience. Dawes, who is straight, also said it was evident he was a minor at the time of the encounter.
"He knew that I was in high school," he said. "It was pretty clear. It's not like I was pretending to be an older, cooler person."
But while he found the situation "sleazy and manipulative," he said "it was not … intimidating or pushy." He even made jokes about what was playing on the television. "I was a pretty confident 16-year-old … I didn't think I was going to be taken advantage of," Dawes explained. In fact, he recalled feeling like he had given Spacey, who he'd heard was closeted, "the wrong impression a little bit." He continued: "I think I had this weird kinda like, Oh gee. Oh man, I feel bad."
At the time, the 16-year-old felt like he "'should've realized" that Spacey wanted him to come over for reasons related to sex. "Like maybe this was kind of a coded thing or something that I agreed to."
When he and his friend indicated to Spacey that they were going to leave, Dawes remembered the actor interjecting: "He said, 'Oh what? Really? I thought you guys were going to hang out.' And we said, 'No, no. We gotta go.'"
Dawes never interacted with Spacey again after that night.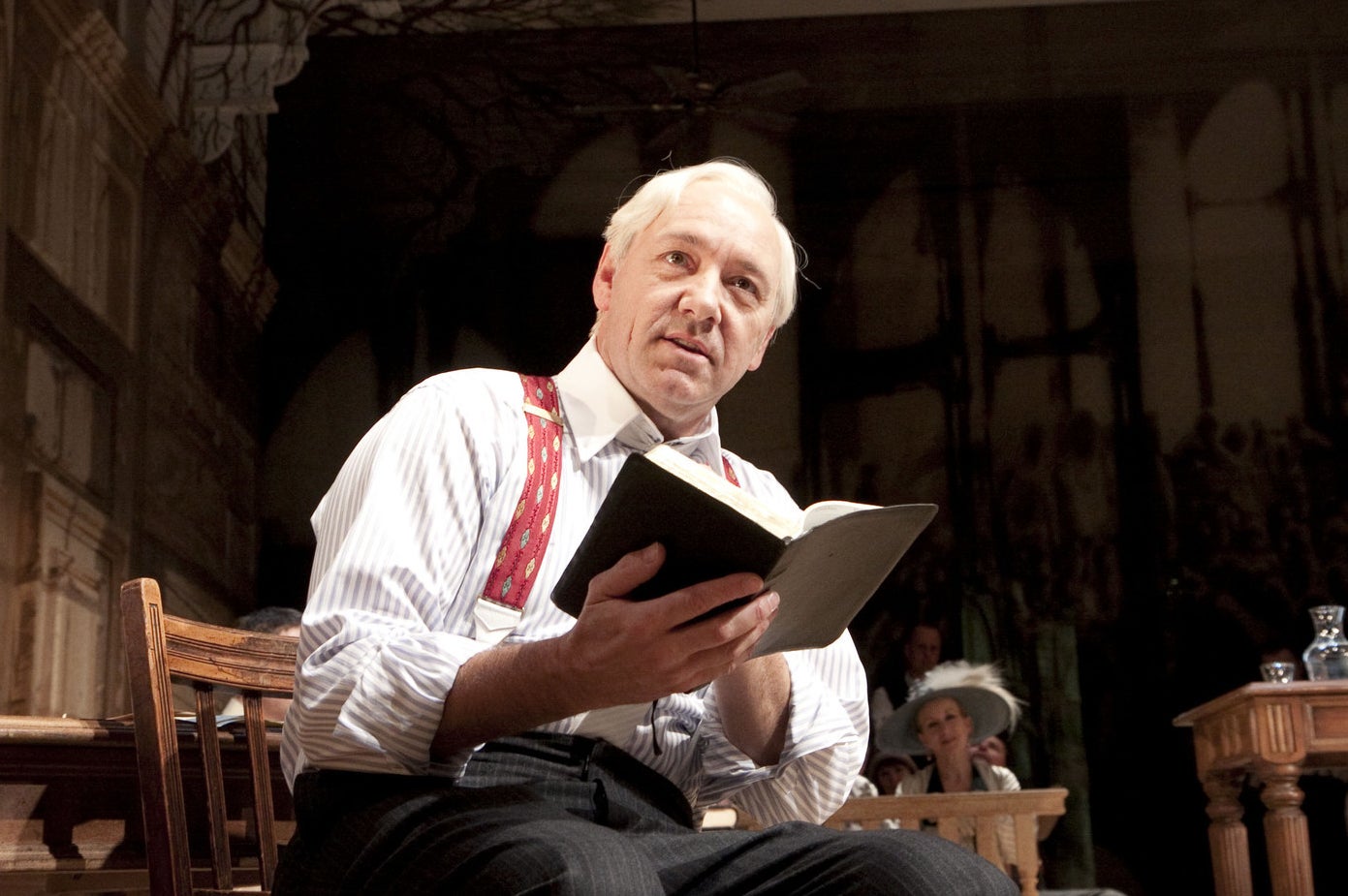 In the early 2000s, a journalist, then in his early twenties, interviewed Kevin Spacey in London for a national magazine, he told BuzzFeed News. (He asked to remain anonymous to avoid risk to his career.)

The interview, which took place at Spacey's office at the Old Vic theater, went fine. "He was charming and doing impressions of Jack Lemmon and so on," he said. Then Spacey invited him to go out with some friends for some drinks. Almost immediately after they arrived at the club, he said, Spacey began aggressively groping him.
"He just kept reaching between my legs and, you know, just grabbing my dick," he said. "I would move his hand away, and say something that I thought was pretending was funny or whatever at first. And then I was starting to get annoyed by it, and that was pretty clear."
"He had somehow convinced himself that this was a sexual liaison that we both wanted."
"I got up to leave at one point, and [Spacey] sort of grabbed me, and tried to make me stay," he continued. "I ended up sitting back down. He kept rubbing my leg. I moved seats. He came over and sat next to me again. I was trying not to make a big scene, because I had an assignment to write about him. So it wasn't clear to me that I should just, like, knock his teeth out, or something. I was in a weird dynamic of I wanted to be able to do my story."
In the course of the interview, he had told Spacey that he was in a "serious, live-in relationship with a woman," but, he said, that did not seem to deter Spacey. "He had somehow convinced himself that this was a sexual liaison that we both wanted."
The journalist was also frustrated that the people who had joined them at the club did not appear to react to Spacey's behavior at all. "They were deliberately not paying attention," he said.
Finally, the journalist said he'd had enough, and left the club. "[Spacey] came out after me and literally stood between me and the door," he said. "This man was screaming in my face outside of the main bar area, red-faced, spit flying out of his mouth, screaming at me with fury because I didn't want to fuck him. He was actually saying that I did want to and I was a coward. That was his tactic. It was unbelievable."
When the journalist returned home, he said he told his editor immediately about his encounter with Spacey. (The editor confirmed this account to BuzzFeed News.)
"I was like, 'I will give you my tapes for the interview, but I don't want to fucking deal with this at all,'" he said. He said that he was astonished by Spacey's behavior during the encounter because he was a journalist, and what "he's not realizing is that I can fucking hang him." But in the days that followed, the reporter was hit with another realization: Sharing his account would out Spacey as gay.
"Being closeted has enabled him to use this privacy claim as a shield against anybody looking closely at his actual behavior."
"I consider that a pretty important principle: You don't out people," he said. "But it tied my hands. If I were to publish a story about Kevin Spacey sexually harassing me on the job … there's no way without making it quite clear that he likes guys."
The interview ended up running without the journalist's byline, and he has never had any further interaction with Spacey or his representatives. After Spacey came out following Rapp's allegation, however, the journalist felt like he could finally come forward to tell his story.
"It has occurred to me since then that there's this weird way that Spacey had discovered that the closet would shield other things," the journalist said. "Being closeted has for him enabled him to use this privacy claim as a shield against anybody looking closely at his actual behavior. And then it may have served as this strange, protective mechanism, to say, 'My whole sexual life is off limits because of my sexuality.'"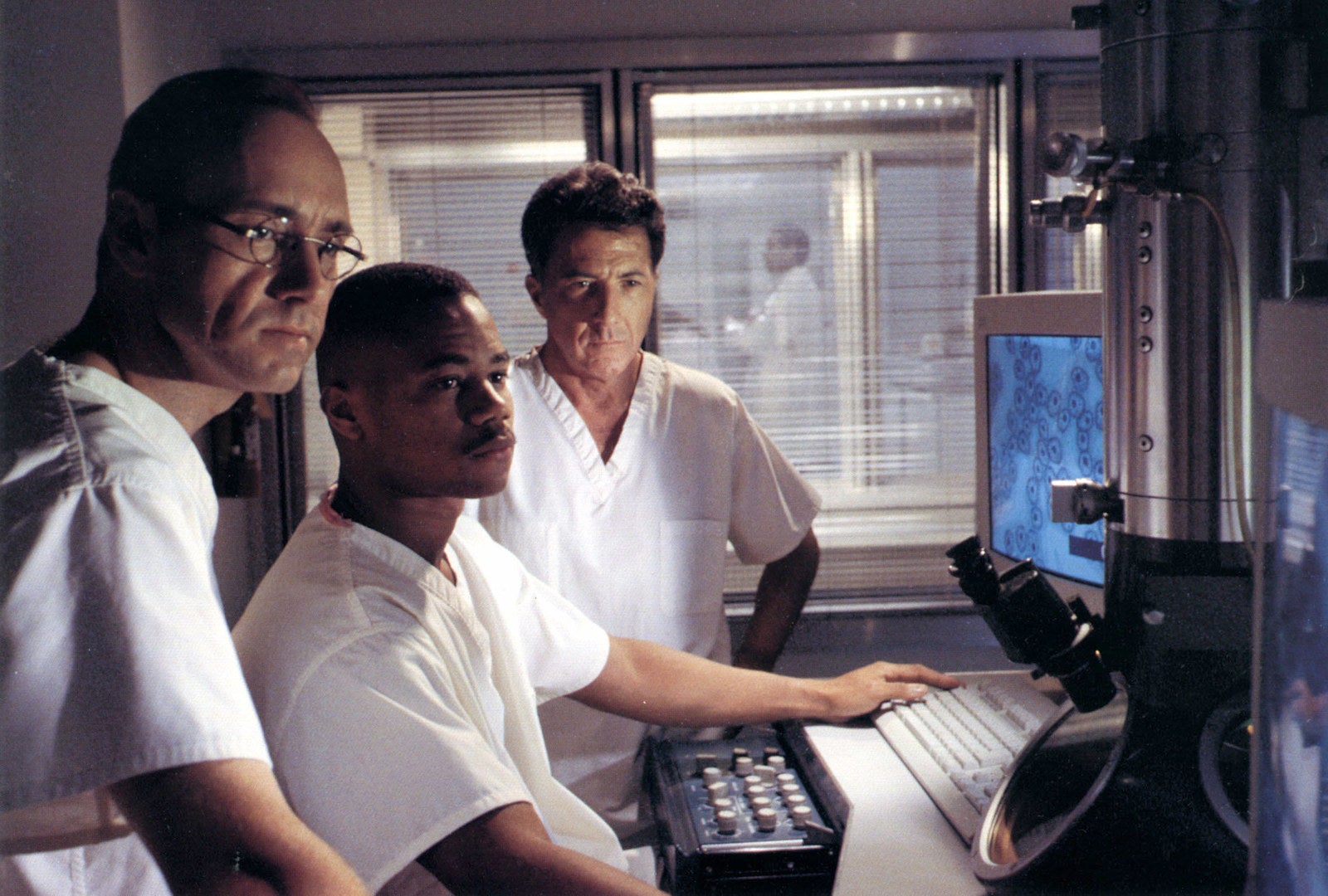 The closet also prevented Mark Ebenhoch from coming forward about Spacey's inappropriate sexual behavior, although for a different reason. Ebenhoch was a blonde 35-year-old working on the set of 1995's Outbreak. A military adviser, Ebenhoch said he was seldom approached by actors on sets, which he attributes to the fact that he always wore his uniform at work.
Spacey was on set playing Lt. Col. Casey Schuler alongside the film's star, Dustin Hoffman. Spacey had a group of young, male assistants who would hang out in his trailer, whom some on set referred to as his "harem," according to Ebenhoch.
"You didn't want anybody knowing or even smelling the fact that you might be gay or that there was any kind of interaction with him on any kind of level."
With about four weeks left of filming, Ebenhoch told BuzzFeed News, one of Spacey's assistants approached him "out of the complete blue" one day after the crew's lunch break, asking Ebenhoch come back to Spacey's trailer, just 40 feet away. "They asked flat out to engage in a sexual act. It was enough to stun me. It blew me away," he said. Ebenhoch did not remember the exact words the assistant used, but recalled the offer was "more than just 'He'd like to meet you or get to know you.'" Ebenhoch, who is now openly gay, immediately turned down the offer and feigned disgust, primarily out of fear of others on set learning his sexual orientation. (A representative for Warner Bros., the studio that released Outbreak, had no comment.)
"As a military adviser the last thing you'd want anyone to know is that you were gay," Ebenhoch said.
If you have information or tips, you can contact this reporter at

adam.vary@buzzfeed.com

or send us an encrypted message over Signal at (646) 379-1975. You can learn more about how to reach us here:

contact.buzzfeed.com
Roy Locke, one of the friends whom Ebenhoch later told about the incident, recalled feeling "shocked" when he heard about what had happened.
"It seemed so seedy," Locke said. "I was sympathetic of what [Ebenhoch] went through, but since I wasn't part of the situation, I didn't know what I could do."
After the interaction, Ebenhoch avoided Spacey at all costs for the remainder of the shoot, he said.
"You didn't want anybody knowing or even smelling the fact that you might be gay or that there was any kind of interaction with him on any kind of level."
Additional reporting by Otillia Steadman.