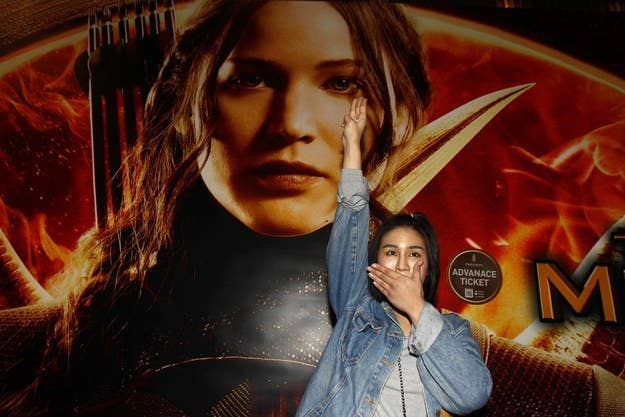 In one of the most uncanny examples of life imitating art in recent memory, protesters of the May 22 military coup in Thailand have adopted a silent three-finger salute of protest, similar to that of the globally successful Hunger Games franchise. Most filmmakers dream of their work inspiring audiences, and fans of massively popular movies often adopt the language and symbolism of their favorite heroes, but a film rarely inspires as close a one-to-one translation as The Hunger Games films have in Thailand.
While the protest started in June, it recently flared up again with the impending debut of The Hunger Games: Mockingjay – Part 1, the latest film in the franchise. Five students were detained on Tuesday after flashing the salute at General (and Prime Minister) Prayuth Chan-Ocha, and three more were detained on Thursday outside a theater showing Mockingjay – Part 1, according to the New York Times. (The Bangkok Post also reported theater chains in Thailand pulling the movie from their screens, but the film's Thai distributor, Mongkol Major, was still promoting Mockingjay – Part 1 on its Facebook page on Friday.)
On Thursday, BuzzFeed News asked the filmmaking team behind Mockingjay – Part 1 via phone about the Thai protest salute inspired by the series.
"It's not a simple answer," director Francis Lawrence told BuzzFeed News. Lawrence first learned of the Thai protesters adopting the Hunger Games salute while still in production earlier this year on Mockingjay, the franchise's two-part finale. "It's kind of a complicated set of feelings that I went through," he said. "There's the first response of seeing, 'Oh, this kid's using that [salute]. Isn't that strange?' And then you go, 'Oh, wow, the government just made it illegal. Oh, wow, now kids are getting arrested for it.'"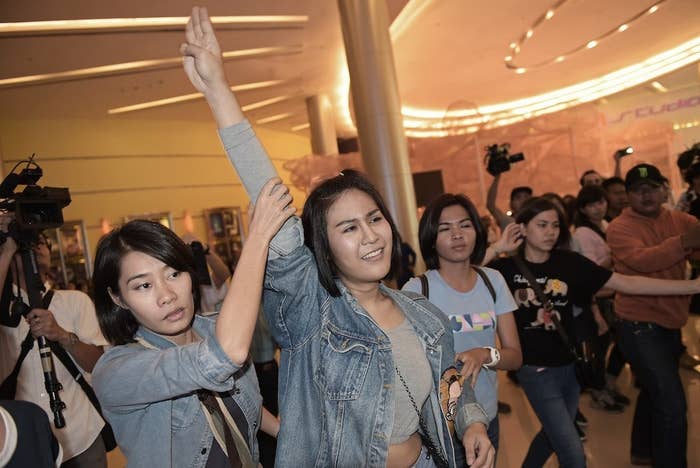 "My goal is not for kids to be out there doing things that are getting them arrested," Lawrence continued. "It's just when the stakes become real, and ... they're affecting people and affecting families. It gets very, very complicated. … In a sense, part of it is an honor that there [are] ideas in the movies that we're making that [have] become so important to people that they are willing to risk something and use that symbol, and it really means something to them. But it's so scary."
Producer Nina Jacobson, who optioned the movie rights to author Suzanne Collins' Hunger Games novels, saw the protesters' use of the salute to be inspirational in a way, as well. "I find it moving that our movie has become part of a language of resistance," she told BuzzFeed News. "That's really powerful and incredible."
Screenwriter Peter Craig said that it's common for protest movements to adopt symbolism from other sources as their own. "It could be all kinds of symbols," he said. "This is something that just happens to sync up." Craig's focus was also ultimately on the safety of the people involved in the protests. "That's a tense political situation where I feel badly for the kids," he said. "I just hope everybody's all right."
For his part, Lawrence also recognized how the films could galvanize audiences to want to take action. "There is definitely an intention in the movies … where you can see that even one person can make a difference," he said. "And so [if it is] for something you really believe, by all means, go out there — do it."
"But," he added, "there could be a cost."
Exploring that cost is what attracted Lawrence, who also directed the second film in the series, The Hunger Games: Catching Fire, to the franchise. He was interested in examining the lasting toll revolutions can take on those embroiled within them. "It's one of the big reasons that I'm doing the movies, is to explore those facets, and so you see the characters in these movies have post-traumatic stress," he said.
"They're damaged. The ones that live will be damaged forever, psychologically, emotionally — loss of family, loss of friends. It's messy business. Even if there needs to be a revolution, it's never black and white. It's not simple. It's why I still cringe when you see people doing these things and getting arrested, because you just hope that people really understand the consequences that they're going to be facing, whether right or wrong."