"Home" Gives DreamWorks Animation A Much Needed Box Office Win
The film's estimated $54 million opening weekend is the best news for the embattled studio in years.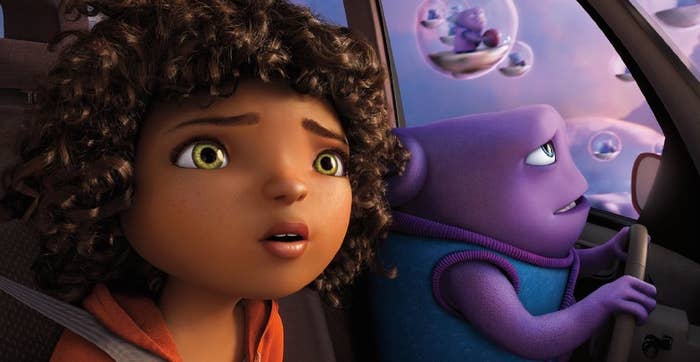 For the first time in six years, DreamWorks Animation has a real reason to celebrate at the box office. The studio's latest feature Home opened this weekend with an estimated $54 million, vastly exceeding expectations. It's the best domestic opening weekend for DWA since the company switched its distribution deal from Paramount to 20th Century Fox in 2013, and it's DWA's best debut ever for an original title since Monsters vs. Aliens was released in late March 2009 with a $59.3 million (or $66 million, when adjusted for ticket price inflation) opening weekend.
Matched with the $48.2 million the film has made in foreign markets, Home has already earned $102.2 million globally. Its "A" grade from audience polling firm CinemaScore promises strong word-of-mouth, and it has no serious family film competition until May.
The good news could not come at a more necessary time for DWA. The studio has been plagued with a series of box office disappointments and outright flops, including 2012's Rise of the Guardians, 2013's Turbo, and 2014's Mr. Peabody & Sherman and Penguins of Madagascar. It is part of a general downward trend for DWA's domestic opening weekends and especially for its total grosses since the astronomic heights of 2004's Shrek 2, as the studio aggressively pursued sequels and spin-offs while increasing its production schedule to as many as three films per year.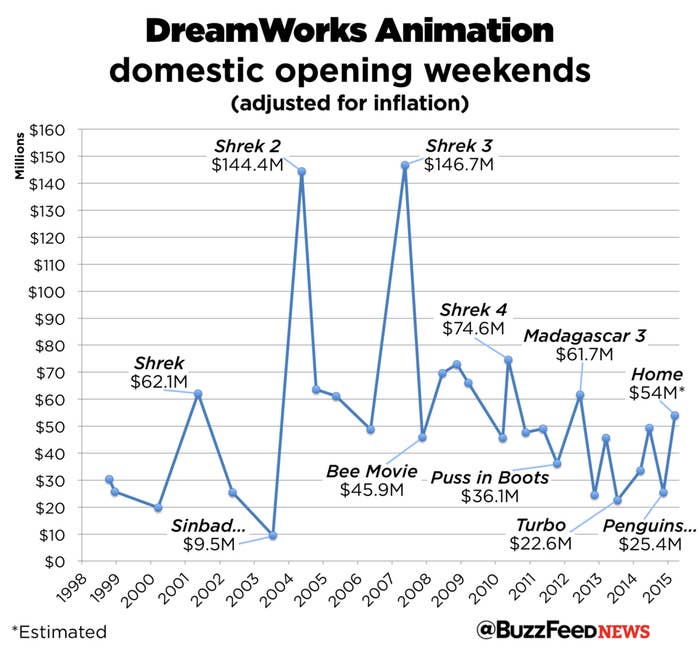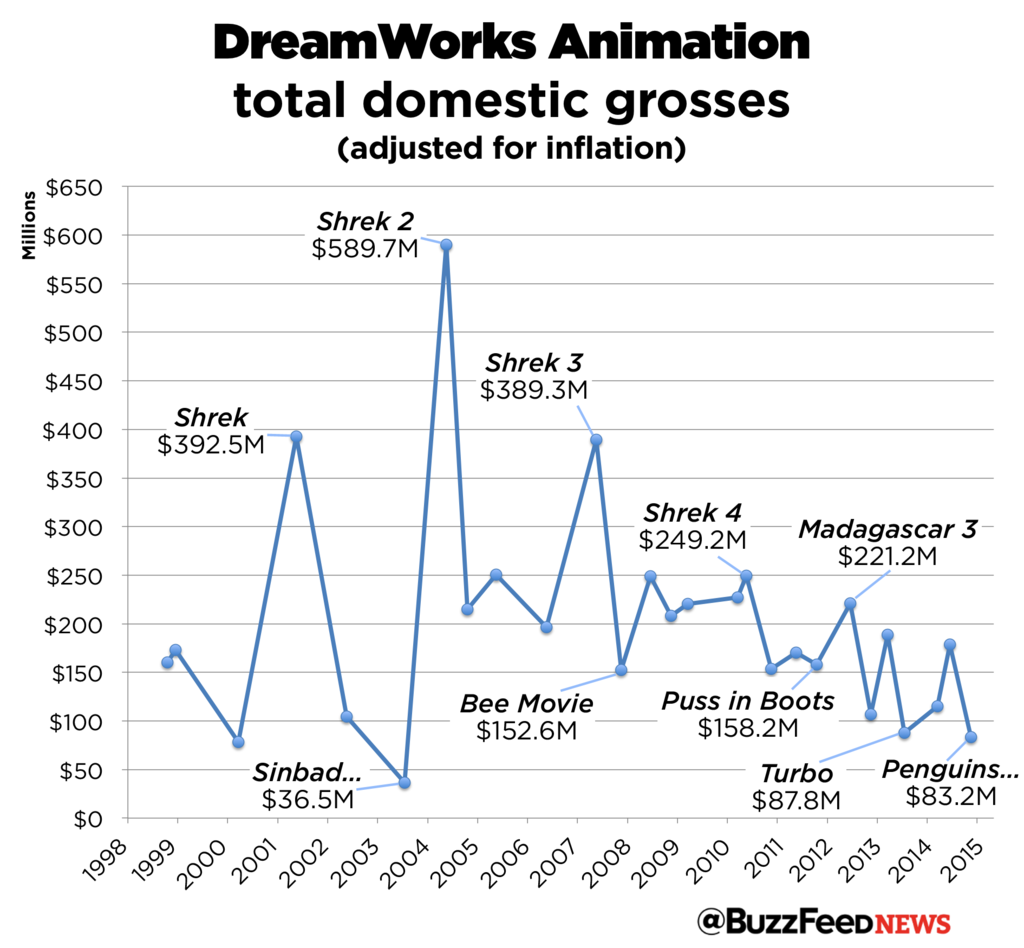 Unlike every other major animation studio in Hollywood, DreamWorks Animation operates as an independent, publicly traded company, so the losses from its most recent box office disappointments cannot be absorbed within the largess of a corporate parent. In January, the company announced it would lay off 500 employees, and after posting a whopping $263.2 million loss in the fourth quarter of 2014, DWA sold its opulent campus in Glendale, California for a reported $185 million (and then leased back the space). Adding insult to injury, CEO Jeffrey Katzenberg reportedly spent $1 million on an unsuccessful Oscar campaign for How to Train Your Dragon 2, which lost Best Animated Feature to Disney's Big Hero 6.
Overall, since the start of 2014, DWA stock has lost 34.5% of its value. Sales talks with Japan's SoftBank temporarily buoyed stock prices last fall, but the talks ultimately went nowhere. News of Home's strong box office at the end of the day on Friday, however, appeared to drive up DWA stock 3% before the end of trading.
While Home certainly represents a reversal of fortunes for DWA at the domestic box office, it is premature to proclaim the studio at the start of a major financial comeback. DWA has no other movies scheduled for release this year, after bumping B.O.O.: Bureau of Otherworldly Operations off its June 5, 2015 release date and placing the film back in development. Instead, the company has scheduled Kung Fu Panda 3 for release on March 18, 2016, and of the six films currently on DWA's upcoming slate, only one, How to Train Your Dragon 3, is set to open during the highly lucrative summer season (on June 19, 2018).
Of course, the flip side of having no other films to release this year is that there is now no chance any of DWA's movies will bomb in 2015. That may be damning the studio with faint praise, but still, a win is a win.
Here are the estimated top 10 box office figures from Friday to Sunday, courtesy of Box Office Mojo:
1. Home* — $54 million
2. Get Hard* — $34.6 million
3. Insurgent — $22.1 million
4. Cinderella — $17.5 million
5. It Follows — $4 million
6. Kingsman: The Secret Service — $3 million
7. Run All Night — $2.2 million
8. The Second Best Exotic Marigold Hotel — $2.19 million
9. Do You Believe? — $2.15 million
10. The Gunman — $2 million
*Opening weekend