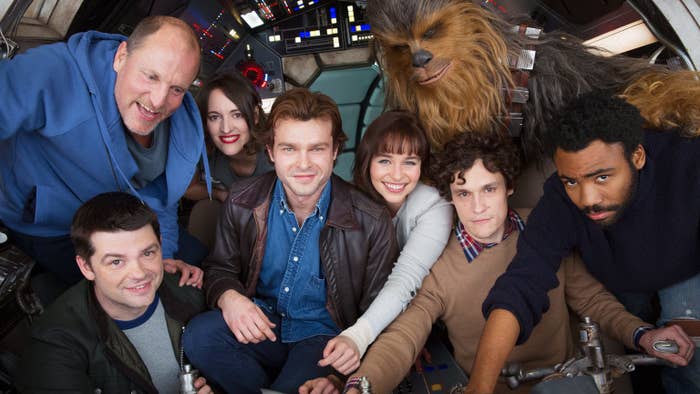 UPDATE
On Thursday, Lucasfilm announced that Ron Howard will replace Phil Lord and Christopher Miller as the director of the Han Solo prequel movie.
"At Lucasfilm, we believe the highest goal of each film is to delight, carrying forward the spirit of the saga that George Lucas began forty years ago," Kathleen Kennedy, president of Lucasfilm, said in a statement. "With that in mind, we're thrilled to announce that Ron Howard will step in to direct the untitled Han Solo film. We have a wonderful script, an incredible cast and crew, and the absolute commitment to make a great movie. Filming will resume the 10th of July."
The news was first reported by The Hollywood Reporter.
On Thursday evening, Howard tweeted that he hopes to "honor the great work already done" on the movie.
BuzzFeed News's original post about Lord and Miller's departure is below:
In a shocking development, Phil Lord and Christopher Miller have exited from directing the Han Solo prequel movie, which reportedly only has just a few weeks left in production.

"Phil Lord and Christopher Miller are talented filmmakers who have assembled an incredible cast and crew, but it's become clear that we had different creative visions on this film, and we've decided to part ways," Kathleen Kennedy, producer and president of Lucasfilm, said in a statement. She also noted a replacement director for the as-yet-untitled film would be announced "soon."
"Unfortunately, our vision and process weren't aligned with our partners on this project," Lord and Miller said in a statement. "We normally aren't fans of the phrase 'creative differences' but for once this cliché is true. We are really proud of the amazing and world-class work of our cast and crew."
After signing on to direct the film in July 2015, Lord and Miller — who helmed the Jump Street films and The LEGO Movie — cast actor Alden Ehrenreich (Hail, Caesar!) as the younger version of Han, the infamous Star Wars smuggler and world-class scoundrel first played by Harrison Ford. Atlanta's Donald Glover stepped into the cape of Solo's compatriot Lando Calrissian; the rest of the cast includes Woody Harrelson, Emilia Clarke, Thandie Newton, Michael Kenneth Williams, and Phoebe Waller-Bridge.

Lord and Miller began production on the Han Solo film in February. According to a source familiar with the project, the directors' improvisational and highly collaborative creative process increasingly clashed with Lucasfilm and Disney's more structured working preferences. The decision to leave the movie, according to this source, was not the filmmakers'. (When reached by BuzzFeed News, a spokesperson said Disney had no further comment.)
It is a dire sign for any director to leave a feature before principal photography has completed, let alone a project as high profile as this one, which is part of the ongoing standalone Star Wars anthology series. The first film in that series, 2016's Rogue One, also encountered some creative speed-bumps, undergoing significant reshoots, with filmmaker Tony Gilroy (Michael Clayton, The Bourne Legacy) reportedly taking on major responsibilities from the film's credited director Gareth Edwards (Godzilla).
The Han Solo prequel is still scheduled to open on May 25, 2018.