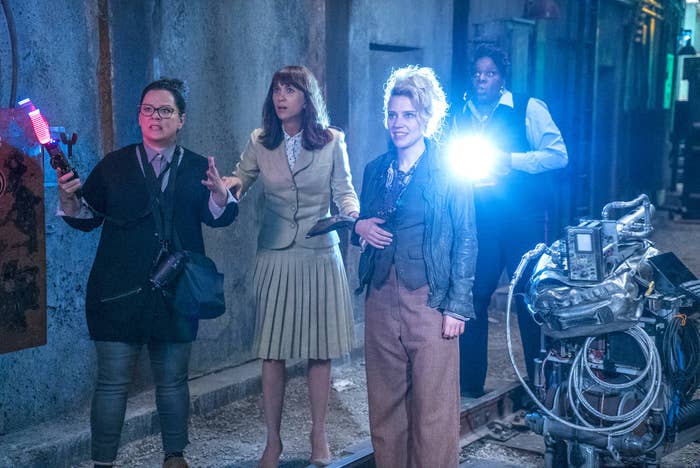 Director Paul Feig's Ghostbusters opened this weekend with an estimated $46 million at the domestic box office. It is, on balance, a solid debut for your average summer comedy, but Ghostbusters is anything but average. Feig's decision to entirely cast women in the lead roles in his reboot of the fiercely beloved 1984 comedy sparked a wildly disproportionate level of controversy —which in turn has freighted the movie's box office performance with meaning far beyond the financial returns for this single film. In the wake of the torrent of ugly, misogynistic scorn directed at the film on the internet since it was announced almost two years ago, for some, merely buying a ticket to the movie came to feel like a political act.
But there is no simple way to interpret the Ghostbusters box office debut. It is tempting to measure the film against other recent hits with predominantly female casts like Bridesmaids, The Heat, and Pitch Perfect 2, but none of those films were comedy reboots, or featured major visual effects sequences, or carried a $144 million budget. Ghostbusters is a truly unique endeavor in modern Hollywood; defining "success" for this movie depends on which way you choose to look at it.
Ghostbusters is a triumph for Paul Feig, Melissa McCarthy, and the rest of the cast.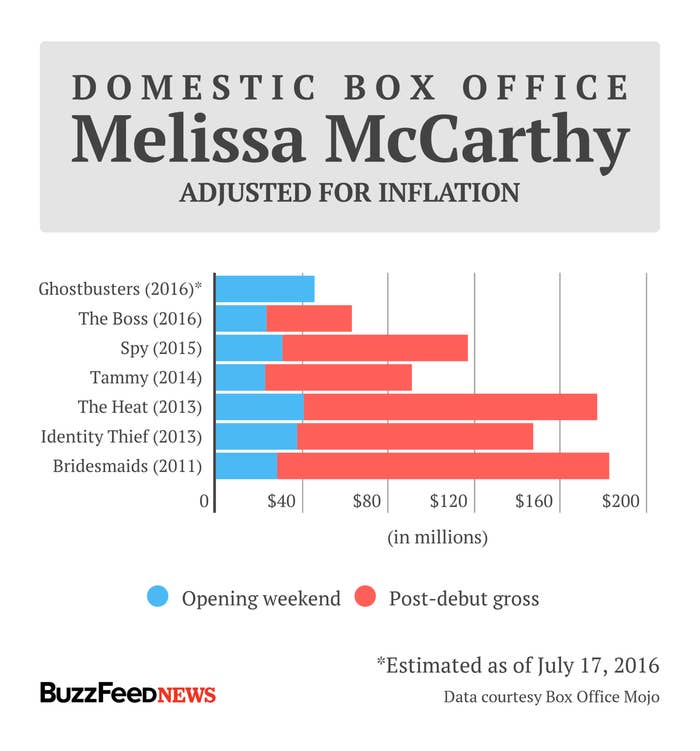 This is the fourth collaboration between McCarthy and Feig after Bridesmaids, The Heat, and Spy, and it is by far their most successful to date. Over the past five years, the duo have dismantled Hollywood's prejudices over who deserves to be a movie star, and challenged preconceptions about what kinds of movies — raucous ensemble comedies, buddy cop pictures, spy thrillers — can place women exclusively at their center. Ghostbusters continues those efforts on an unprecedented scale, while reuniting Feig and McCarthy with their Bridesmaids collaborator Wiig, and catapulting costars Leslie Jones and Kate McKinnon from Saturday Night Live to near-instant stardom. It is everyone's best-ever box office debut.
Ghostbusters, however, is not close to the top tier of recent live-action summer comedies…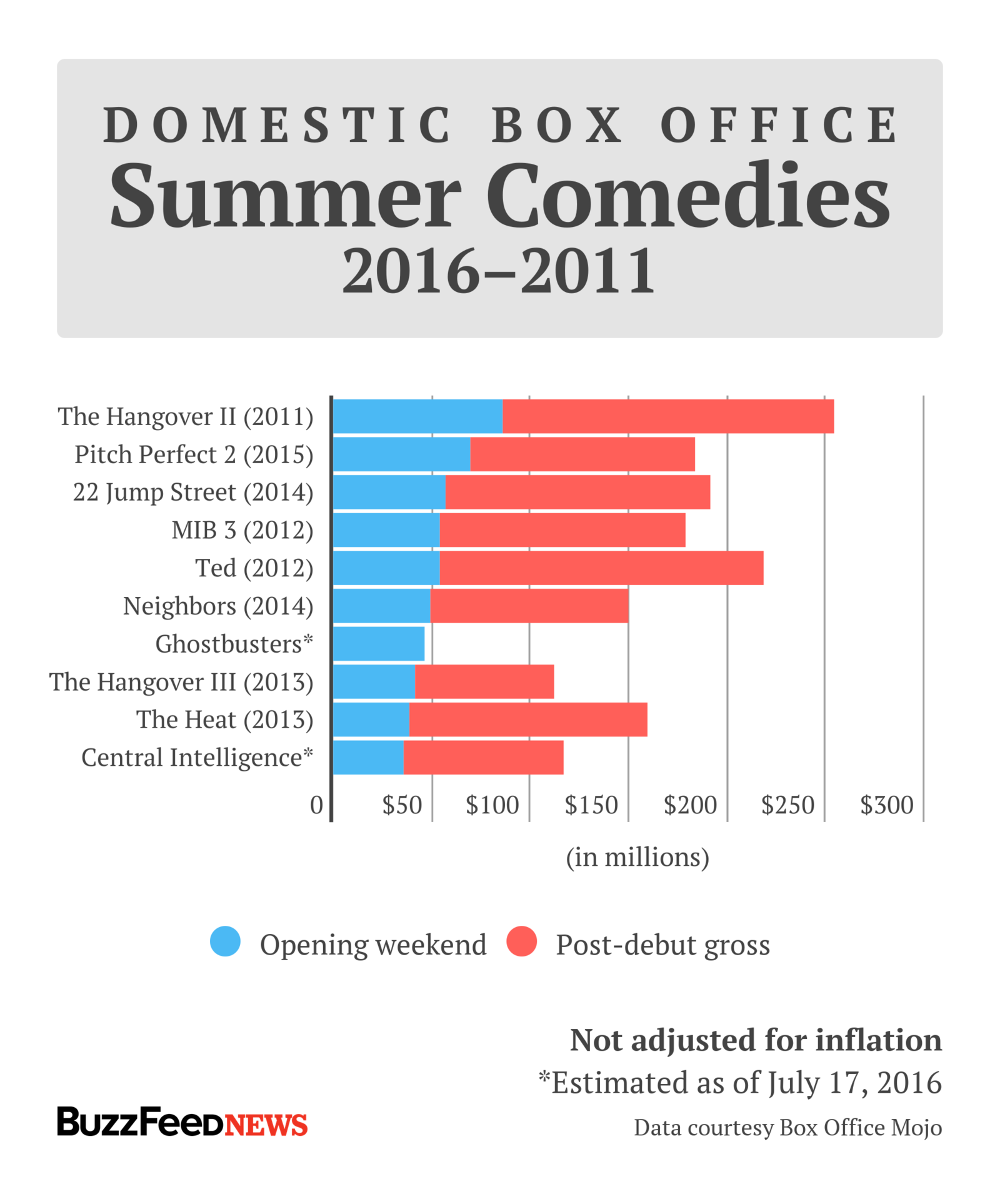 When zooming out to look at the recent past, it's clear that Ghostbusters is not an outright box office sensation, the kind that could unequivocally crown it the "comedy of the summer." Its domestic debut is also lower than other recent summer comedies with heavy visual effects, like Ted and MIB 3, or major action sequences, like 22 Jump Street. And Pitch Perfect 2 managed to earn a massive $69.2 million debut while costing a fraction of the blockbuster budget for Ghostbusters.
… but Ghostbusters had the best domestic box office debut for a live-action comedy in over a year.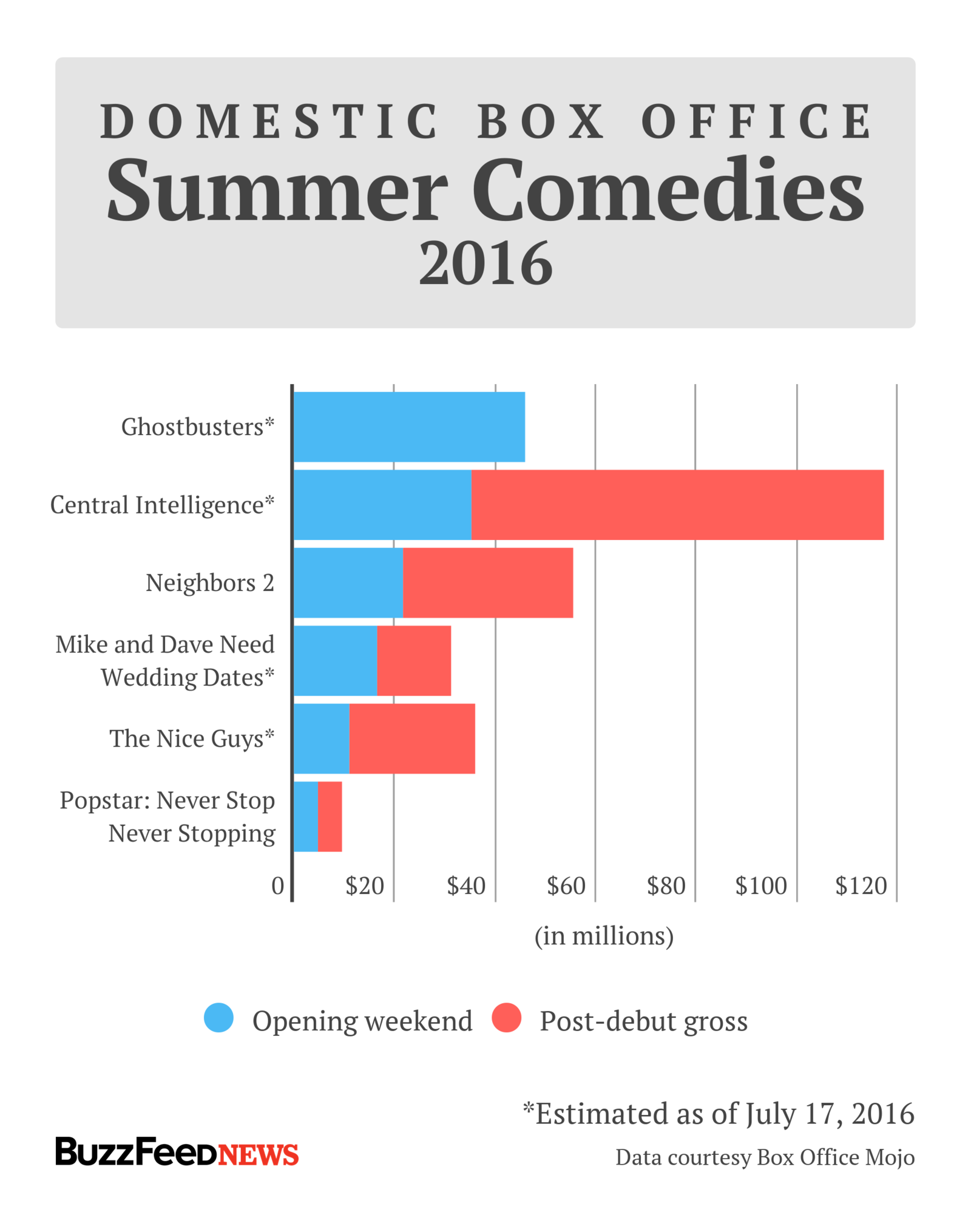 In the more narrow context of what has been a grim summer for Hollywood in general, Ghostbusters has connected with the marketplace in a way no other comedy has. Other than the Dwayne Johnson/Kevin Hart movie Central Intelligence, audiences have rejected every live-action comedy that studios have released this season — and at a time when laughter would be a vital tonic for the unrelenting horrors that have dominated the news.
Ghostbusters looks like a successful comedy remake — but time will tell whether it can launch a new franchise.
Ghostbusters is exceptional in its embrace of a female cast to lead an expensive action-comedy, but the movie is in lockstep with Hollywood's addiction to nostalgia-laden reboots, sequels, and reinterpretations. And this summer, those kinds of movies — like The Legend of Tarzan, Independence Day: Resurgence, and X-Men: Apocalypse — have proven to be less-than-stellar at the box office.
Comedy, however, rarely gets rebooted — in fact, the word "reboot" feels strange when applied to a comedy remake, since comedies are not typically seen in the context of a modern Hollywood "cinematic universe." And the $46 million domestic debut for Ghostbusters is certainly among the mainstream of successful comedy remakes.
Sony, however, sees Ghostbusters as more than just a remake. Producer Amy Pascal told The Hollywood Reporter that she envisions the movie launching an "endless" franchise. The movie even features a Marvel-style post-credits teaser for a potential sequel.
That all depends on how Ghostbusters performs in the coming weeks, and as Sony rolls out the film internationally. (It opened this weekend in the UK, Australia, and Brazil with $19.1 million.) This month, the film faces competition from both big budget action films like Star Trek Beyond and Jason Bourne and the low-budgeted comedy Bad Moms, and its B+ rating from Cinemascore suggests decent-but-not-effusive word-of-mouth.
And even if the film scares up a large pile of money during a long, lucrative run at the box office, it is highly unlikely it can approach the $242.2 million domestic gross of the 1984 original. When adjusting for ticket price inflation, that's roughly $584 million — and depending on how one defines the word "comedy," that astronomic gross makes the original Ghostbusters arguably the most successful live-action comedy of all time. That record, like the childhoods the original movie single-handedly created, remain unthreatened by whatever success this new Ghostbusters enjoys.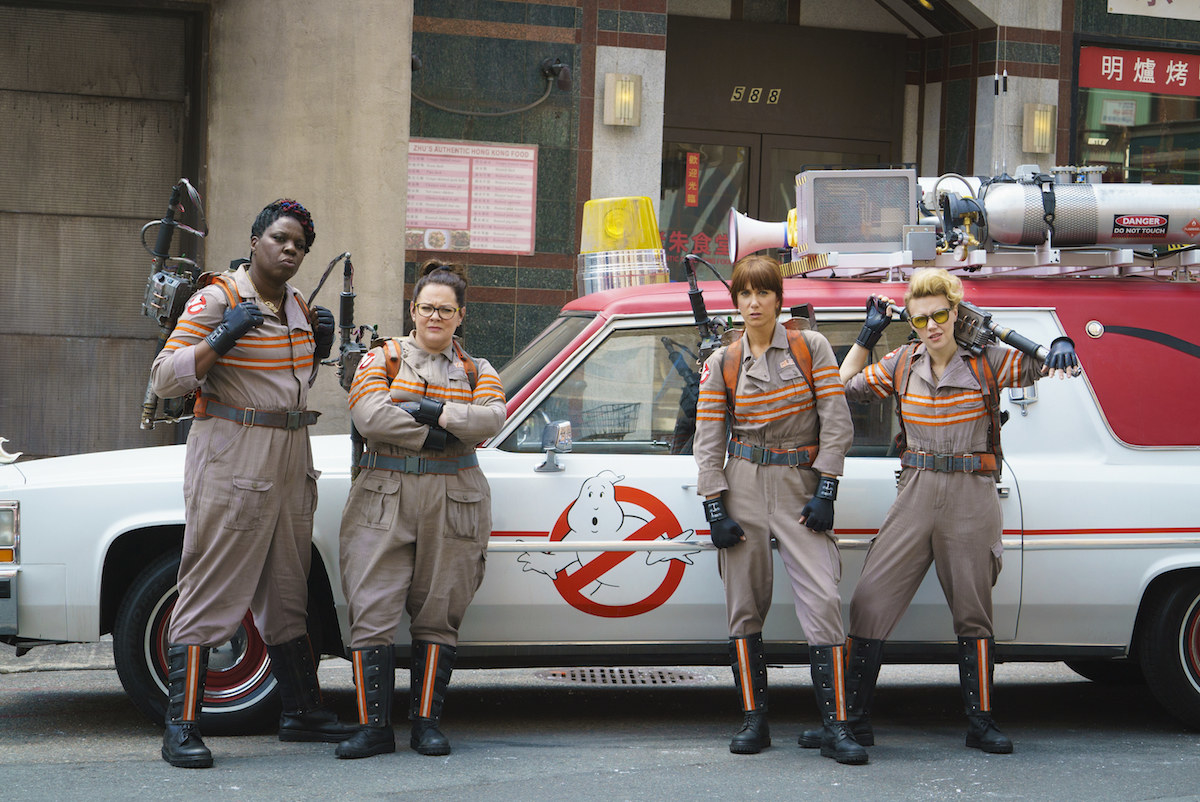 Here are the estimated top 10 box office figures for Friday to Sunday, courtesy of Box Office Mojo:
1. The Secret Life of Pets — $50.6 million
2. Ghostbusters* — $46 million
3. The Legend of Tarzan — $11.1 million
4. Finding Dory — $11 million
5. Mike and Dave Need Wedding Dates — $7.5 million
6. The Purge: Election Year — $6.1 million
7. Central Intelligence — $5.3 million
8. The Infiltrator* — $5.28 million
9. The BFG — $3.7 million
10. Independence Day: Resurgence — $3.5 million
*Opening weekend