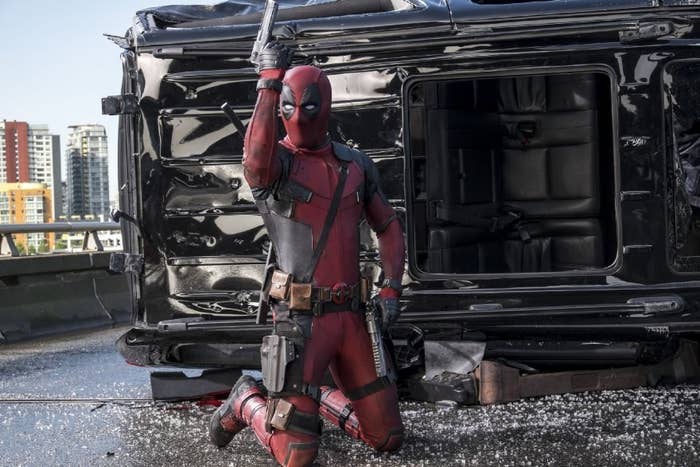 That is a lot of chimichangas.
Deadpool — starring Ryan Reynolds as the titular foul-mouthed, self-aware superhero — opened with an estimated $135 million at the domestic box office for the three day weekend (and an estimated $150 million for the four-day President's Day holiday weekend), demolishing several box office records in the process.
It is the biggest opening ever in February, exceeding the $85.1 million record set in 2015 by Fifty Shades of Grey. It is also the largest opening ever for studio 20th Century Fox, surpassing the $108.4 million debut of 2005's Star Wars: Episode III — Revenge of the Sith.
And — most pointedly — Deadpool opened with the best domestic debut ever for an R-rated movie, destroying the 13-year, $91.7-million record held by The Matrix Reloaded — even when adjusting for ticket price inflation.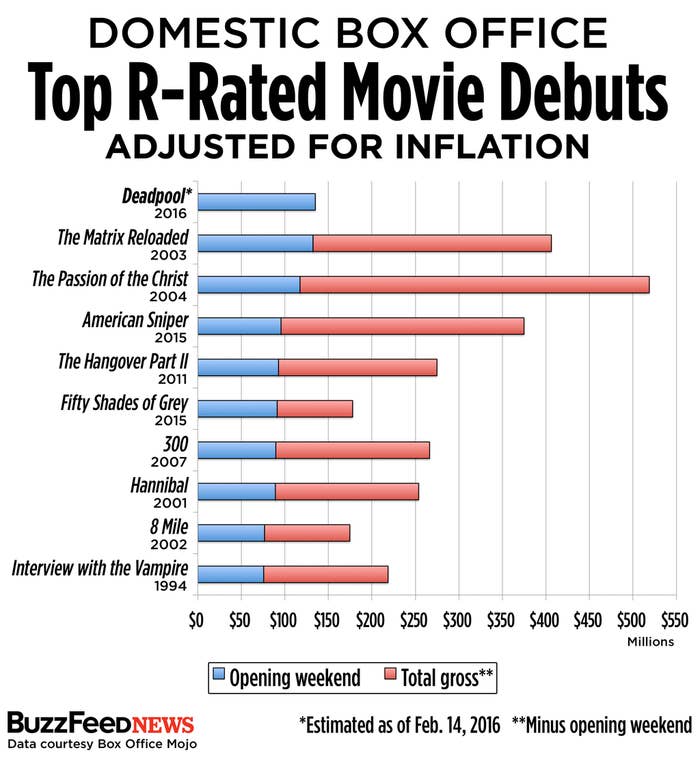 To get a sense of the impact Deadpool's success could have on Hollywood, however, it's better to compare the movie's debut to the box office fate of other R-rated comic book and graphic novel adaptations over the last 25 years.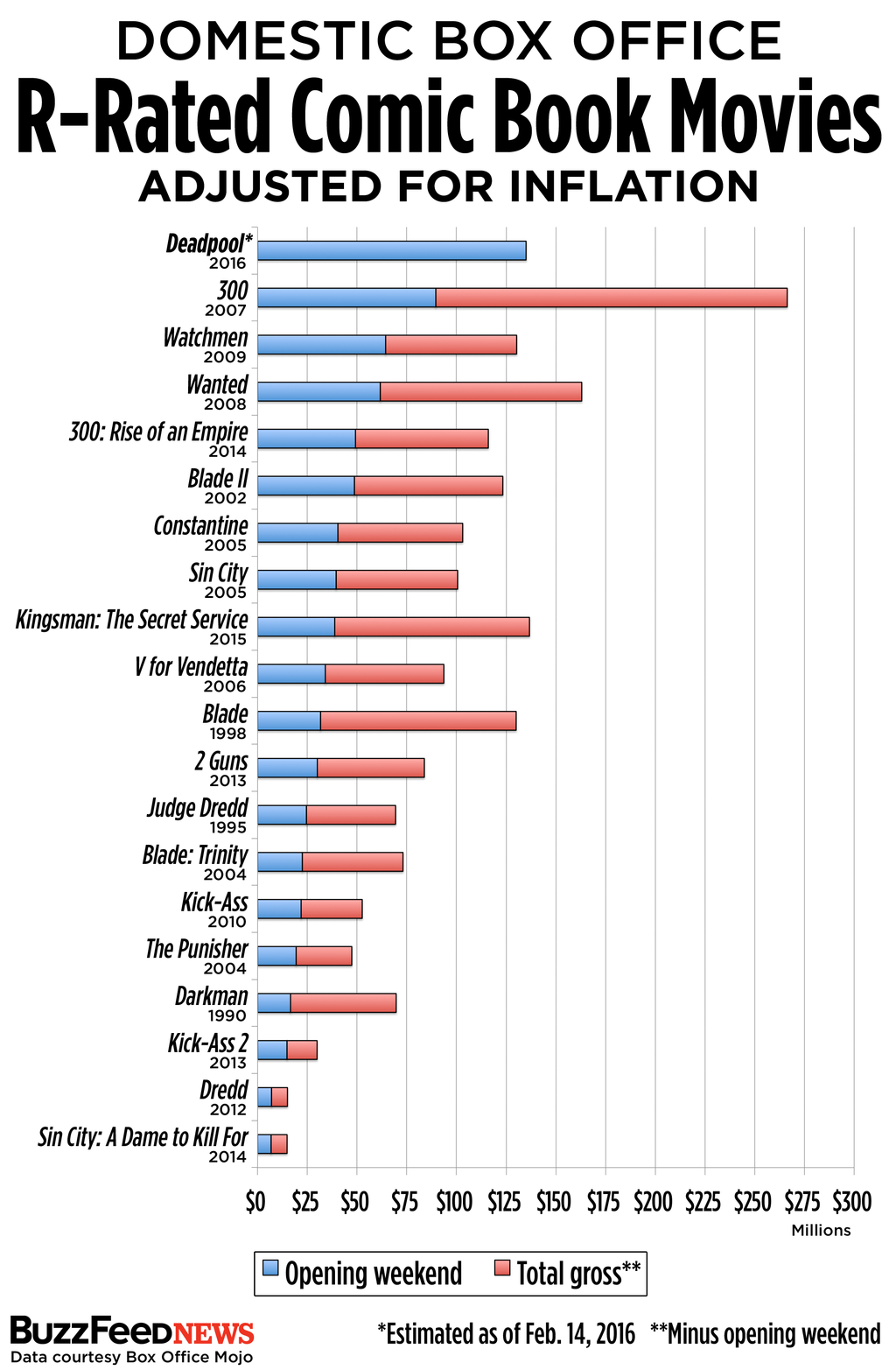 Prior to Deadpool, the well established conventional wisdom in Hollywood is that an R-rating significantly depresses a movie's box office returns, since audiences under 17 are ostensibly barred from seeing the movie without a parent or guardian. Instead, studios have found great success with the PG-13 rating, which restricts overt sexuality and language, but does allow for a great deal of wonton destruction and violence — so long as that violence remains largely bloodless. (Of the top 10 highest grossing movies of all time at the domestic box office, eight are rated PG-13.)
The Deadpool comic books, however, are abundant in bloody violence, unabashed profanity, and sexual innuendo and activity. At a BuzzFeed Brews event earlier this month, Reynolds explained that 20th Century Fox allowed the filmmakers to keep that material and earn an R-rating from the MPAA, but in turn the film's budget was kept to a relatively modest amount — reportedly $58 million.
Coupled with the film's $125 million debut internationally, that means Deadpool is already profitable. And its domestic debut is also the best of the far pricier movies in the X-Men cinematic universe. (Adjusting for inflation, it's a close second.)
That is the kind of financial impact that makes Hollywood executives pay attention.
With several studios establishing their superhero movie slates into 2020, it is still unlikely that Captain America, Spider-Man, and Wonder Woman — much more iconic characters, in movies with much higher budgets — will be allowed to draw blood, have sex, and say "fuck" more than once on screen. But it is also clear that with comic book movies dominating the marketplace — Deadpool is one of seven slated to open in 2016 alone — audiences are hungry for something that pushes past the now all-too familiar PG-13 formulas.
To wit: Last November, Charles Roven, the producer of Warner Bros.' Suicide Squad, told Collider that the film — about a crew of dastardly super-villains forced to help society — would aim for a PG-13 rating for its release this August. But he left the door open just a crack for an R-rating instead. "[W]hile this is business, it's also a creative endeavor, so you want to leave yourself open to changing your mind, doing something different, being inspired," he said. And few things inspire Hollywood more than record box office returns.
Here are the estimated top 10 box office figures for Friday to Sunday, courtesy of Box Office Mojo:
1. Deadpool* — $135 million
2. Kung Fu Panda 3 — $19.7 million
3. How to Be Single* — $18.8 million
4. Zoolander 2* — $15.7 million
5. The Revenant — $6.9 million
6. Hail, Caesar! — $6.6 million
7. Star Wars: The Force Awakens — $6.2 million
8. The Choice — $5.3 million
9. Ride Along 2 — $4.1 million
10. The Boy — $2.9 million
*Opening weekend
UPDATE
This story was updated with Deadpool's estimated international box office debut.