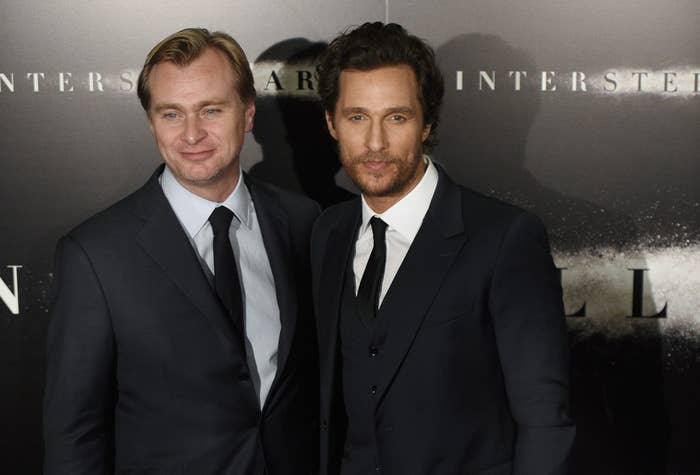 Despite a recent report, director Christopher Nolan denies ever slamming the films released by Marvel Studios as not "real," BuzzFeed News has learned.
Nolan, whose filmmaking clout and renown skyrocketed off the billion dollar grosses of his Dark Knight trilogy, also produced and co-wrote the story for the 2013 Superman reboot Man of Steel, directed by Zack Snyder. In a profile in The Guardian posted on Tuesday pegged to his latest film Interstellar, Nolan reportedly slammed Marvel Studios' trademark end credits sequences after Warner Bros. suggested to him and Snyder that Man of Steel conclude with a similar "comedy coda ending." Nolan's reported reply: "A real movie wouldn't do that."
Nolan, however, emphatically denies ever saying that.
"I would never say someone else's film isn't 'a real film,'" Nolan said in a statement to BuzzFeed News. "The quote is inaccurate." The concern for Nolan and Snyder was adhering to Man of Steel's overall darker and more serious tone, and to forge a cinematic path separate from Marvel Studios, according to a source with knowledge of the production. (Nolan and his producing partner and wife Emma Thomas are executive producing the 2016 sequel, Batman v Superman: Dawn of Justice.)
Nolan's purported quote — and quick denial — touches on the decades-long rivalry between DC Comics (home of Superman, Batman, Wonder Woman, and the rest of the Justice League) and Marvel Comics (home of Iron Man, Captain America, Thor, and the rest of the Avengers). Both Warner Bros., a corporate cousin of DC Entertainment, and Marvel Studios, owned by the Walt Disney Company, recently announced ambitious movie slates that stretch through the end of this decade. Whether the marketplace can sustain that many superhero movies remains an open question; some elbow-throwing in the press would make sense, and make headlines. Just not, apparently, this time.
Though a spokesperson for The Guardian in the U.S. did not return BuzzFeed News' request for comment, nor did The Guardian remove Nolan's quote from the piece, on Nov. 5, the following footnote was added: "Subsequent to publication, Nolan disputed the quote attributed to him by Snyder. According to Nolan, he had told Snyder, 'We shouldn't be chasing other movies, but stay true to the tone of Man of Steel.'"