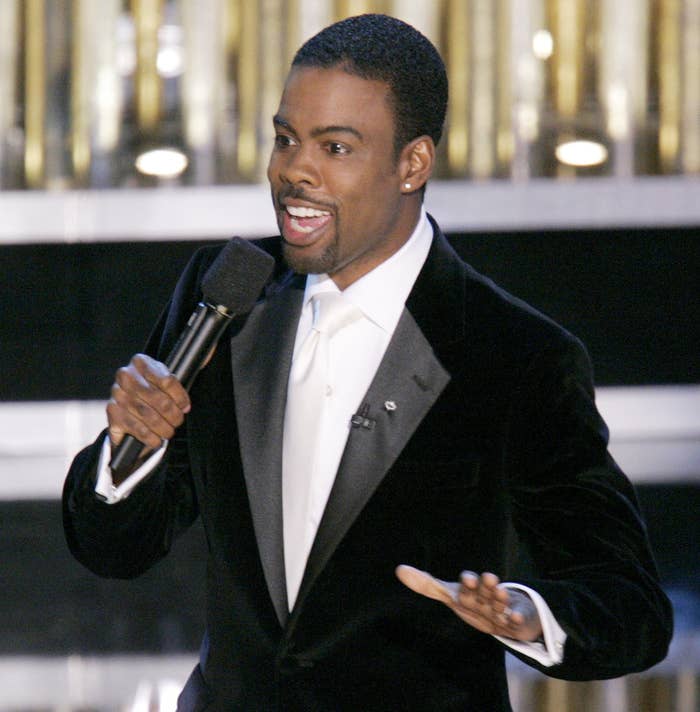 Chris Rock will host the 88th Academy Awards, the Academy of Motion Picture Arts and Sciences announced on Wednesday after days of speculation.
It will be the 50-year-old comedian's second time as the official Oscars emcee, after hosting the 77th Oscars in 2005, when Million Dollar Baby won Best Picture. "I'm so glad to be hosting the Oscars," Rock said in a statement. "It's great to be back."
He joins Ellen DeGeneres, Steve Martin, Jon Stewart, Whoopi Goldberg, and Billy Crystal as recent hosts of the Oscars for two or more telecasts.
"Chris Rock is truly the MVP of the entertainment industry," the telecast's producers Reginald Hudlin (Django Unchained, The Boondocks, The Bernie Mac Show) and David Hill said in a statement. "Comedian, actor, writer, producer, director, documentarian – he's done it all. He's going to be a phenomenal Oscar host!"
And academy president Cheryl Boone Isaacs said in her statement that Rock's "comedic voice has really defined a generation. He is certain to bring his amazing array of talents to this year's show."
Rock's performance during his first Oscar hosting gig lived up to his reputation for unsparing comedy, especially within the typically innocuous context of the Oscar telecast. Rock offered pointed jokes about that year's lack of commercially successful nominees; the performance of then-President Bush; and the lack of nominations for the year's most high-profile films, Fahrenheit 9/11 and The Passion of The Christ.
But because he was performing to an industry insider crowd, Rock earned the most attention for his pointed jokes about the nature of stardom. "Clint Eastwood is a star … Tobey Maguire is just a boy in tights," he said in his opening monologue. "If you want Russell Crowe and all you can get is Colin Farrell, wait! Alexander's not Gladiator!" Rock's jokes about actor Jude Law — "Who is Jude Law? Why is he in every movie I have seen [in] the last four years?" — even prompted a rejoinder from Sean Penn later in the telecast, defending Law as "one of our finest actors." In the academy's video clip of Rock's monologue, in fact, his comments about Maguire, Farrell, and Law have been cut out.
Rock's selection as the host for this year's Oscars, however, suggests that the academy is aware of criticism that the previous Oscar telecast, hosted by Neil Patrick Harris, was too staid and safe. And his selection comes after last year's acting nominees were exclusively white, leading to the popular hashtag #OscarsSoWhite, and calls by Isaacs for more diversity among the nominees. In response, 28 actors, directors, and writers of color were invited to join the academy's membership this year, up from just six people of color in 2014. One of those six invitees? Chris Rock.
The 88th Academy Awards will air on ABC on Feb. 28, 2016.