On Monday, the cast and filmmakers of Marvel Studios' Black Panther debuted their film at a lavish red carpet premiere in Los Angeles, while preview audiences in LA and New York got the first look at one of the buzziest movies of 2018. The response has been nothing short of ecstatic, elevating what was already one of the most highly anticipated movies of the year to a level of breathlessness enjoyed only by movies with Star and Wars in their titles.
How breathless? On Wednesday, Fandango announced that advanced ticket sales for Black Panther are currently outpacing every other superhero movie on record. On Tuesday and Wednesday morning, the film was site's top seller, two weeks in advance of its Feb. 16 debut.
And BuzzFeed News has learned that early box office projections for Black Panther's debut over Presidents Day weekend have the film earning anywhere between $100 million and $140 million over the four-day holiday. (A spokesperson for Disney declined to comment on the record about the projections, but did say that the studio is "incredibly excited about the early reactions" to Black Panther.)
To better understand what is causing such exhilaration — and why it represents a watershed moment for Hollywood — it would be worth playing the following game: Take a look at the list of the all-time highest-grossing movies at the domestic box office, and try to find a movie with a predominantly black cast — not one with a single black star, or even two black leads, but a movie, like Black Panther, where the vast majority of the cast is populated with black people.
You will, of course, run into a tidal wave of disparate movies populated almost exclusively with white people, including (but not nearly limited to) Titanic (No. 3), Jurassic World (No. 4), The Avengers (No. 6), The Dark Knight (No. 7), The Dark Knight Rises (No. 14), E.T. the Extra-Terrestrial (No. 16), Spider-Man (No. 25), Jurassic Park (No. 26), Harry Potter and the Deathly Hallows Part 2 (No. 30), The Lord of the Rings: The Return of the King (No. 33), Spider-Man 2 (No. 34), and Spider-Man 3 (No. 48).
But it won't be until you reach No. 296 on the list — past Night at the Museum (No. 112), Ted (No. 154), Batman Forever (No. 219), and Big Daddy (No. 286) — that you will find a blockbuster movie that stars predominantly black people: Straight Outta Compton, which earned $161.2 million domestically in 2015.
To be sure, there have been several films headlined by black stars (OK, mostly Will Smith and Eddie Murphy) that have made more. But when a black actor ends up at the center of a major movie — like with Independence Day, Hitch, Beverly Hills Cop, and Doctor Dolittle — they usually end up surrounded by a whole lot of white people. Even hit movies that are pointedly about issues that black people have faced in America, like Hidden Figures, The Help, Django Unchained, and Get Out, must by the necessity of their storylines include major roles for several white people.
It's what makes Black Panther — an expensive, effects-driven superhero movie set in a (fictional) African nation, and featuring a profusion of many of the most acclaimed black actors working in Hollywood — such a singular event. There really hasn't been another movie like it, so predicting just what box office records it could break is almost a fool's errand. But let's try anyway!
The top-grossing movie worldwide with a majority black cast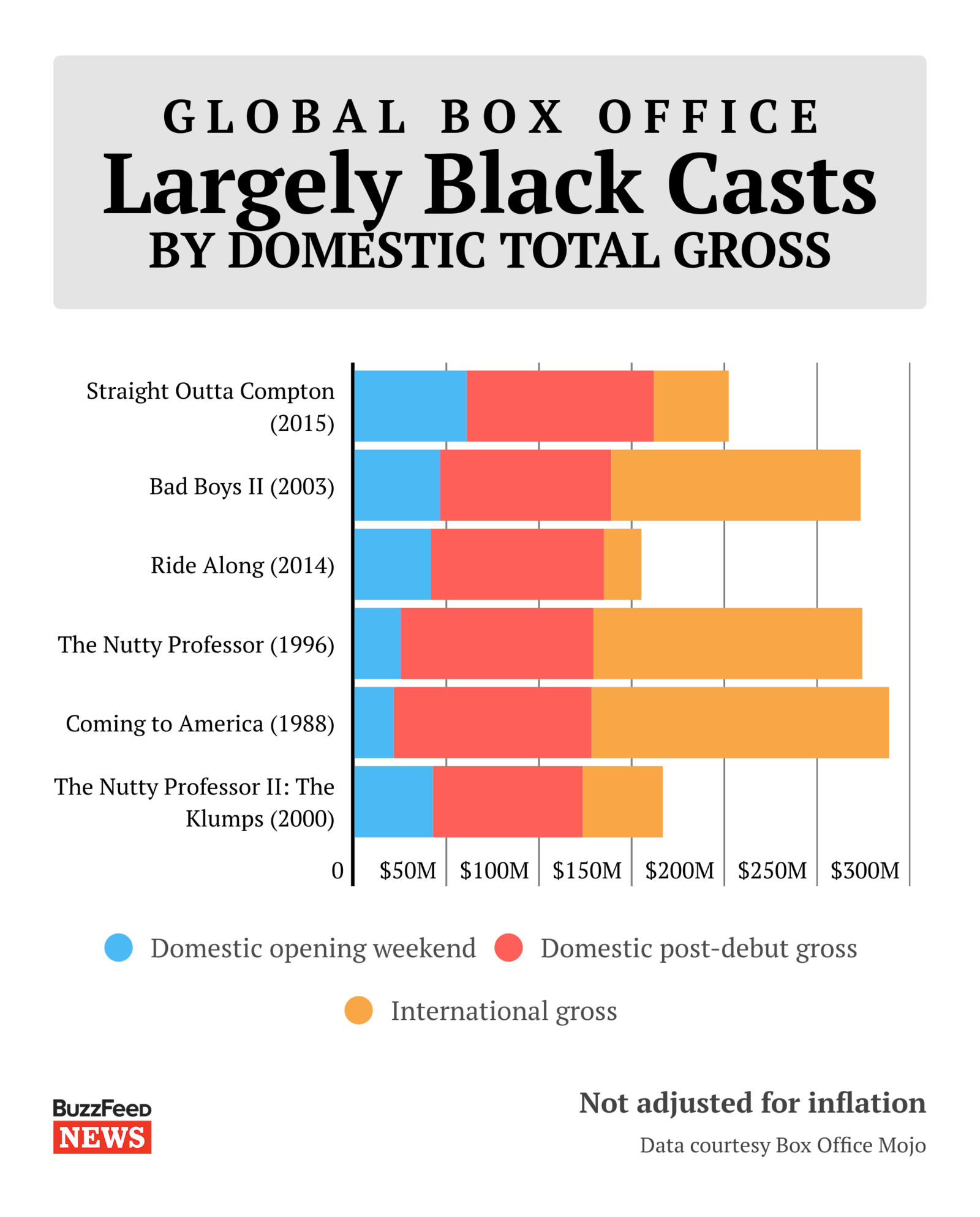 Let's be clear: There is no such thing as a "black-themed movie." But it is a depressing fact how little audiences have flocked to any movies cast largely with black actors. Even if Black Panther falls short of its projections, it should easily set a new high bar for what Hollywood can expect to make from a movie with a poster almost wholly made up of black actors.
The biggest domestic opening weekend for a black director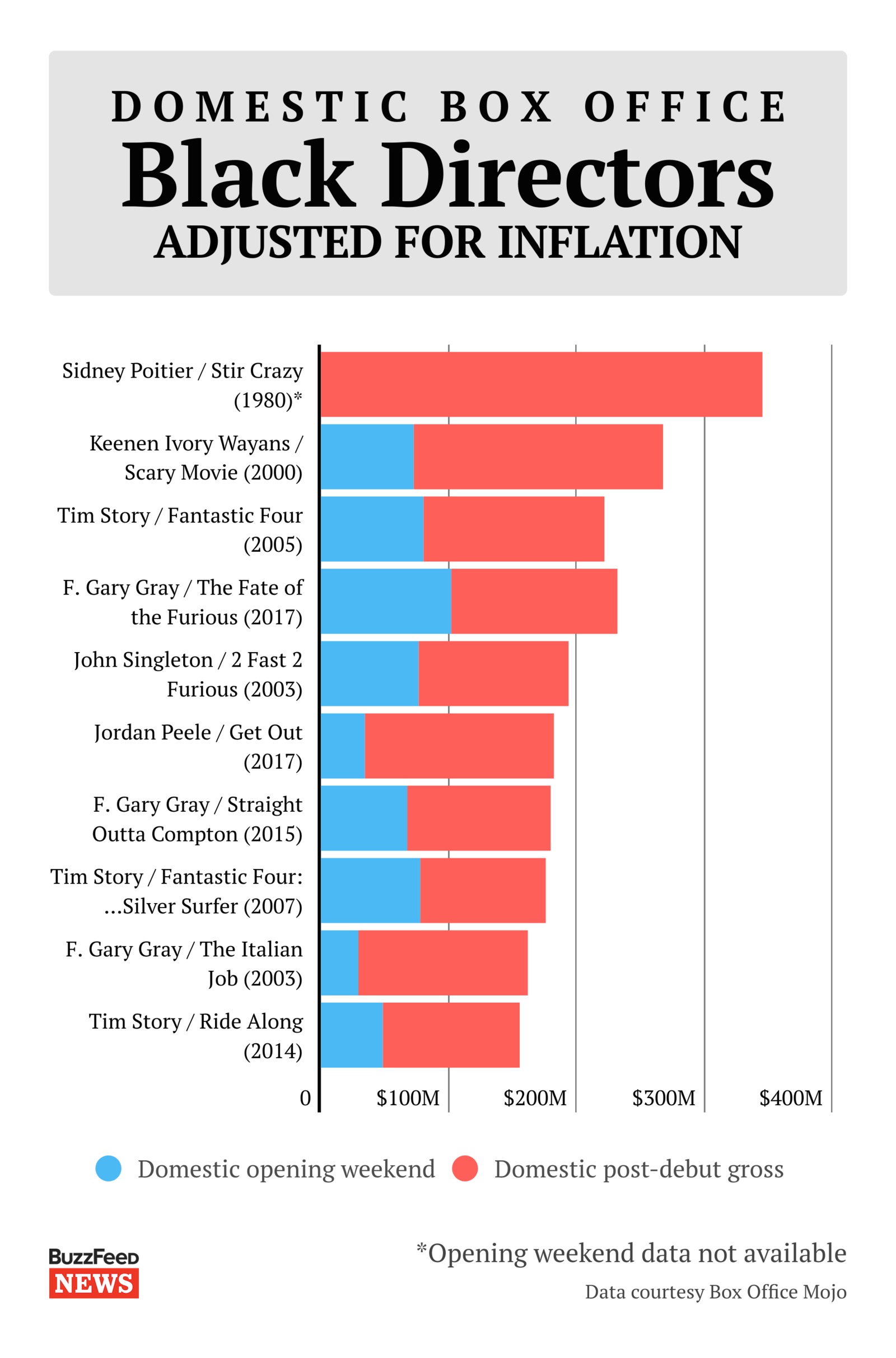 Should Black Panther exceed $100 million over its first three days in the US and Canada, it would give its director Ryan Coogler (Creed, Fruitvale Station) the record for the best domestic opening weekend for a black director, surpassing F. Gary Gray's $98.8 million record for 2017's The Fate of the Furious. (Gray's record for the top opening weekend worldwide of $541.9 million, thanks to the massive international popularity of the Fast and Furious franchise, likely remains safe for now.)
Adjusting for domestic ticket price inflation, Coogler still has a steep hill to climb if he wants to claim the domestic record for the top-grossing film from a black director. That record is still held by acting royalty Sidney Poitier, for helming the 1980 Richard Pryor–Gene Wilder comedy Stir Crazy.
The biggest debut for a Marvel Studios franchise
The chances are slim that Black Panther could break the opening weekend record for Marvel Studios, which is still held by its 2012 mega-franchise film The Avengers (at $207.4 million). But Black Panther could easily claim the opening weekend record for a superhero's inaugural film in the Marvel Cinematic Universe by leaping past the $117 million debut of 2017's Spider-Man: Homecoming. Granted, the MCU version of both characters first appeared in 2016's Captain America: Civil War, but this is complicated enough as it is.
The biggest debut for a film in February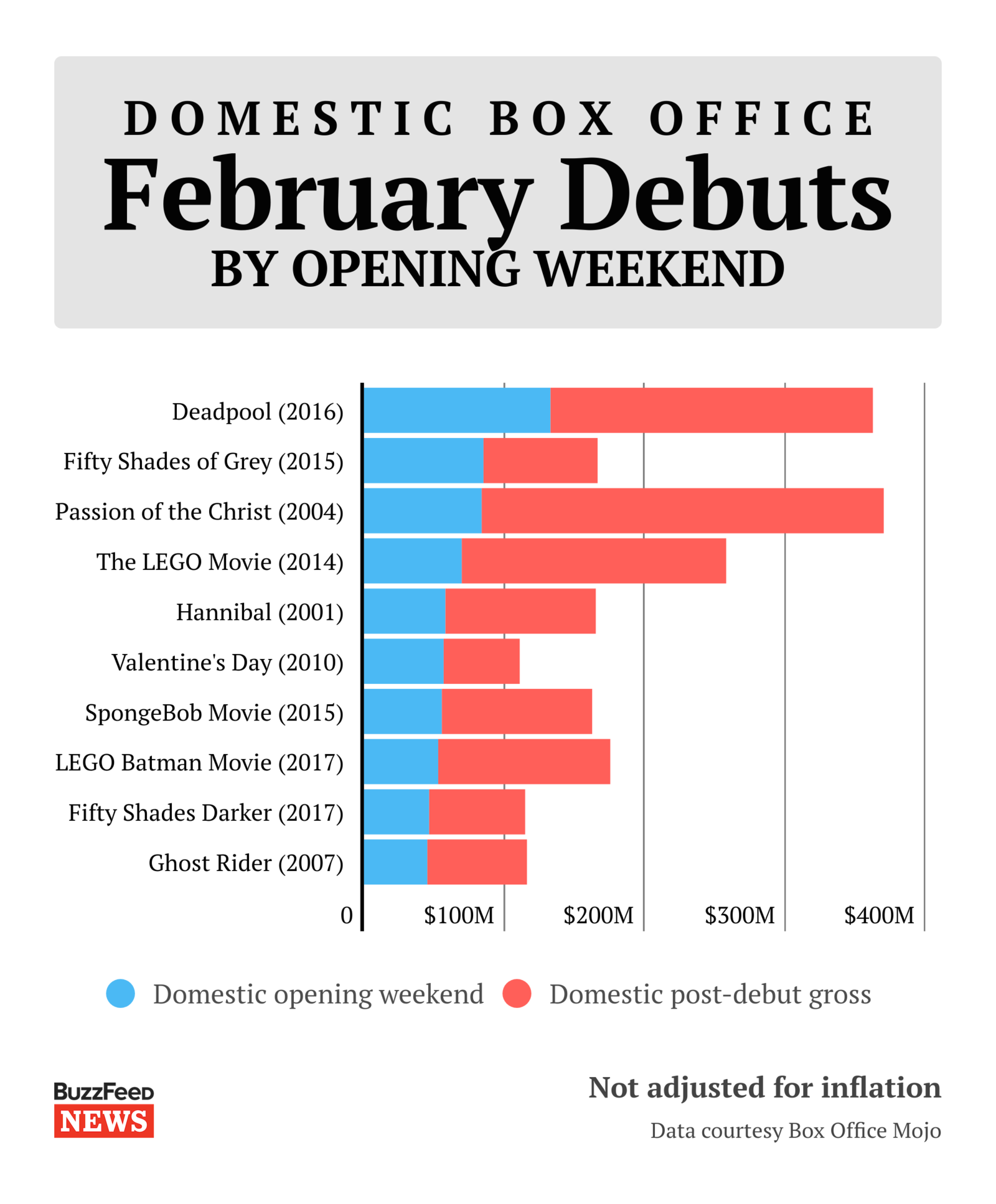 Ironically, this could be the hardest box office barrier for Black Panther to breach. For decades, Hollywood treated the first three months of the year as a place to dump movies that weren't working and were expected to flop. But by the mid-2000s, studios began to reinvest in the first quarter of the year, culminating in the one-two-three February punch of 2014's The LEGO Movie ($69 million debut), 2015's Fifty Shades of Grey ($85.2 million debut), and finally the current record-holder, 2016's Deadpool, with a $132.4 million debut.
Over the four-day Presidents Day weekend, Deadpool made $152.2 million, which is outside of Black Panther's most optimistic projections. But keep in mind that early estimates for Wonder Woman had that film opening with $65 million domestically, and then the movie actually debuted with a record-setting $103.3 million. Word-of-mouth ultimately drove Wonder Woman to become one of the highest-grossing superhero movies of all time, with $412.5 million domestically.
Like Wonder Woman, Black Panther currently has no cinematic peers, so its ultimate box office fate remains a tantalizing mystery. But should Black Panther enjoy Wonder Woman–level box office prosperity, one would expect Hollywood to seek to repeat that success — early, and often.