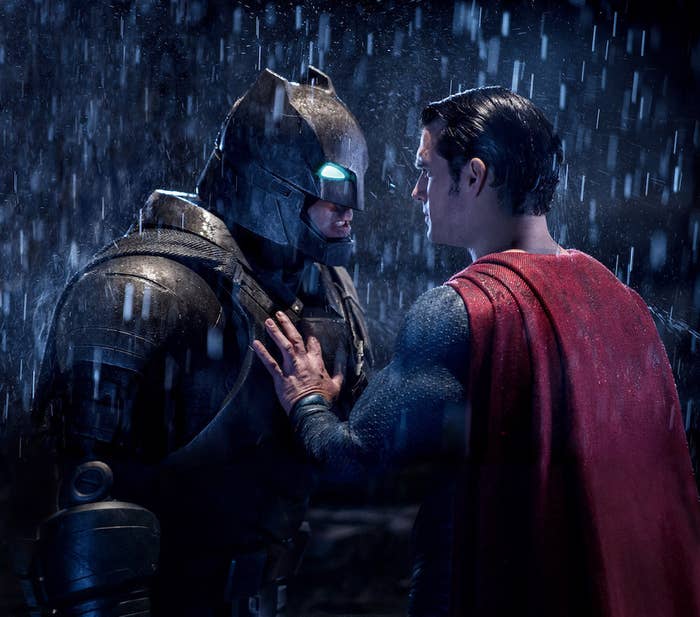 Batman v Superman: Dawn of Justice flew higher than any movie based on DC Comics superheroes has before, opening in the U.S. and Canada with an estimated $170.1 million over the Easter holiday weekend.
That easily beats the $116.6 million record debut for Superman movies held by 2013's Man of Steel.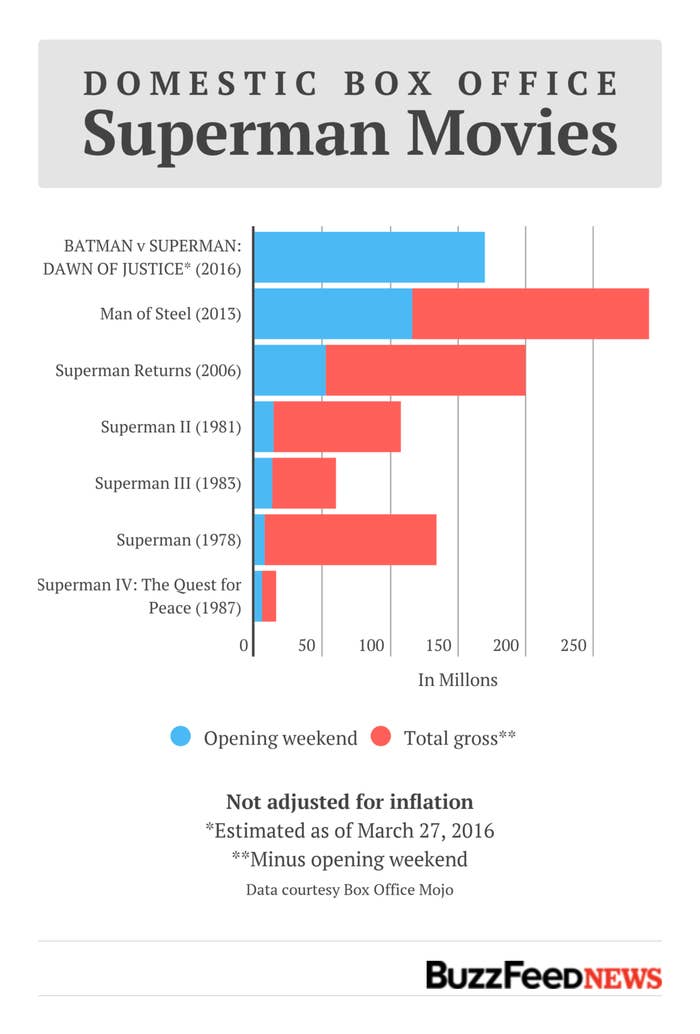 It also just surpasses the $160.9 million debut held by 2012's The Dark Knight Rises, as well as the $158.4 million debut of 2008's The Dark Knight.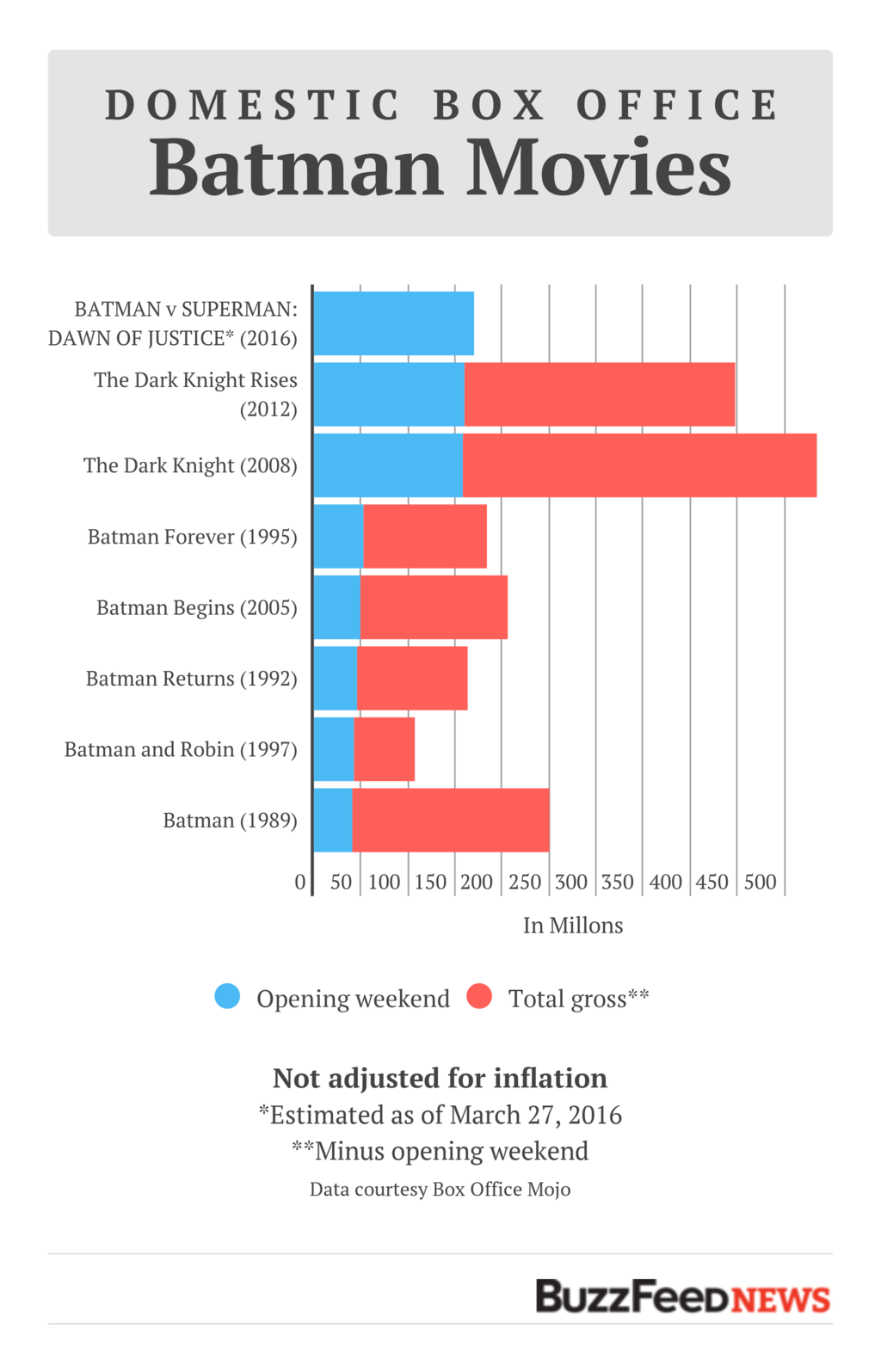 When adjusting for inflation, however, Batman v Superman falls behind the debuts of both Dark Knight movies, as well as several films based on Marvel Comics characters, including 2012's The Avengers and 2015's Avengers: Age of Ultron.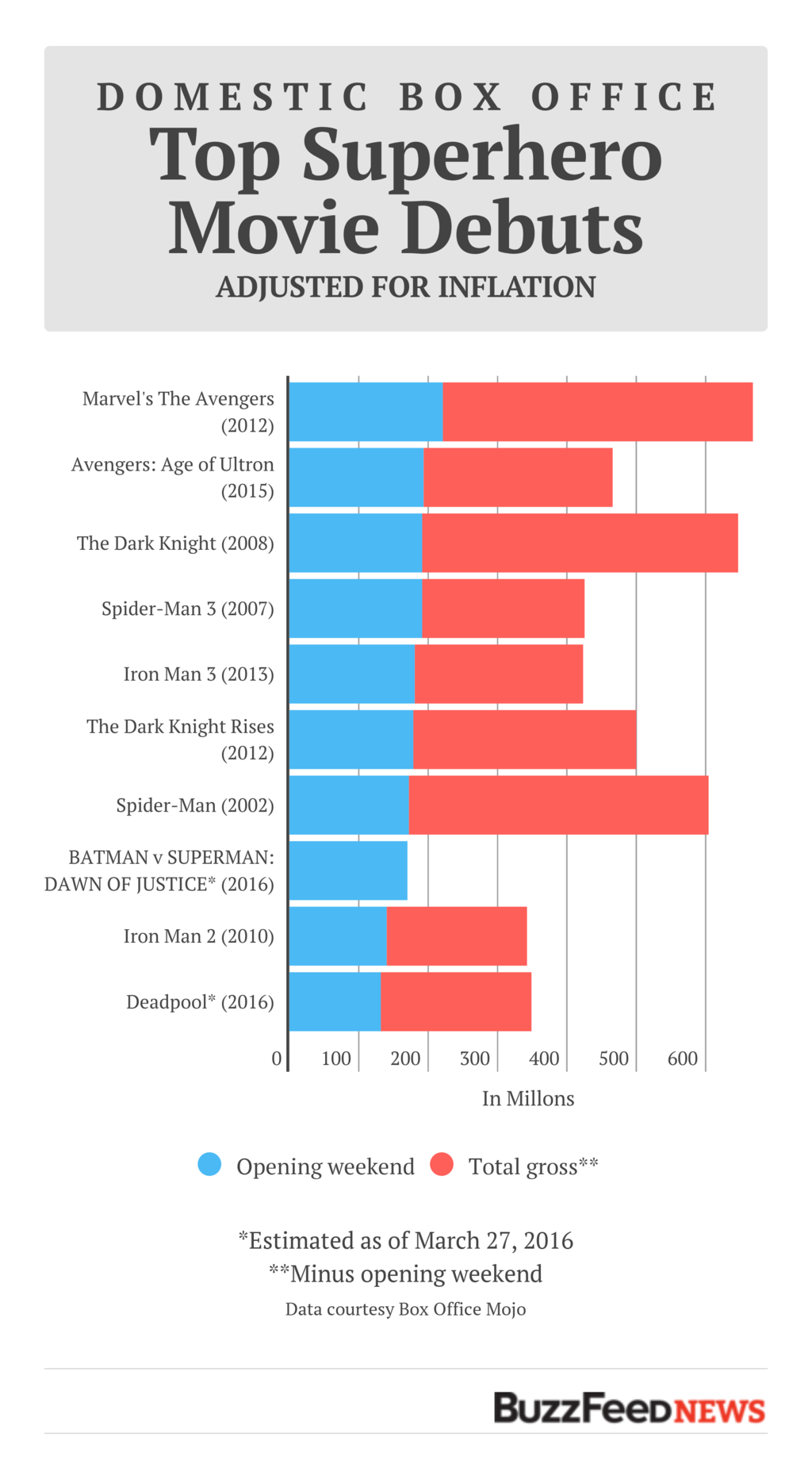 Still, this is an astronomic box office take for any movie, and it set several other box office records in the process. It's easily the best opening weekend for director Zack Snyder, and stars Ben Affleck and Henry Cavill.
And anyone still holding onto the notion that there is such a thing as "summer movie season" anymore, especially in terms of box office power, should seriously reconsider. Batman v Superman earned not only the all-time biggest domestic debut in March — beating the $152.5 million set by The Hunger Games in 2012 — it's the biggest debut ever for a movie opening before May.
Internationally, BVS earned an estimated $254 million, including roughly $57.3 million in China, a record debut for Warner Bros. Pictures. Overall, the movie has grossed a gigantic $424.1 million worldwide.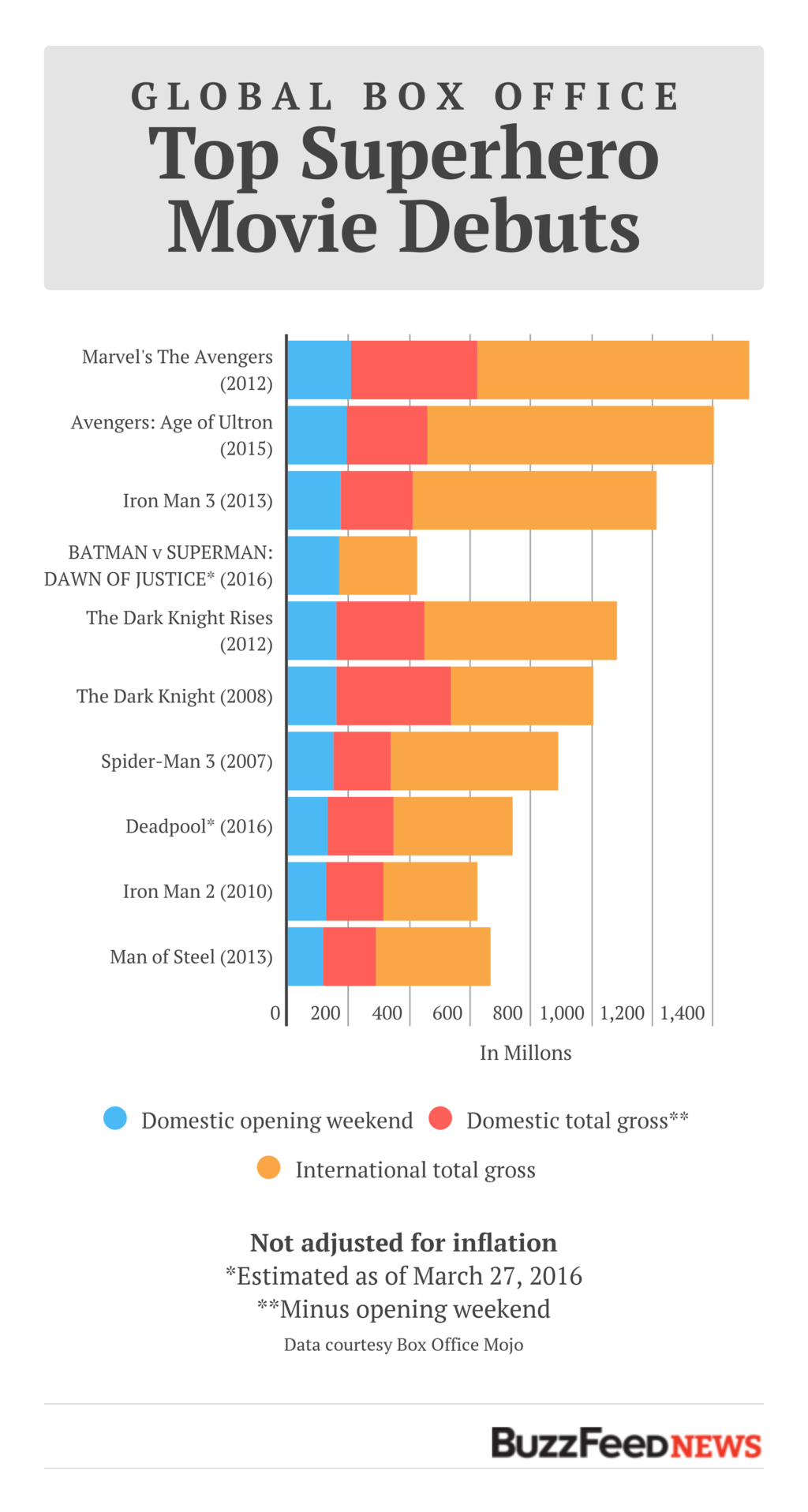 This copious display of financial strength comes as very good news for Warner Bros., which is using Batman v Superman to launch an ambitious and risky cinematic ecosystem based on DC Comics characters into a marketplace already saturated with superhero movies. The next of the DC-based films, Suicide Squad, opens Aug. 5 — after Captain America: Civil War and X-Men: Apocalypse in May, and Teenage Mutant Ninja Turtles: Out of the Shadows in June.
This weekend's returns, however, do present at least one cause for concern for Warner Bros. and the DC Films team. Batman v Superman earned a lackluster "B" rating from the audience polling firm CinemaScore. From men, who made up roughly 62% of ticket buyers, the film earned a "B–" rating, suggesting word-of-mouth on the movie is subdued at best.
How the movie fares over the following weeks, where it isn't considered to face much competition until The Jungle Book opens on April 15, will strongly indicate audiences' long-term enthusiasm for Snyder's downbeat and morally ambiguous approach to the material. Critics, meanwhile, have made their scorn for that approach abundantly clear.
Here are the estimated top 10 box office figures for Friday to Sunday, courtesy of Box Office Mojo:
1. Batman v Superman: Dawn of Justice* — $170.1 million
2. Zootopia — $23.1 million
3. My Big Fat Greek Wedding 2* — $18.1 million
4. Miracles from Heaven — $9.5 million
4. The Divergent Series: Allegiant — $9.5 million
6. 10 Cloverfield Lane — $6 million
7. Deadpool — $5 million
8. London Has Fallen — $2.9 million
9. Hello, My Name is Doris — $1.7 million
10. Eye in the Sky — $1 million
*Opening weekend