Anthony Rapp was prepared to be hated. After he first approached me a year ago about going public with BuzzFeed News about his experience with Kevin Spacey — who Rapp says made an unwanted sexual advance toward him when he was 14 — Rapp had grappled with what it would mean to accuse a popular, two-time Oscar-winning actor of coming on to a barely pubescent child.
"I was really reckoning with, What can I stand?" Rapp told me in September. "I'm aware I'm taking on someone who's beloved, and how much can I stand? And I was ready for it."
Rapp's private reckoning mirrored the extraordinary public reckoning the country had only just started, launched by a series of stories by the New York Times and the New Yorker detailing decades of systemic sexual predation by the powerful Hollywood mogul Harvey Weinstein. When we first spoke that month — at the time, off the record — Rapp told me he'd picked up his phone to text me immediately after finishing one of the Times' stories about Weinstein, as if it were a single thought. (I've been friends with Rapp since 1999.)
But after that initial conversation came a lot of worry. Post-Weinstein, Rapp was the first man to come forward with allegations against a prominent man. It's easy to forget just how brand new all of this felt last October, and how uncertain. Could this last? Could this stick? When would people stop caring? It was in that unstable atmosphere that Rapp came to grips with opening himself up to the torrent of incredulity and hostility that so many previous (and future) victims of sexual assault — almost all of them women — have endured after going public.
When the story was first published on the evening of Oct. 29, Rapp did indeed have to push against a potent current of real hate directed at him. But he did not plan on being inundated by "everyone in my life — every single person," all of them expressing their support and love, and he wasn't prepared for Spacey's career to completely implode within days.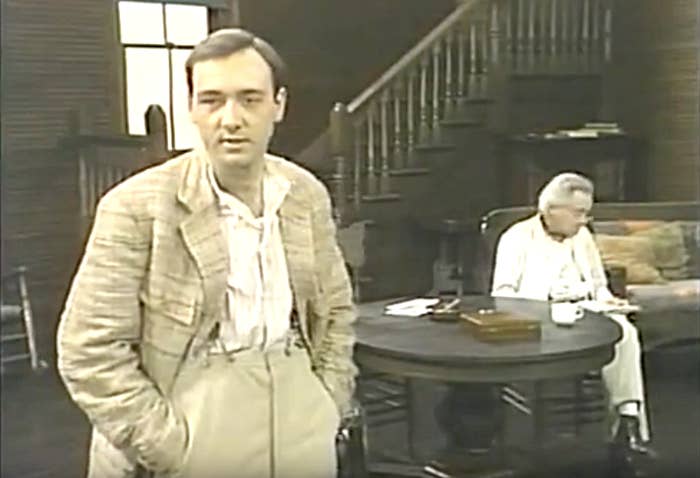 "We all felt like nothing could ever touch these people," Rapp said, curled up on a desk chair in his temporary home in Toronto, where he's living while shooting the CBS All Access series Star Trek: Discovery. "Nothing could ever impact their behavior, because we were powerless. It really felt that way. You couldn't even think about any other way. It was not available to us."
It's difficult to measure the extent of Rapp's impact, because, next to Weinstein, it's difficult to imagine another accused man who's had his career disintegrate as completely as Spacey's has. Rapp has been buffeted by unexpected repercussions from both his specific decision to come forward and the #MeToo movement at large — including on Star Trek: Discovery — and yet he's also played a much more muted role within that movement, for reasons that are at once obvious and puzzling to him. And then there's this surprising truth: Of the tiny handful of high-profile men in film, TV, and theater who have shared their #MeToo stories and named their assailants, Rapp remains the only openly queer man to do so.
In his first major interview about the aftermath of coming forward about Spacey, Rapp wrestled with understanding how much has changed, what that change has meant — for him, for male victims, and for everyone — and how it's left him forever connected to the man who took advantage of him when he was 14.
"Somebody asked me a while ago, if he did want to talk to me, would I," Rapp said with a deep sigh. "And I think I would. I guess I'd have to really think about the circumstances and the environment and the safety factor." He paused. "I mean, potentially. I wouldn't rule that out. I would need him to fully own what he did. Not just to me, but to so many people."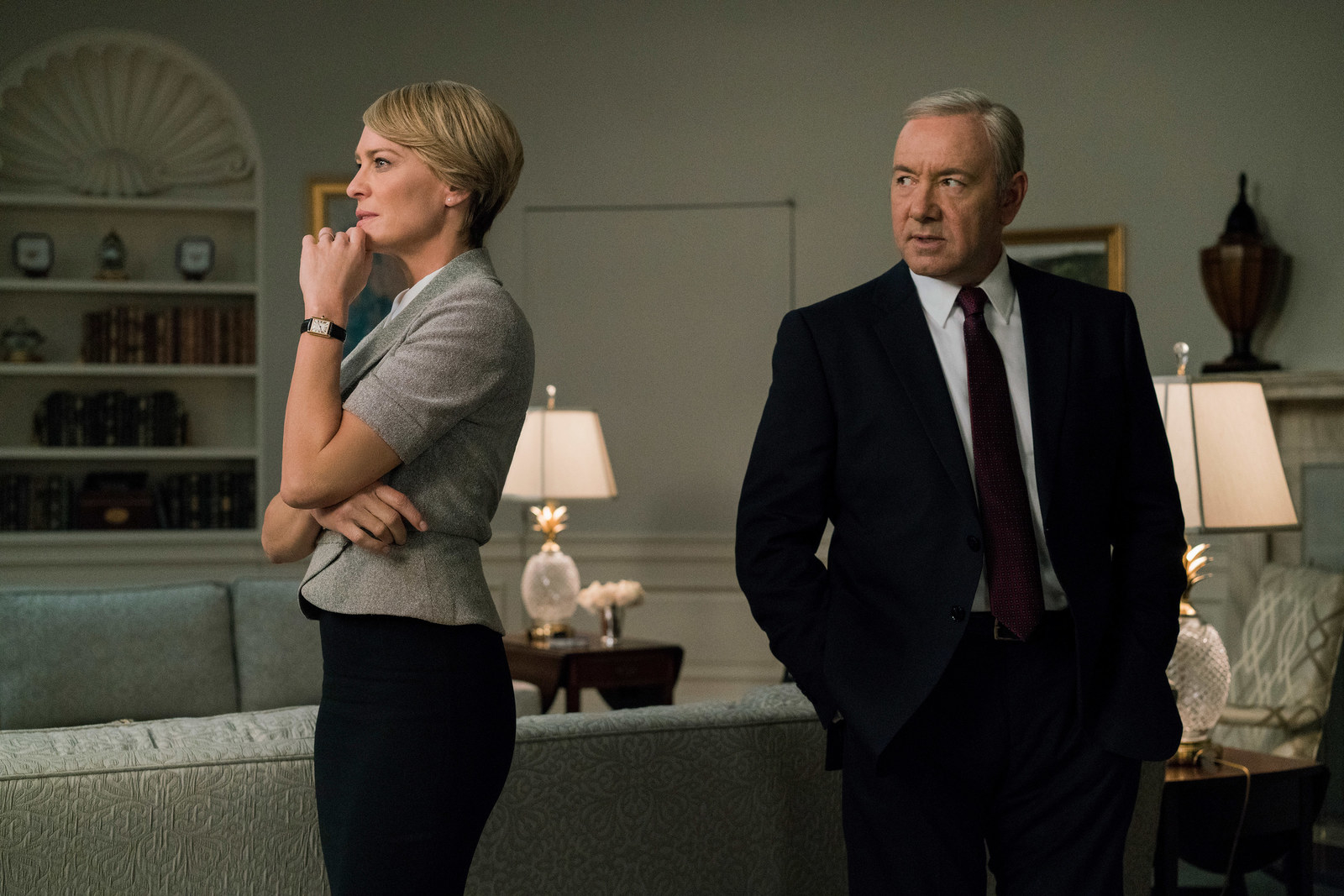 In the subsequent days and weeks after Rapp came forward about Spacey, a flood of reports about Spacey's sexually predatory behavior cascaded onto the internet — including groping an 18-year-old high school senior in 2008 and a sexual relationship with a 14-year-old aspiring actor in the 1980s that ended after an attempted rape. (Spacey, through his lawyer, denied both allegations at the time.) Rapp had heard firsthand other stories about Spacey's sexual misconduct; it was a large part of what drove him to speak on the record about his experience after so many years. But having the full breadth — and depth — of Spacey's behavior out in the open, he said, was at once "cathartic" and "really upsetting."
"Part of the story I'd been telling myself was, Well, he was only doing this to older people, so [what I experienced] was an aberration," he said. "Which wasn't true."
Still, Rapp had known — or at least had hoped — that talking about what Spacey had done to him would make it easier for others to share their truth as well. What he hadn't anticipated was how suddenly those stories would end Spacey's career, and the ripple effect that would have on the livelihoods of so many others.
"I knew that House of Cards was in production," he said. "So, I was just curious, what's going to happen on the set? Like, how's that going to be? I did not think they were going to shut down."
"I felt bad for the hundreds of people who were working on the show."
The day after BuzzFeed News published Rapp's story about Spacey, Netflix announced that the sixth season of House of Cards would be the last, a decision that had reportedly been in the works for months. The following day, however — after two more people came forward with sexual misconduct stories about Spacey — Netflix announced that production on House of Cards had been suspended "until further notice."
"When I saw that headline, I was upset and sad," Rapp said. "I was like, Oh my god, this is an unintended consequence." Instantly, Rapp was on the receiving end of a litany of angry social media posts blaming him for House of Cards' demise. And in those first days after the story, Rapp couldn't help but take at least some of it to heart.
"I felt bad for the hundreds of people who were working on the show," he said. But then a friend reminded him of Spacey's reputation within the industry. "One of my fellow actors said when House of Cards shut down production, 'They wouldn't have done that if they didn't have good reason,'" he said. "And it turned out, they had good reason." Indeed, BuzzFeed News reported in November that Spacey's inappropriate sexual advances to young men working on House of Cards was a well-known problem on the set. Nevertheless, when Netflix announced in December that the show would return for its final season without Spacey, Rapp was "relieved."
The backlash over House of Cards was part of the larger negative response Rapp had anticipated all along, which ranged from questioning Rapp's motives for coming forward after 31 years to questioning why Rapp's mother had let him go alone to the late-night adult party where he said Spacey made his advance to questioning Rapp's motives for going to that party in the first place.
Anyone familiar with the time-honored cultural script for women who name their sexual assaulters will find these reactions all too familiar. At the time, though, Rapp said part of what compelled him to come forward about Spacey was how "overwhelmingly" the women doing so about Weinstein were believed. Instead, he said the conversations that he had with his boyfriend Ken Ithiphol and his professional representation about a potential backlash focused on dealing with inflaming Spacey's fans (something Weinstein, despite his massive power within the industry, did not really have).
"[We] weren't talking about, 'Because you're a man, it's going to be perceived x, y, or z way,'" Rapp said. "That wasn't a factor in any of the conversations I had with anybody."
Not having to consider one's gender when stepping into a maelstrom of public scrutiny has been one of the many privileges of being a man since men have existed in the world. But in the months following the Spacey story, Rapp also experienced a different, more tangled reality for men who have shared their #MeToo stories over this past year.
He's discussed coming forward about Spacey a handful of times, most notably when appearing on CBS's The Talk in February, and receiving the LGBTQ Champion of the Year award from the workplace organization Out & Equal in March. And on occasion, he's called out the trolling that he's received on Instagram and Twitter. But otherwise, Rapp has largely kept a low profile within the #MeToo movement — he's not participated in the Time's Up organization, for example, which is partly by design. It isn't his style to keep jumping into the fray.
Rapp is also keenly aware that the #MeToo movement is predominantly driven by and for women. "I don't want to insert myself into that conversation without being asked," he said. "So much of that is fueled by the endemic power dynamics that have negatively affected women for so long. I'm not saying there aren't any power dynamics that negatively affect men as well, but it touches on things that I think would more naturally drive women to come together to try to help shore themselves up against the weight of history."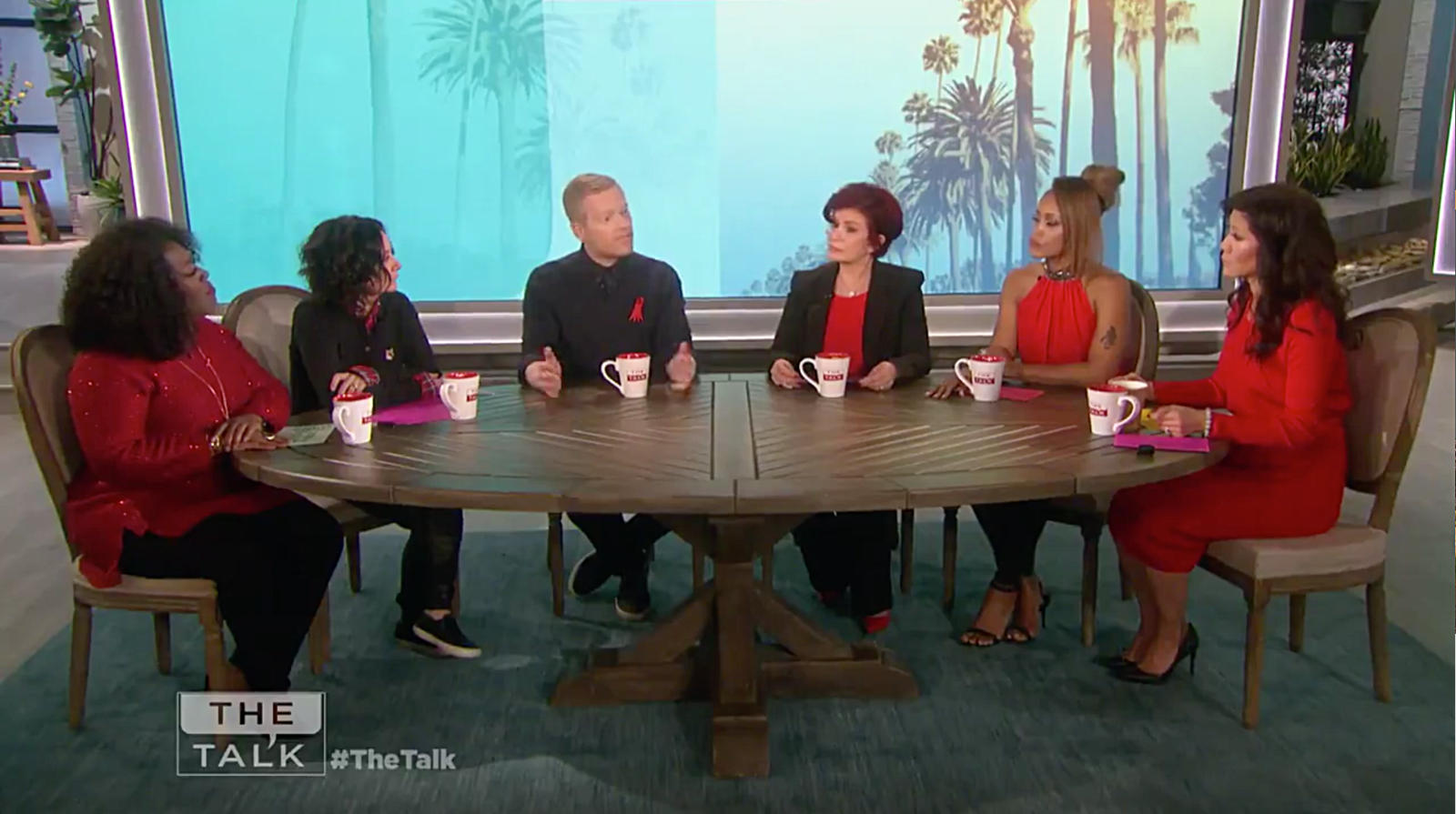 Still, the larger collective effort by women within the entertainment industry to effect real change — and build a community of mutual support for survivors, even as some women have felt left out — hasn't happened in the same way for the male victims. Though he exchanged messages with two other men who accused Spacey of abuse, their correspondence quickly ran its course. As for other men who've gone on the record about their #MeToo stories, like Anthony Edwards or Terry Crews or his School Ties costar Brendan Fraser, Rapp hasn't connected with them at all. "I feel like, in a way, it would be presumptuous of me to try to reach them directly," Rapp said, adding with a chuckle, "but maybe it's just the Midwesterner in me."
When I asked Rapp directly about how much he thinks his #MeToo experience over the past year has related to being a man, he was genuinely perplexed. "Honestly, I don't know what to think of that," he said. "People talk about [how] women aren't believed, but men are. Then there are people who say, 'Well, Terry Crews and Anthony Rapp also got a lot of backlash.' And I did get some backlash. But overwhelmingly, I did get a tremendous amount of support. Some men, it seems like, it doesn't really quite land in the same way. … I don't really know."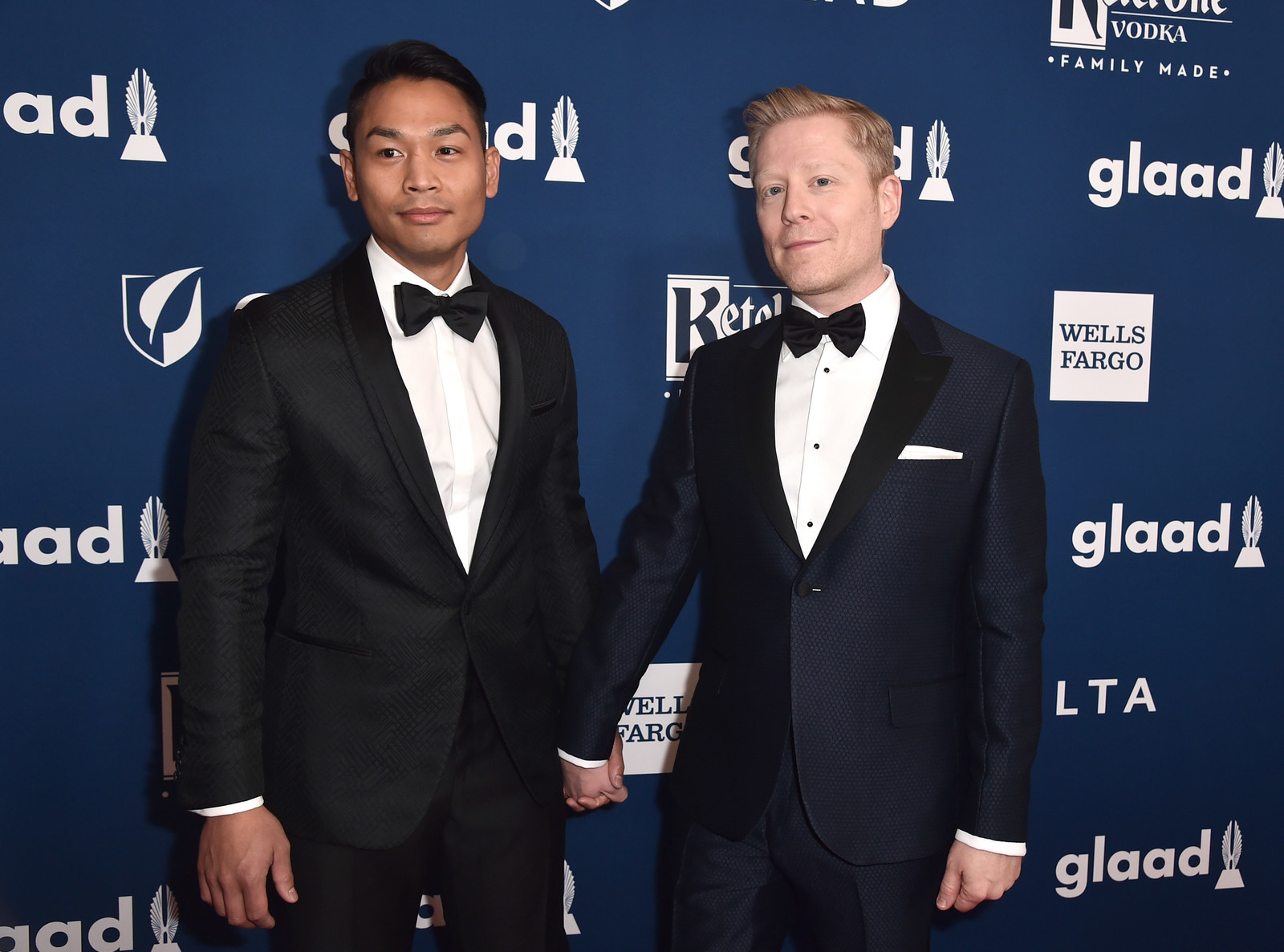 As the stories about Spacey's brazen and relentless predatory behavior with other men kept unspooling late last year, it became clear how much the actor had weaponized the closet, using the fact that he'd never publicly come out as a way to keep his actions from making headlines. To come forward about his behavior would be tantamount to outing him, a transgression that our culture — and especially a vast majority of the news media — still treats as near inviolable.
That may also be why, since the Weinstein stories first broke, to date, Rapp remains the only famous, openly queer male actor to go on the record with his experience and name the man who assaulted him.
"I'm sure that I'm not the only one who's had these sorts of experiences," Rapp said when I pointed this out to him. "It's getting less rare, but it's still very rare for there to be openly gay, queer actors naming themselves in the first place, let alone sticking their necks out in this way. … You know, there's internalized homophobia. There's shame, whether you're gay or straight. Men just generally are less likely to talk as openly about some of these things."
Last winter, Rapp and Ithiphol had several friends over to their apartment to watch a bunch of awards screeners, and afterward, they all got to talking about Spacey, Weinstein, and the reckoning that had preoccupied the entire entertainment industry. One friend of Rapp's relayed a story of a night when, while working at a New York wine bar, an acquaintance he was serving had gotten very drunk and aggressively flirtatious, and ultimately grabbed his crotch.
"I think people are really feeling like they are safe to speak up and speak out if something goes wrong in the workplace."
"My friend, as he was telling this story, even in the wake of all of this, was still trying to figure out if he'd done anything to make this happen," said Rapp. "He was still feeling somehow responsible." The conversation, Rapp said, shifted quickly. They talked about not only how the acquaintance had assaulted his friend, but also how it was part of a distended power dynamic that was as much at play in an everyday exchange between a server and customer as in the ones featuring celebrated names in glamorous industries.
The exchange left a deep impression on Rapp, underlining just how much things were, if slowly and haphazardly, changing for the better. "I don't think that would be a story that anyone would have talked about in the way we talked about it that night prior to all of this happening," Rapp said.
He sighed. "I don't think it's all settled, and I don't think it's everywhere all the time — but I think people are really feeling like they are safe to speak up and speak out if something goes wrong in the workplace," he said.
That is true about Rapp's own workplace. In June, Star Trek: Discovery showrunners Gretchen Berg and Aaron Harberts were fired in the middle of production on the show's second season. According to the Hollywood Reporter, it was in part due to "increasingly abusive" verbal behavior that made multiple writers on the show "uncomfortable working on the series." (A representative for Berg and Harberts did not comment when reached by BuzzFeed News. A representative for CBS had no comment.)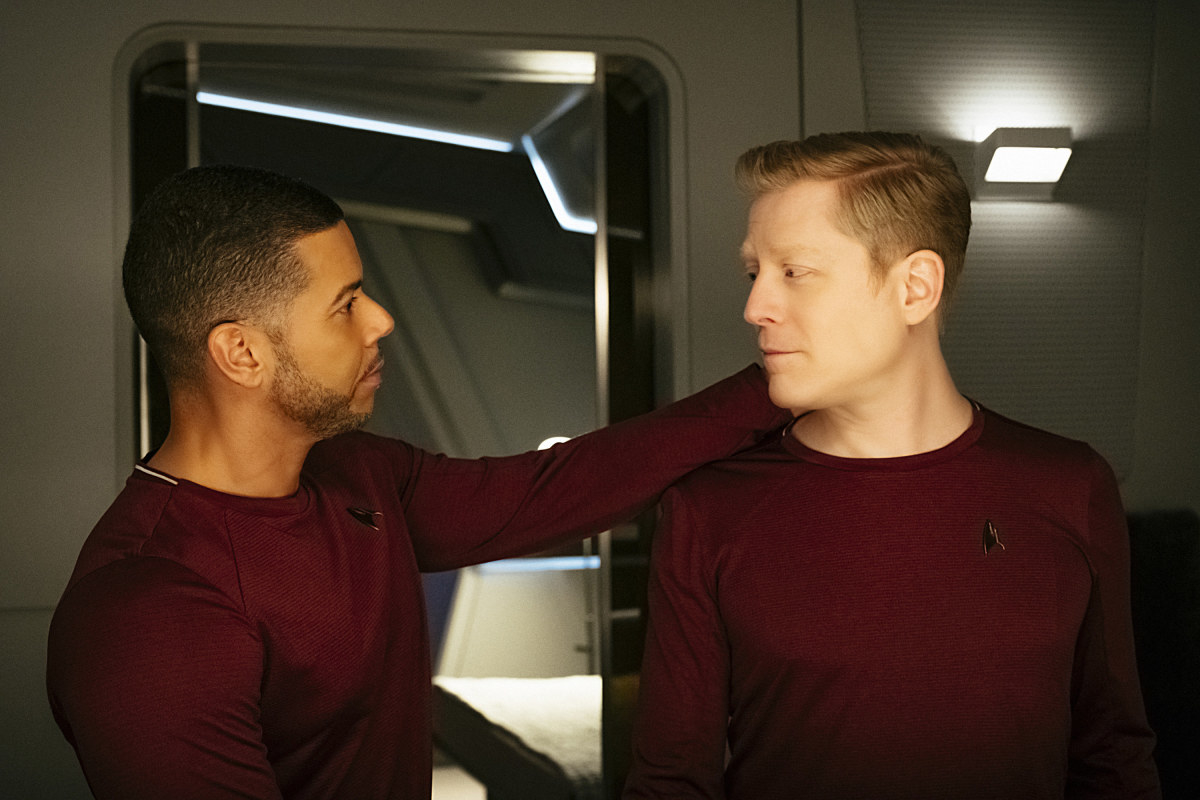 Rapp called the report "shocking" and "heartbreaking." But, he added, "one of the things about all of this stuff is that we know people in the context we know them. All my dealings with [Gretchen and Aaron] were impeccable, and I can also allow for that not being the case for everyone. … I loved working with them, and I love them as people. And if something happened, something happened. All of that is possible."
When I asked him if he thinks this all would have happened differently a year ago, he answered with no hesitation.
"Yes," he said. "I don't know what would have happened. Maybe nothing would have happened. I think maybe the people who spoke up wouldn't have felt empowered to speak up. I don't know. There's a profound sea change. Sometimes it's going to be really evident in cases like this, and sometimes it's going to be really subtle. But it's happening all over the place."
After Brett Kavanaugh's confirmation to the Supreme Court in October, I called Rapp to ask him how the hearings featuring Kavanaugh and Christine Blasey Ford — who accused Kavanaugh of sexually assaulting her in 1982 — had affected his outlook on the #MeToo movement. "I think about how in all the great changes in our country and in the world, the government is almost always the last to say yes to something after there's been a movement that's made itself known," he said. "[But] to see this terrible, 'We hear you, we believe you, and then we don't care' kind of response — that's almost worse, you know? That was the fear that we all had, those of us who came forward and had an impact, that it would just go into the ether and make no difference. Nothing would change."
"That was the fear that we all had, those of us who came forward and had an impact, that it would just go into the ether and make no difference."
It is an outcome totally at odds with the ruin of Kevin Spacey's career. Ridley Scott's unprecedented decision to replace Spacey with Christopher Plummer in his completed film All the Money in the World earned Plummer an Oscar nomination and Rapp's deep appreciation. ("That was really meaningful," Rapp said of Scott's decision. "He was absolutely unequivocal.") Billionaire Boys Club, Spacey's most recent film, opened in only 11 theaters in August, and grossed just $618 domestically in its debut weekend. He's still facing criminal investigations for alleged sexual assaults in Nantucket and Malibu in 2016 (the latter also sparked a civil suit); last November, BuzzFeed News confirmed London's Metropolitan Police were investigating an alleged assault by Spacey in 2008; and Spacey is also believed to be under investigation for two other alleged assaults in the UK in 2005. And while other famously disgraced men — like Weinstein, news anchors Matt Lauer and Charlie Rose, director Brett Ratner, and comic Louis C.K. — have bubbled back into the culture in one fashion or another over the past year, Spacey has kept such a low profile that he has effectively vanished altogether.
I asked Rapp what he made of Spacey's total disappearance. This seemed to catch him a bit off guard. He looked away, and his voice dropped to just above a whisper, as he struggled to talk through his feelings.
"I genuinely, I don't know, as a fellow human being, I hope he can find some kind of way to have some kind of — I don't know what it would be, but some way to make himself whole, you know?"
I told Rapp that was incredibly generous for him to say.
"I really mean that," he replied. "I don't think anyone behaves the way he behaved for so long…" He trailed off, and his voice got even quieter. "I don't think he was happy. He had demons. And so, on a certain level, I can have some compassion for that."
He paused again, his eyes searching. "But at the same time, every human being has some form of a demon, and the question is can you wrestle with them enough so you don't hurt other people." ●

A year after #MeToo became a household name, BuzzFeed News is bringing you stories about how far we've come, who's been left out, and where we go from here.

Read more here

.