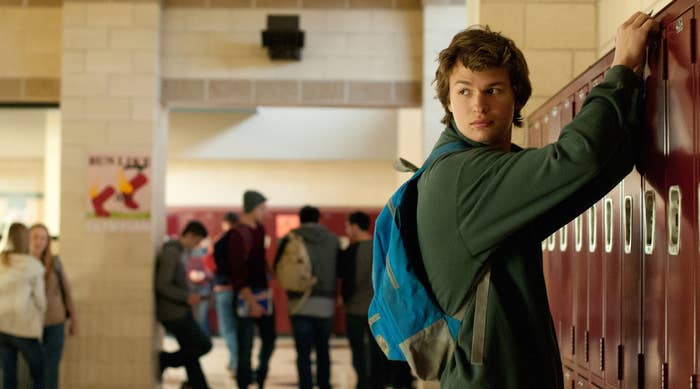 Stretched out on a Toronto hotel sofa with his head resting on a pillow and his long legs perched in gold-flecked Louis Vuitton high-tops on the coffee table in front of him, Ansel Elgort looked like a man who was working hard to seem completely at ease. He was in town for the 2014 Toronto International Film Festival, promoting the ensemble drama Men, Women & Children from co-writer-director Jason Reitman (Juno, Up in the Air). Elgort shot the film largely in January, before the release of Divergent (in which he has a supporting role) and The Fault in Our Stars (in which he's the romantic lead opposite Shailene Woodley). He then spent his summer shooting Insurgent, the second film in the Divergent franchise. With Men, Women & Children opening in theaters through October, the film has neatly bookended what has become a most auspicious year that has radically changed the 20-year-old actor's life.
"When I was doing this movie, my life was very normal," Elgort told BuzzFeed News. "No one knew who I was, and that was awesome. Nobody. Then Divergent came out, and still not very many people knew who I was. There was hype around Fault in Our Stars, so a few people [did]. Then Fault came out. You know, the movie's made, like, $300 million worldwide, more than Divergent. And then it was like everyone [knew me] — every young person in the world. I went to Paris. Every young person I passed on the street knew who I was. Which is nuts. Around the world."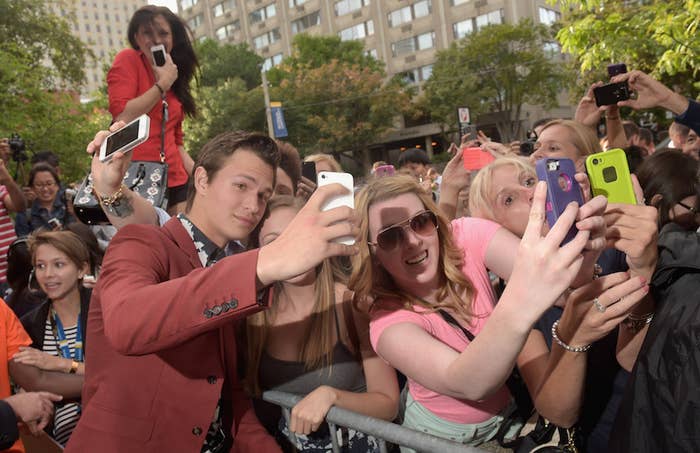 That kind of dramatic, youthful pronouncement appears to come naturally to the New York City native. Elgort's feature film debut was just last year, in the remake of Carrie starring Chloë Grace Moretz, but he doesn't appear terribly interested in adopting the classic self-effacing posture of many up-and-coming actors. "As someone who's an influencer…" is a typical way for him to start a sentence, and he did not evince any hesitation before declaring, "I've joked with myself [that] I want a post-mortem Academy Award nomination. The last movie I do better be fucking good."
In person, this unabashed ambition and playful enthusiasm — mixed with Elgort's penchant for speaking so quickly that his sentences sound like one giant word — could be quite charming. It could also be quite illuminating, especially since Elgort was so uncommonly unguarded about what it's been like experiencing such a sudden onrush of intense fame this year. Rather than shy away from it, Elgort's seemingly natural self-confidence had him brimming with excitement, even as he admitted that there are at least a few pitfalls to losing his anonymity.
"Um, [it's] great in some ways. Not great in other ways," he said with a disarming smile, noting his explosive social media growth, currently 2 million Twitter followers and 3.7 million Instagram followers. "It changes the way you have relationships with people when all of a sudden, you're famous. But there's definitely ways to have normalcy, and it's so important. Because I'm an actor — I'm not just, like, a celebrity — my life needs to stay normal. You can't be a good actor if you get too affected by fame. Because then you're not real and you're not really wanting more. You look at a lot of actors who, before they were famous, did a lot of amazing work, and once they got too big, it just got off."
An alumni of New York's Fiorello H. LaGuardia High School of Music & Art and Performing Arts — he made his debut off-Broadway when he was a senior — Elgort indeed prides himself on his willingness to pour himself into his roles. In Men, Women & Children, Elgort plays Tim Mooney, a disaffected high school football star who drops out of the team and disappears into the vast world of online gaming after his mother leaves his family for another man. To prepare for the role, Elgort said he played the massively multiplayer online role-playing game (or MMORPG) World of Warcraft to a deliberately excessive degree. (In the film, his character plays a similar game called Guild Wars.)
"It takes you to a fucking dark place," he said, leaning forward off the couch, and pulling his legs off the coffee table. "Like, we were at my family's house during Thanksgiving, and just to really feel it out — and my parents were kind of like, What the fuck? — I was playing World of Warcraft throughout Thanksgiving weekend, all day, every day. At the table, eating, I'd be like" — he began muttering under his breath — "'Gotta play Warcraft, gotta play Warcraft. This sucks. I want to just take this food upstairs and play by myself.'"
Watch Elgort as Tim discuss his obsession with MMORPGs in this exclusive clip from Men, Women & Children:
Paramount Pictures
The introverted, taciturn Tim is light years away from the brash, garrulous Gus who Elgort plays in The Fault in Our Stars, a contrast the actor deeply appreciated. "I'm so glad this is the next guy everyone's going to see as after Gus. They were so different."
Part of that relief is informed by how much Gus has started to dominate Elgort's life, inundating him with a rock-star level of attention that can be overwhelming. "Even working with Chloë Moretz, she doesn't have what I have right now," he said. "It's different when every young girl [is], like, screaming. And that's nuts. Like, I never talk to Justin Bieber about it. But that's basically what's going on. On like a little bit smaller scale, but, still, it's crazy."
That reference to Bieber isn't an idle one. Elgort has also maintained an underground career as an EDM (or electronic dance music) producer and DJ under the name Ansolo. But even there, his movie career has started to overtake him. "There are people [in the EDM community] who still haven't made the connection yet, but once they do, it is funny," he said. "One guy was like, 'Dude, I was just like watching this movie The Fault in Our Stars on the airplane, and that's you! Like, what the fuck?!' I was like, 'Yeah dude…Shhhhhhhhhhhh.'"
Elgort's two careers have begun to merge even further as Fault in Our Stars fans have started to show up at his EDM gigs specifically to see him. "They're outside, and they're like, 'I've never been to an EDM show before, but that was a lot of fun, Ansel.' It's like, they would go to anything. Those are real fans, and that's something I'm so grateful for. Because as an artist, having an audience, is something that you can never guarantee." In practically the same breath, however, Elgort said, "I think that I will always have an audience, and that's really fucking awesome."
When asked about whether he expects his Fault fans to go see the more melancholy and emotionally ambiguous Men, Women & Children, Elgort's contradictory feelings about the permanence of his fan base were even more apparent. "My fans are going to be there for me. Obviously, it's harder to tell because its [release is] so close to Fault in Our Stars. So I don't know if I'm going to lose all my fans in the next year, because they're going to be like, Oh, he's not [in] Fault in Our Stars anymore. I don't care."
Elgort is crystal clear, however, that he does not feel any urgency to capitalize on his fame. "I'm getting a lot of offers," he said, leaning forward. He's attached to a biopic that is still in development about famed pianist Van Cliburn, and he mentioned another "small independent film," although it hasn't been officially announced yet, so he wouldn't say anything further. But ultimately, Elgort said, "If I don't do another movie until the next Divergent movie, I'm cool with that. … Because I have music in my life, I could spend this time being creative another way, so I don't have to do this movie that doesn't, like, scream out to me. I'm just waiting. … Like, I'm only 20. I have a lot of fucking time. That's really cool too. A lot of the other actors I'm working with — I think [Divergent co-star] Miles Teller's, like, 27. I have fuckin' seven years on him. I always joke around with him. He hates that. I love fucking with him. 'Cause he always calls me, like, a baby. I'm like, 'Yeah dude, you're just jealous. I've got seven years on you. Catch up.'"
As the conversation wound down, Elgort began somewhat aimlessly wandering around his hotel suite. He eventually made his way to the window, looking wistfully outside in that way that characters do in movies and television shows but people rarely do in real life. He explained that the last time he was in Toronto was when he shot Carrie in 2012. "I was 18 years old. It was a very exciting time in my life. I missed graduation and flew back for prom." He paused. "I've got to get out of this hotel and go back to where I stayed. This is where it all began."
Men, Women & Children is currently playing in New York and Los Angeles, and will expand into limited release on Oct. 10, and wide release on Oct. 17.