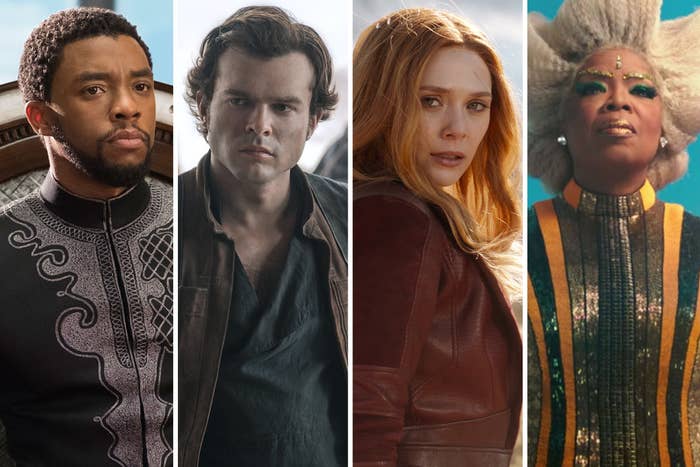 After many years of slumping attendance, at last there is great news for Hollywood at the box office — at least, at first glance. From January through June, overall domestic grosses are up a whopping 9.3% from the same period in 2017, with $6.23 billion total, a new record. Even more promising, domestic ticket sales are up 7.4% as well.
The upswing in box office fortunes couldn't come at a better time. AT&T's purchase of Time Warner — now known as Warner Media — and the looming acquisition of 21st Century Fox by either Universal Pictures' parent company Comcast or (more likely) the Walt Disney Company presage a once-in-a-generation period of massive upheaval in Hollywood. In that kind of environment, there's no better way to stave off the looming questions about the long-term sustainability of the movie business — built on a century-old model of getting people out of their houses and into a theater — than a bunch of wildly successful movies driving up revenues for everyone.
Except, well, that's not what's happened this year. Just one company, Disney, is behind the top three films of 2018 so far — Black Panther, Avengers: Infinity War, and Incredibles 2. Together, they've made $1.75 billion domestically through June 27. According to box office data from comScore, that's just over 29% of all domestic revenue for the year, an astonishing concentration of box office returns on a tiny handful of movies.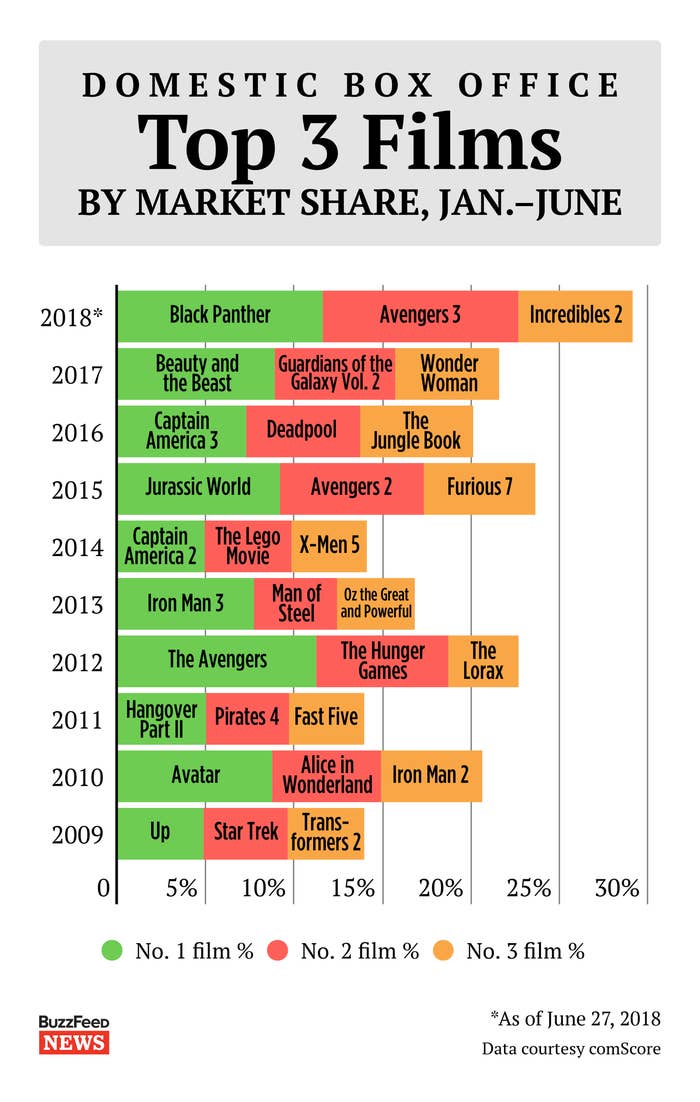 The percentages are even more lopsided when looking at Disney's overall domestic market share, which stands at 36.4% (through June 24). The next highest studio? 20th Century Fox, with 12.1%. If Disney had already purchased Fox, that would have meant one company controlled nearly half the domestic movie market this year.
With the Justice Department already approving Disney's bid to buy Fox, however, there is very little standing in the way of that becoming a reality as soon as next year. As we all journey into that brave new world, it's worth taking stock of what 2018 has already taught us about the current state of the movie business. Here's what is working, and what very much isn't.
Superheroes have never been more popular.
For the first time ever, the top of the domestic box office is dominated by four superhero movies — Black Panther, Avengers: Infinity War, Incredibles 2, and Deadpool 2. Altogether, these four films alone have earned $2.12 billion in the US and Canada (and $4.75 billion worldwide). That may elicit groans from those who are desperate to see anything that doesn't involve costumes or powers or infinity stones, but these numbers don't lie: People still really, really, really like going to superhero movies. And the studios that own those properties show no signs of abandoning the best game in town.
This may be cold comfort to non-superhero fans, but it's worth noting that each of these films remains remarkably distinctive from the others. Black Panther and Infinity War were both released by Marvel Studios and share a cinematic universe, but the former is a galvanizing story about the African diaspora and what responsibility those with great prosperity and resources have to those without, while the latter is a giant war movie that stars almost all of the Chrises. Incredibles 2, meanwhile, is a gut-busting animated family adventure, while Deadpool 2 is a violent, profane action comedy that takes a nipple twist to the whole idea of the superhero movie. If studios are smart about maintaining that level of tonal and storytelling variety — a big if! — the current dominance of the superhero genre could last well into the 2020s. I'm sorry.
Representation is great business.
Black Panther's historic success forever shattered the pernicious, stubborn lie that movies with predominantly black casts — and made by black filmmakers — cannot make blockbuster money. Audiences want to see their stories told, to see themselves as heroes, and to see something they've never experienced before. Black Panther served all those interests impeccably, and as a result, barring a surprise megahit in the second half of the year, it will be the highest-grossing film of 2018 domestically, and one of the highest worldwide. That bears repeating: The biggest movie of the year in the United States will almost certainly be a movie with an almost entirely black cast.
Black Panther is the biggest statement yet that studios should invest in movies about a much wider spectrum of human experience and speak to all kinds of underserved audiences than they have historically, but it wasn't nearly the only example this year. Ocean's 8 has already made a tidy profit for Warner Bros. ($209.7 million worldwide so far) with a diverse cast of women of different ethnicities and ages. The fizzy comedy Book Club featured four female actors over 65 (Jane Fonda, Diane Keaton, Candice Bergen, and Mary Steenburgen) and has earned $66 million domestically for Paramount. Twentieth Century Fox's Love, Simon made history as the first studio film about a gay teenager and earned more domestically ($40.8 million) than any studio teen film since 2014, off a $17 million budget. The remake of the '80s cult favorite Overboard flipped the genders of the leads and infused the film with a multitude of different Latinx characters and became the top-grossing film ever for Latinx-focused studio Pantelion Films, with $86.8 million worldwide. Universal's thriller Breaking In with Gabrielle Union made $48.5 million globally against a reported $6 million budget. And I Can Only Imagine — about how musician Bart Millard wrote the best-selling Christian single of all time — was the latest release to prove that faith-based audiences will seek out films that portray the Christian experience, something Hollywood has been perpetually reluctant to do despite Christianity being, you know, the biggest religion in the country. The film became the top-grossing movie ever for Roadside Attractions, earning a substantial $83.4 million domestically.
You cannot bank on nostalgia alone.
When Lucasfilm replaced Solo: A Star Wars Story's original directors Phil Lord and Christopher Miller with Ron Howard — and then reshot the vast majority of the film — the company was seemingly operating on the assumption that audiences would flock to see Han Solo's origin story with the same billion-dollar enthusiasm they brought to the previous three Star Wars movies. Instead, Solo's total domestic gross — to date, $207.3 million — is nowhere near the opening weekends of either Star Wars: The Force Awakens or Star Wars: The Last Jedi. Globally, the picture is no better: Solo has made $369 million — less than a third of the global takes of The Force Awakens and The Last Jedi.
In any sane universe, that should be fine — $369 million is a lot of money! But we don't currently live in a sane universe, so it shouldn't be all that surprising that those reshoots reportedly ballooned Solo's budget north of $250 million — meaning the film has to gross more than twice that to break even. That's a lot of cash to burn on the promise that the nostalgic pull of the words "Han Solo" and "Star Wars" is enough to entice people to buy a movie ticket, especially without Harrison Ford in the title role. It turns out, even with Star Wars, brand names sometimes aren't enough.
Even the Rock isn't immune to that lesson: Rampage — the disaster movie that basically sold itself as "it's that cheesy '80s video game, but now a giant expensive movie, and with the Rock!" — crashed and burned domestically, taking in just $97.8 million. And Tomb Raider — "it's that cheesy '90s video game, again, but grittier, and with Alicia Vikander!" — did even worse, grossing just $57.4 million domestically. Maybe stop making movies based on cheesy video games?
Launching expensive, effects-driven movies with convoluted premises is — shockingly — quite hard.
If successfully marketing movies can be difficult even when "Star Wars" is right there in the title, imagine what it must be like to try to get people to see a movie about (deeeeeep breath) a young girl tasked by three immortal beings called Mrs. Whatsit, Mrs. Who, and Mrs. Witch with rescuing her missing father after he accidentally bent space-time to travel hundreds of light-years to the dark planet Camazotz where he has become entrapped by the malevolent incorporeal being known as the IT.
And that's just the basic outline of Madeleine L'Engle's seminal sci-fi novel A Wrinkle in Time. When Ava DuVernay landed the job of directing the film, a lot was made of how she was the first black woman filmmaker to make a movie with a budget over $100 million. But with that budget came equally high expectations for DuVernay to deliver a movie with enough mass appeal to earn that money back. DuVernay certainly tried, bringing a bright and fanciful visual palate to the film and casting an enticing array of actors of color, including Oprah Winfrey, Mindy Kaling, Gugu Mbatha-Raw, Michael Peña, and the film's young star Storm Reid. But L'Engle's book is suffused with head-spinning metaphysics, abstract sci-fi, and surrealistic religious symbolism — there's a reason there hasn't been another major theatrical movie version of the book for over 50 years. Critical reception was mixed at best, and audiences were left confused as to what the movie was, and who it was for. It took nearly four months for A Wrinkle in Time to inch past the $100 million mark at the domestic box office, and its modest international release has earned just $32.2 million more.
Steven Spielberg's Ready Player One, based on the best-selling novel by Ernest Cline, tried to split the difference, bringing an embarrassment of '80s and '90s nostalgic touchstones — DeLoreans! Iron Giants! Chucky dolls! — to an extravagantly complicated story largely set in an all-encompassing virtual reality world called the Oasis. Again, audiences weren't quite sure why they were supposed to care, and the film — with a reported $175 million budget — has earned just $136.9 million domestically. So…
Thank goodness for China.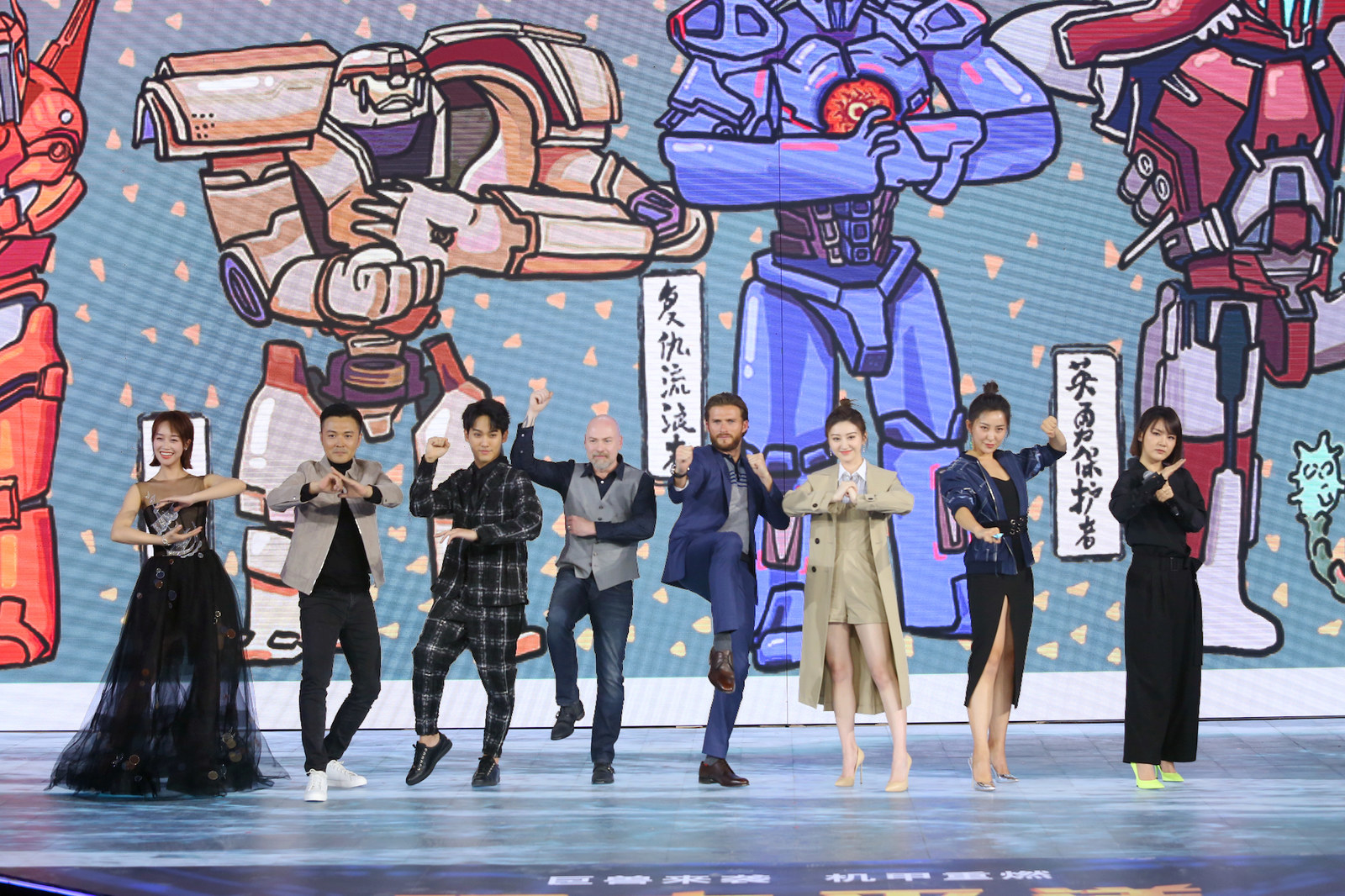 While Ready Player One sputtered in the US and Canada, it was an unqualified hit in China, earning $218.5 million (for $581.9 million globally) — yet another film in the growing fraternity of Hollywood productions whose box office fortunes were saved in China. Also joining: Rampage and Tomb Raider, both of which made more in China than they did domestically ($156.4 million and $78.5 million, respectively), as did Pacific Rim Uprising, which earned $59.2 million in the US and Canada, and $99.5 million in China. Unlike most foreign markets, studios can only take 25% of a film's box office grosses in China (usually, it's about 50%), but for these films, Hollywood will take anything it can get.
People are dead inside and don't ever want to laugh again.
Big-screen comedy has been in a slump since last year, and 2018 hasn't gotten much better: Melissa McCarthy's considerable charm couldn't liven up the back-to-school romp Life of the Party, which made just $52.3 million domestically. The Amy Schumer vehicle I Feel Pretty didn't shake the controversy around its premise and took in $48.8 million. Despite an appealing ensemble cast — and perhaps because of its seriously-you-made-this-into-a-movie plot — Tag is limping with just $40.9 million. Super Troopers 2, the crowdfunded sequel to the cult 2001 comedy, has made only $30.6 million. And Johnny Knoxville's latest attempt to make people laugh while he continues to cheat death, Action Point, made just $5.1 million in its first 14 days, and then disappeared from theaters altogether.
In fairness, I Feel Pretty and Life of the Party performed well enough internationally that they at least broke even, and Super Troopers 2 cost so little that it likely made money too. And the teen sex comedy Blockers and the action comedy Game Night were modest hits, earning $93 million and $117.4 million worldwide, respectively. But just a few years ago, comedies like Pitch Perfect 2, Spy, Ted 2, Central Intelligence, 22 Jump Street, and The Heat each took in well over $200 million globally. So where are this year's megahit comedies?
Well, two of the year's biggest films, Incredibles 2 and Deadpool 2, do boast several uproariously funny sequences, so it's possible that they sated people's appetite for feature film comedy. It's also telling that Blockers and Game Night are the only 2018 comedy titles to be certified fresh on Rotten Tomatoes. If people want to laugh, they need to know the movie they're about to see is, you know, funny.
Scaring people, however, still makes lots of money.
Big-screen horror was in a slump back in 2015, but the box office pendulum has swung all the way back, and look out, it's coming for your head!
But seriously, the family horror thriller A Quiet Place was the year's first surprise blockbuster, taking in $329.9 million worldwide against a puny $17 million budget, skyrocketing director John Krasinski's filmmaking career and reinforcing the first months of the year as prime real estate for scaring the crap out of people. Insidious: The Last Key, from mega-producer Jason Blum, earned the best global grosses in the Insidious franchise's four-film history, with $167.5 million. Blum's other horror film this year, Truth or Dare — yes, this was a movie! — somehow managed to scare away $92.5 million worldwide without letting people know it existed. And although Hereditary may have split critics (who loved it) and audiences (who gave it a D+ rating via CinemaScore), the actively traumatic film had the best domestic-wide opening weekend in the history of indie company A24, with $13.6 million, and its $39.3 million domestic total to date is A24's second best box office gross ever, behind only Lady Bird.
At the bottom of all these movies' success is a rigid business model: Keep the budgets low, the quality strong, and the scares high — and watch the profits roll in. Then again, you can also spend a fortune on a gothic horror movie masquerading as a giant dinosaur action spectacular; while Jurassic World: Fallen Kingdom's catering budget was probably bigger than total budget for any of these other horror movies, it's arguably the scariest Jurassic movie since the first one, and to date it's earned $934 million worldwide.
Nobody seems keen on grim, violent thrillers about bad people.
You've got to hand it to Jennifer Lawrence: She may be one of the biggest movie stars in the world, but she's not exactly playing it safe. After taking on the WTF movie of the year with Mother! in 2017, Lawrence chose to star in the grim and bracingly violent thriller Red Sparrow, as a former Russian ballet dancer who gets plunged into the world of international espionage as a "sparrow" — essentially, a spy trained to prostitute herself to reach her objectives. Lawrence endures multiple beatings and sexual assaults, and savagely bludgeons two people in a steam room; the film never took off with audiences, earning just $46.9 million domestically. (It did better overseas, earning $104.4 million.)
Red Sparrow was part of a small trend of movies that really leaned into the dark and brutal mood of the country — nay, the world! — only to discover that audiences weren't all that interested in spending money to revel in bleakness when they're living with it every day. The titles alone for most of these films basically screamed "this is going to make you feel even worse about humanity!" The crime thriller Den of Thieves, with Gerard Butler and 50 Cent, made just $44.9 million domestically. The remake of the vigilante classic Death Wish, with Bruce Willis, made $34 million. The serial killer thriller Bad Samaritan, with David Tennant, was DOA with just $3.4 million. And despite its all-star cast — Jodie Foster, Sterling K. Brown, Jeff Goldblum, Zachary Quinto, Sofia Boutella, Charlie Day, and Dave Bautista — Hotel Artemis, about a hospital just for criminals, bombed hard, earning just $6.6 million.
Documentaries about older people — whose gentle, kind-hearted approach to the world made them formidable cultural icons — are so hot right now.
Since it opened on May 4, RBG — the biographical portrait of Supreme Court associate justice and feminist trailblazer Ruth Bader Ginsburg — has made an astonishing $11.5 million, while playing in no more than 432 theaters. On two separate weekends, RBG even cracked the domestic box office top 10 — it's the top-grossing film ever for indie company Magnolia Pictures. This isn't something that happens to feature documentaries: It's a significant accomplishment if a doc makes more than $1 million in its theatrical run.
And yet, it's already happening again. Won't You Be My Neighbor? — the biographical portrait of PBS TV host and childhood hero Fred Rogers, of Mister Rogers' Neighborhood — also recently cracked the domestic top 10 in its third and fourth weekend of release. To date, the film has earned $7.5 million, and it's on track to match, if not surpass, RBG's stellar box office returns.
Neither film is all that aesthetically groundbreaking or interested in sensational or shocking revelations. Instead, they both take a methodical and probing survey of the deeply held moral imperatives that led their subjects to become two of the most respected and esteemed members of their chosen professions. In 2018, that counts as escapist entertainment.